The Faculty of Health Sciences (ETK) is the second largest faculty at Semmelweis University, offering one of the broadest ranges of health sciences education in the Central European region. 
Faculty of Health Sciences
Founded: in 1975
Dean: Dr. Gabriella Dörnyei Bednárikné
Number of students: 3700
Ratio of foreign students: 18,09%
Address: H-1088 Budapest, Vas u. 17.
Phone: +36 1 486 5910
Email:

etk.dekanihivatal@semmelweis.hu
Equal importance is attached to international professional and research collaborations, which contribute to the maintenance and development of the courses' high quality by integrating the experience gained from foreign lecturers and students, as well as the advancement of domestic and international scientific activities.
Founded in 1975 as the College of Health Care, the Faculty of Health Sciences is the first institution to train health care professionals at Bachelor level in Hungary. All of its programs meet international standards, and the educational requirements of the Hungarian Accreditation Committee (MAB). In the recent decades, one of the most dynamically developing aspect of the Faculty has been its increasingly diverse activities in the field of international scientific and educational cooperation.
EDUCATION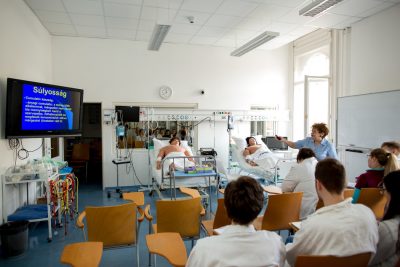 The institution offers a wide range of courses for its prospective students, providing them with competencies along with the professional needs of the rapidly evolving field of health sciences. Currently, there are eleven BSc, four MSc programs and a PhD course available. Out of those, Nursing, Physiotherapy, Midwifery, Dietetics, Medical Diagnostic Analysis (Optometry), Public Health Supervisor and Health Tourism Management BSc, as well as Nursing and Physiotherapy MSc and the PhD programs are available in English language. Overall, the most popular trainings are Physiotherapy, Nursing, and Optometry. Their main strengths rely on the fact that education is practice-oriented, the Faculty has well-equipped laboratories and extensive clinical links with hospitals as well as other healthcare institutions.
Read more about the Programs →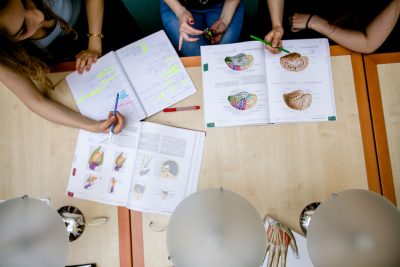 University clinics operate in accordance with the highest level of progressiveness, so during clinical practices, students may encounter such rare cases that they would not have the opportunity to deal with elsewhere. The Faculty offers modern classrooms, professional skill laboratories and a public library. A new wing was inaugurated in 2022, which houses two large lecture halls, skill labs and classrooms supporting practical training. The building has also been designed with student communal spaces in mind.
At present, the Faculty of Health Sciences' 16 departments feature more than 200 highly-qualified lecturers and part-time instructors with an outstanding professional background. Also, the Faculty's more than 3,700 students guarantee a colorful and vibrant student life, since they come from over 40 countries on average.
RESEARCH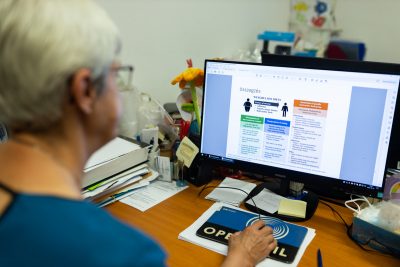 The Faculty's departments participate in more than 70 research projects in the wide field of Health and Social Sciences. Resumes of all the active research projects are compiled every year. Faculty members conduct these projects individually, or with other Hungarian and European universities (e.g. projects under EUniWell's Seed Funding Program). Since the Faculty of Health Sciences is a scientific hub in essence, it also has its own scientific journal, the Developments in Health Sciences (DHS). It is an open access, peer-reviewed journal that publishes manuscripts on all aspects of health sciences and related fields such as nutrition, nursing, physiotherapy, obstetrics, public health and optometry, accepting all types of articles like original research papers, review articles, short communications, rapid preliminary notes, case studies and other sections. Students of the Faculty of Health Sciences can also carry out research work within the framework of the Hungarian Students' Scientific Conferences (TDK), relating to which Semmelweis University has been organizing an international conference annually since 2012.
INTERNATIONAL RELATIONS
The Faculty has an extensive international contact system established in Europe, Asia and America. Every year, the Erasmus+ exchange program gives students and teachers the opportunity to improve their skills and knowledge abroad. With about 40 partner universities, the Faculty manages mobility programs of approximately 30 students and 10-15 teachers annually. The list of Erasmus partners includes highly-ranked institutions from all over Europe. After a successful application, students can also participate in professional conferences or short training programs with foreign partners.
The Faculty has cooperated and organized 2-3 week-long professional trainings for the Tianjin Public Health Bureau, the Josai University (Japan), the International University of Health and Welfare (Otawara, Japan), the Jiao Tong University of Shanghai and the Gulf Medical University with the participation of approximately 20 students and lecturers per program from the Faculty. Besides the above, they maintain close relationships with George Washington University (USA) and the Shanghai University of Traditional Chinese Medicine (China) as well, and obtained a staff Erasmus scholarship that can pave the way to research and education cooperation.
Departments