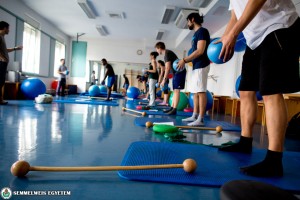 Semmelweis University Faculty of Health Sciences offers a wide range of sporting opportunities for students.
Physical education classes are compulsory during the first four semesters. In classes and during trainings, wearing sport clothing is compulsory and no outdoor shoes are allowed. Students arriving late are not allowed to join the class due to accident risks. Exemption from attending the PE classes can be granted. More information on the exemption: Guide
Free time sport activities can be pursued at the following locations:
Facility at Vas street: 2 gyms, venues of
weightlifting;
aerobic;
table tennis.
Császár-Komjádi Swimming Pool, venue of
swimming;
therapeutic swimming.
Dormitory at Hajdu street, venue of
body building, table tennis, aerobic;
basketball, volleyball.
Courts and sport fields rented in the vicinity of the Vas street building:
basketball;
volleyball;
handball;
floorball;
football.
Club and Team Sports

Besides the obligatory sport courses the University offers sporting opportunities on a more advanced level. The University has its own  volleyball, basketball, handball, football, cheerleader- and water polo teams. Preparation for competitions usually involves 2-3 practice sessions a week.
The Division of Physical Education provides regular trainings and participation in university championships in volleyball, basketball, handball, soccer and floorball. Running trainings are organized every week; these serve as a good preparation opportunity for competing in the big running galas of Budapest.
Recreational Facilities
Apart from the sporting opportunities provided by the University there are other independent sporting facilities that the students of Semmelweis University can use for discounted prices.  The list of discounted cultural and sporting facilities can be found here.
Students' Sport Association (Diáksport Egyesület)
Founded in 1985 and declared to be an organisation of public utility in 2002, Students' Sport Association aims at satisfying the sports needs of students of the Faculty and members of the association, managing sport trainings, and providing the conditions for competitions and free-time programmes.
Tel.: 061-486-5850
Tel./Fax: 061-486-5851
E-mail: testnev @se-etk.hu
Room: 424
Head: Mr. Gábor Soós, head PE teacher