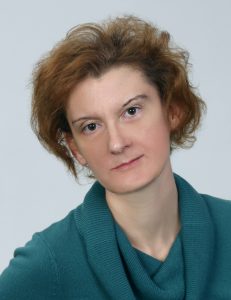 Curriculum vitae
dr. Virág Katalin Bognár
sociologist
Professional experience, jobs
2006–           Semmelweis University of Medicine, Institute of Behavioural Sciences
lecturer in medical sociology (from 2006) and in bioethics (from 2015) in German language (as external researcher between 2006 February and 2018 August)
2014–2015     Equal Opportunities of Persons with Disabilities Non-profit Ltd. (FSZK)
sociologist, expert, program coordinator
2009–2012   Demographic Research Institute of the Hungarian Central Statistical Office
research assistant participating in research projects on social inequalities in mortality
2006–2009  Eötvös Loránd Univ., Fac. of Social Sciences, Doctoral Program of Sociology
scholarship, research assistant in projects
1997–2006    Hungarian Central Statistical Office
statistical analyst
Education, scholarship
2020
Károli Gáspár University of the Reformed Church in Hungary: Psychology B.A., Human Behaviour Analyst

2012
ELTE, doctoral thesis in sociology. Title: 'The Interpretation of Parenting. Supporting Persons Living with Autism in the Family.'
2005
INED, National Institute of Demographic Research in France, Paris, FRANCE. 1-month scholarship.
1992–1993
University of Bielefeld (Bielefeld, GERMANY) 10-month scholarship at the Faculty of Sociology.
1988–1995/1996
Eötvös Loránd University of Budapest (ELTE Budapest, HUNGARY) Faculty of  Arts, graduated from German Language and Literature, M.A. (1995), graduated from Sociology, M.A. (1996).
Selected projects
2015. "Living conditions and development of care for persons with severe and multiple disabilities" pilot project (Equal Opportunities of Persons with Disabilities Non-profit Ltd.). Project coordinator, researcher.
2014–2015. Working as expert in the EU-supported national project TÁMOP 5.4.11-12 Eight Points – Complex innovation of the care system for persons with autism.
2009–2012. Collection and processing of quantitative and qualitative data for the project on socio-economic inequalities in mortality concerning Budapest (project title: INEQ-CITIES. Socio-economic inequalities in mortality: Evidence and policies in cities of Europe, https://www.ucl.ac.uk/ineqcities/).
2009–2011. data collection and processing for the epidemiological project of Katalin Kovács (Demographic Research Institute of the Hungarian Central Statistical Office) on trends of social inequalities in mortality between 1971–2008 in Hungary.
2008–2009. National Autism Research (Hungary). Researcher.
Selected professional courses
Autism Foundation, course with accreditation (no. OKM-1/110/2010.) Development of social and communication skills of children living with autism (Budapest, December  1-5, 2014)
Certificate of Attendance of the 5th European Course on Biotechnology Ethics (Budapest, June 22-29, 2008)
Certificate of Attendance of the course Living Conditions, Systems of Social Statistics, Social Indicators and Social Reporting by Eurostat (Budapest, October 18-22, 1999)
Supporting charity work, individual entrepreneurship
Individual teaching of German language for persons coping with communication problems (2011- )
Salva Vita Foundation, researcher, expert, 2006–
Hungarian Association of Persons with Autism (AOSZ), scholarship, 2008–2009
Charity visitor in hospital (2004–2006)
Language skills
German    fluent working proficiency
English     independent working proficiency
French      independent working proficiency
Awards
Semmelweis University Private Teacher Award (2017)
Hungarian Central Statistical Office Social Statistics Competition, 1st prize ('Types of audience of culture in Budapest') (2001)
Budapest, 3th September, 2018
Publications
Selected Publications (Dr. Bognár, Virág Katalin)

Döbrössy, B., Girasek, E., Susánszky, A., Koncz, Z., Győrffy, Z., Bognár, V. K. (2020). "Clicks, likes, shares and comments" a systematic review of breast cancer screening discourse in social media. PLoS ONE 15(4): e0231422. https://doi.org/10.1371/journal.pone.0231422


Published abstract in English:
Bognár, Virág Katalin (2012). Parental perception of autistic symptoms in children and parental life satisfaction. In: International Journal of Behavioral Medicine, 19 (Suppl 1), 128–129.
Selected Conference Presentations in English:
Parenting stories – and service needs in families raising a child with ASD. ( with coauthor: Dr. Sarkadi, Anna, Uppsala Universitet, Sweden) Poster presentation on the International Conference on Cerebral Palsy and other Childhood-onset Disabilities,  Stockholm 1–4 June, 2016.
Should we follow the dreams of students living with autism? Case studies on foreign language learning and teaching. Poster presentation on the XI. Autism Europe International Congress, Edinburgh, 16–18 September, 2016.
Parental and professional views and competences: Involving each other. (with coathor: Szelecki, István) Oral poster presentation on the XI. Autism Europe International Congress, Edinburgh, 16–18 September, 2016.
Sleep disturbances predict behavioural symptom severity in autism: As primary caregivers report. (with coauthors: Alpár S. Lazar, Judit Simó) Poster presentation on the X. Autism Europe Congress, Budapest, 26–28 September, 2013.
Parental management of social denial. Keynote presentation on the X. Autism Europe Congress, Budapest, 26–28 September 2013.
Marital stress in caregivers of autistic family members. (with coauthors: Dr. Balog, Piroska; Dr. Kopp, Mária) Poster presented at the European Health Psychology Society the 24th Annual Conference "Health in Context", Cluj-Napoca, Romania, 1–4 Sept, 2010.
Changing partnership trajectories in Hungary after World War II: generations and social groups. Oral presentation at the European Population Conference, Vienna, Austria, 1–4 September, 2010.
Selected Papers in Journals with Peer-Review in Hungarian (with Abstract in English):
Bognár, Virág Katalin (2017). Partners – analysis of support needs of adult men with severe and multiple disabilities. A biographical approach. Esély (Chance). Social Policy Journal, 29(2), 55–76. http://www.esely.org/kiadvanyok/2017_2/Esely_2017-2_4_Bognar_Partnerek.pdf
Bognár, Virág (2008). Desired children in the light of labour market status of partnership members. In:  Demográfia (Demography), 51(4). 356–376. 51(4). 356–376. http://demografia.hu/kiadvanyokonline/index.php/demografia/article/view/534/518
Bognár, Virág & Faluvégi, Albert (2005). Urban statistics  – the project Urban Audit – and main results. Gazdaság és Statisztika (Economics and Statistics), 56(5), 3–20. http://www.ksh.hu/docs/files/424337.PDF
Bognár, Virág (2004). Social norms and lifestyles. In: Statisztikai Szemle (Statistical Review), 82(3), 237–263. http://www.ksh.hu/statszemle_archive/2004/2004_03/2004_03_237.pdf
Bognár, Virág (2002). Types of audience of culture in Budapest. In: Statisztikai Szemle (Statistical Review), 80(5-6), 537–556. http://www.ksh.hu/statszemle_archive/2002/2002_05-06/2002_05-06_537.pdf
Bognár, Virág (1996). The shipwreck of Ideology and Utopia. Comparison of the German and English version of Karl Mannheim's Ideology and Utopia. In: Szociológiai Szemle (Sociological Review), 6(2), 21–55. http://www.szociologia.hu/dynamic/9602bognar.htm
Full list of publications is  by MTMT accessible: click here