Undergraduate Programmes
The undergraduate programme consists of five years of uninterrupted studies, the completion of which results in a master's degree. Since 2009, the Dr. Pharm. qualification, an inherent doctoral degree of occupation, is also granted for pharmacists graduating in Hungary.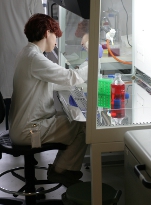 The present 5,000-hour curriculum includes mandatory subjects (comprising 4,000 hours) and more than 20 elective subjects (comprising 1,000 hours), allowing specialisation even in the undergraduate years. Peculiarities of the 5-year-long program include a sound knowledge in the sciences, particularly chemistry and biology, the use of patient-oriented medicine, and the development of practical pharmacy skills following training.
Teaching currently takes place in Hungarian and English, with a total of around 800 students enrolled annually, 20 percent of whom are international. The German language pharmacy programme was launched in September 2011.
The Master of Pharmacy and Dr. Pharm. diplomas of Semmelweis University are accepted throughout the European Union and in most other countries of the world.
For application and curriculum information, please visit the English Language Programme's website.
Postgraduate Programmes
In the frame of postgraduate education, pharmacists have the opportunity to specialise in 15 different professional fields. Ph.D. programmess are a popular choice for postgraduate education in various fields of pharmacy, chemistry, biology and medical research.