It is the only pharmaceutical faculty in the world offering education in two foreign languages: the Hungarian, English, and German programs of Semmelweis University's Faculty of Pharmaceutical Sciences provide students with a recognized degree with a high market value all over the European Union and beyond. 
Faculty of Pharmaceutical Sciences
Founded: in 1955
Dean: Dr. István Antal
Number of students: 807
Ratio of foreign students: 27,01%
Address: 1085 Budapest, Üllői út 26. Ground Floor 16
Phone: +36 1 266 0449
The Faculty is well known for its outstanding teaching, research and scientific activities in the field of pharmaceutical sciences. In 2022, the University is ranked 262nd in the latest Quacquarelli Symonds (QS) ranking, moving up 10 places from last year and it has also been ranked in the top 250 in Medicine and in Pharmacy & Pharmacology.
The Departments of the Faculty carry out significant research, and the students, who study in Hungarian, English or German, are among the best prepared and most sought-after professionals. In addition, the training prepares them as much as possible for the new challenges of the pharmaceutical industry of the far future.
EDUCATION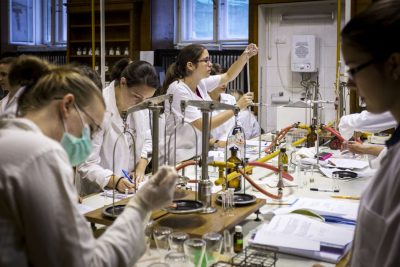 Founded in 1955, the Faculty offers degree programs on undergraduate (M.Sc., Dr. Pharm), postgraduate (Specialization) and Ph.D. levels. Pharmacist training lasts five years, the program provides complete theoretical and practical training, and at the end the holder of the M.Sc. equivalent degree is entitled to bear the doctoral title (Dr. Pharm). 
Fresh graduates from Semmelweis University have a wide range of job opportunities to choose: they are expected to work in community and hospital pharmacies, pharmacutical industry, scientific research, public authorities, commerce, as well as in the field of "pharmacy care", where they have to work in large numbers with chemists, biologists, chemical engineers, doctors, economists and other professionals. Statistics show that our young professional pharmacists generally obtain their desired job within few weeks of graduation.
RESEARCH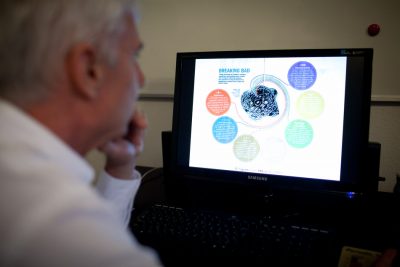 The Faculty of Pharmaceutical Sciences has been a research-oriented unit of higher education ever since its foundation. Research is done by all 6 departments of the Faculty closely cooperating with pharmaceutical industrial companies as well as with academic and other research groups. The Faculty's research portfolio covers the drug discovery, development and evaluation, thus the scientific spectrum ranges from molecules to the drug therapy including the development and processing of medicinal products with desired quality, safety, and efficacy.
The research includes the following areas: design, synthesis, isolation, structure elucidation, structural characterization of potential drug molecules; preformulation studies with morphological and physicochemical characterization; dosage form design and physical pharmacy, quality control, drug stability and packaging. Furthermore, in vitro and in vivo pharmacological methods, pharmacokinetic and pharmaco-metabolic studies, drug safety tests and new therapeutic applications of drugs, as well as pharmacist interventions in improving patients' therapeutic adherence are researched. The Faculty has considerable experience investigating natural and synthetic substances, their interaction with biomolecules, the development of innovative drugs used in personalized therapies and the non-invasive extraction of molecular information from in vivo study results. The development of novel drug delivery systems involves the application of nanotechnology, targeting and patient centric principles, too.
The international reputation of the research carried out at the Faculty offers  an attractive environment for excellent national and international consortia, which enhance its competitiveness and provide collaborative links.
INTERNATIONAL COLLABORATIONS
The Faculty of Pharmaceutical Sciences is involved in several international collaborations in research and education, both in Europe and overseas. Today especially strong ties exist with the University of California, the KU Leuven, Queen's University Belfast, University of Basel, and Imperial College, London.
HIGHLIGHT OF ACCOMPLISHMENTS
Nobel laureate János Harsányi received his diploma in Pharmacy from the Faculty. Two original drug molecules (selegiline and vinpocetin) were discovered with the participation of the Faculty's professors The innovative research and development of the Faculty has led to several granted patents and also to approved and/or marketed medicinal products.
Departments