Official address
Please note! If you are a student coming from outside the EU & EEA region, you will need an official address in Hungary to obtain a Residence Permit.
Dormitories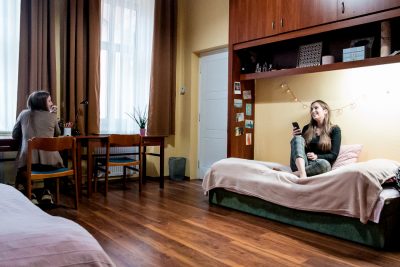 Semmelweis University currently has five dormitories and two professional dormitories that provides accommodation for more than 900 students in their halls of residence. 
The dormitory is not only a place to live, but also a space where students help each other in completing studies, strive to help everyone develop their talents and contribute to self-education, literacy, physical activity, and quality, meaningful free time. Read more about the University's dormitories →
Newly admitted students can apply for dormitories in August and the application period usually lasts for 15 days.  The dormitory spots are limited and only available on the basis of social and financial needs you have to apply for it.
Student's Union – Dormitory Information
Please be informed that the Dormitory Commitee makes the decisions only in August. This might be a bit late for you if you are a freshman and obliged to have a visa for entering Hungary.
Rent
Most of Semmelweis University's campus buildings are located in the 8th and 9th districts of Budapest, therefore, it is convenient to look for an apartment in these districts or in the neighbouring ones. Prices range from about 300 Euro/room and about 500 Euros/studio in the central districts of Budapest.
Semmelweis Housing 
Semmelweis Housing offers counseling to Semmelweis University students only. Our exclusive real estate agency helps students moving to Budapest and to find ideal home for the time of their university studies.
The counseling can be offered both in person as well as by phone or email. Services include not only the rental of the property, but also other issues related to its use.
Dean's College Hotel
Dean's College Hotel is the first top-class student house and hotel, offering high quality accommodation for international and Hungarian students. It is in 20 meter walking distance from the University's Basic Medical Science Center.  
Please note: renting your apartment is your responsibility and rental prices vary according to personal needs.