Undergraduate Program (M.D. degree)
The number of students admitted to the Faculty of Medicine is determined on a yearly basis by the Ministry of Education and Culture. Since the number of applicants is two to four times higher than the number of places available, selection procedure is based on the student's previous academic record.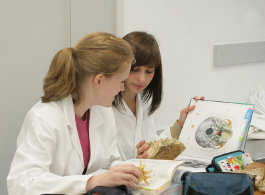 The 12-semester training period covers at least 6,000 hours of teaching, which is divided into two parts. The first part consists of a two-year preclinical study period in basic sciences; the second part is focused on clinical studies, and lasts for four years. The internship period takes place during the 11th and 12th semesters, and is generally spent at University clinics or hospitals.
Upon completion of the six-year program, students must submit and defend their written thesis and take a final written test and oral exam before an examination board. Having successfully passed all examinations, the student is granted the diploma and title M.D. (Medical Doctor).
The Faculty offers the M.D. program in three languages: Hungarian, English and German.
Application and curriculum information:
English language program
German language program
Specialist Training
The new Residency System of postgraduate training for health care professionals – introduced in Hungary in 1999 – is based upon the requirements (statutes, governmental and ministerial decrees) of the European Union of Medical Specialists (UEMS). The areas of specialization and the duration of the program are also defined by the UEMS.
The Ministry of Health, in accordance with the national manpower planning projections, annually determines the number of candidates to be accepted by the Faculty for each of the different specialty areas.
Training consists of two parts: a common training program, which lasts for 26 months, and a specialist training period which lasts from three to seven years, depending on the particular subject.
The University departments, as well as other health care institutions accredited by the Faculty, provide theoretical and practical training. The candidates' performance is supervised and certified by their tutors and mentors. Upon completion of the program, candidates are required to sit for the specialist examination before the National Council of Specialist Training and Continuing Health Education. Certification is also issued by the National Council.
Continuing Medical Education (CME)
Participation in the CME is a mandatory requirement for medical doctors in Hungary, who are obliged to take part in a Continuing Medical Education (CME) program every five years in order to have their qualifications renewed in the medical practice registry of the Hungarian Medical Chamber.
The Faculty contributes to the continuing education of medical doctors practicing in Hungary by organizing courses and programs, which consist of theoretical and practical activities. Altogether, 250 credit points must be collected over the five-year training period.
Ph.D. Program
The Faculty has several accredited Ph.D. programs. For detailed information please visit the website of the School of Ph.D. Studies.