From installing a brand new and unique CT equipment to research and cooperation agreements, and to inauguration of new doctors, the year 2022 was full of international events at our university. Here you find a non-exhaustive selection of the most important events of the year, including scientific and rankings results, and vibrant student life. Part one.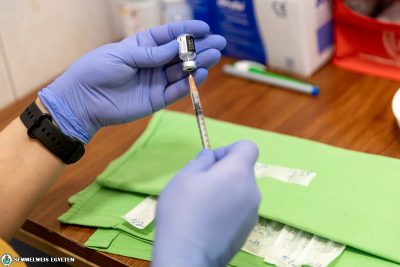 Half a million vaccines administered
Upon the occasion, Rector Dr. Béla Merkely highlighted the importance of booster shots due to the extreme infectiousness of the omicron variant worldwide. "
The most important benefit of a complete course of three doses is that it minimizes the risk of severe disease, hospitalization and death," he
made clear.
State-of-the-art, new CT device
A brand new CT equipment, one of the first of its kind h
as been installed at the Medical Imaging Center in January.
The new device
has the potential to revolutionize cardiovascular medicine and oncology diagnostics, and i
s equipped with a photon counter detector, due to which the radiation dose is reduced by almost half.
Strategic cooperation agreement with AstraZeneca
Semmelweis University and AstraZeneca's Hungarian subsidiary have signed a
strategic cooperation agreement
in late January to further investigate the links between certain common diseases, such as diabetes, chronic kidney disease (CKD) and heart failure, to strengthen and expand joint research and development activities, and to implement joint programmes to help treat, educate and diagnose patients.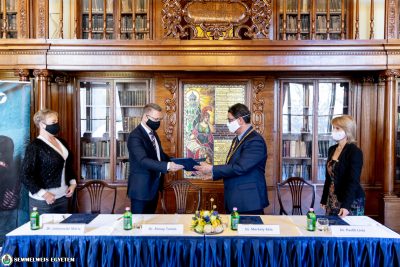 Clinical trial boost with Sanofi
Semmelweis University and pharmaceutical group Sanofi have signed a
cooperation agreemen
t in February, in order to increase the number of clinical trials they participate in jointly.
The agreement enables the university to provide patients with innovative therapeutic options and its researchers and physicians to be among the first to gain experience with new treatments.
Semmelweis International Students' Conference
Due to the pandemic, all lectures took place online. However, for the first time, nations from beyond our continent were represented as well, thanks to the university's growing number of international contacts.
School ambassador program
In March, the
EUniWell School Ambassador Programme
has been launched, which is dedicated to building a stronger relationship with local secondary schools and promotes lifelong learning among young people.
The international project, uniting seven diverse European universities, was developed by Semmelweis University.
Promoting an innovative public healthcare
Semmelweis University, the Ministry of Innovation and Technology (ITM) and Novartis signed
a cooperation agreement
in March in order to increase access to clinical research, ensure Hungary's leadership in cell and gene therapies, and launch a public health program based on artificial intelligence and machine learning, with a focus on cardiovascular diseases.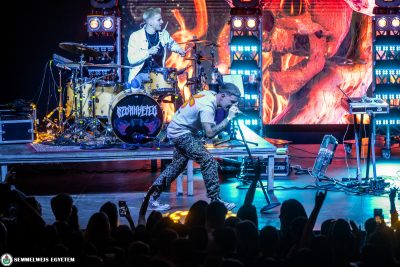 International Semmelweis Carnival
After a two-year hiatus, the International Semmelweis Carnival was held again on March 24. As expected,
this year's celebration
was again a truly high quality event for guests and students alike.
It featured the Multicultural Food Festival (MFF), where students from various countries presented their region's typical dishes.
International training course on transplantation
Semmelweis University hosted
an international symposium
on the most current issues of transplantation on March 25th. The event was featured by leading European experts on chest and abdominal organ transplantation, with more than 200 university students and further participants involved.
Moving upwards in the QS ranking
In its main discipline, Life Sciences and Medicine, Semmelweis University has been ranked 262nd in
the latest QS ranking
in April, moving up 10 places from last year. It has also been ranked in the top 250 in Medicine and in Pharmacy & Pharmacology.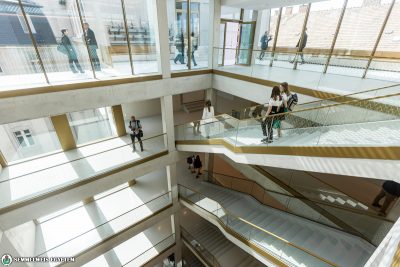 Expansion of the Faculty of Health Sciences
A
new, five-story building
of 4500 square metres has been inaugurated in April at the Faculty of Health Sciences, which is named after Zsuzsanna Kossuth, the country's first head nurse.
The new wing houses two large lecture halls, skill labs and classrooms to support practical teaching. 
Course on sustainable healthcare
A new, English-language elective course named Sustainability in Healthcare has been launched by the Health Services Management Training Centre (EMK) of Semmelweis University in May.
The course is unique not only at university level, but also nationally since there has been no such among medical school courses.
Cooperation with Roche Hungary
In May, a strategic cooperation agreement was signed between Semmelweis University and Roche Hungary. It will bring significant advances in R&D activities, particularly in the fields of oncology, haematology, immunology, neurology and ophthalmology.
The research projects can greatly contribute to the treatment of rare and serious diseases, as well as to the value-based development and digitization of the Hungarian healthcare system.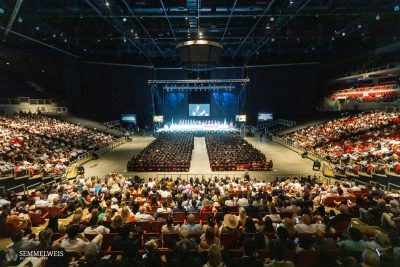 547 doctors inaugurated at the Faculty of Medicine
At the end of June, 291 Hungarian-speaking, 131 English-speaking and 125 German-speaking students were inaugurated as doctors of the Faculty of Medicine of Semmelweis University, in a ceremony held at the Papp László Sports Arena.
Following the oath, Dr. Béla Merkely, Rector, and Dr. Miklós Kellermayer, Dean, welcomed the newly graduated students as doctoral fellows.
Freshers' Camp
The 52nd Semmelweis University Freshers' Camp was held between 16-21 August in the Tata Youth Camp again. Rector Dr. Béla Merkely visited the programs of the sports day, the third day of the event, which welcomed 820 freshers, including some 30 foreign students, divided into 23 teams.
In his welcome speech, the rector wished the future Semmelweis Citizens the best time of their lives at the university.
Viktória Kiss, Gábor Kiss
Photo: Attila Kovács, Bálint Barta – Semmelweis University