Semmelweis University, the Ministry of Innovation and Technology (ITM) and Novartis Pharma Hungary signed a cooperation agreement in order to promote innovation in Hungary's public healthcare sector. The three pillars of the collaboration are increasing access to clinical research, ensuring Hungary's leadership in cell and gene therapies, and a public health programme based on artificial intelligence and machine learning, with a focus on cardiovascular diseases.
"In order to be competitive on an international level, cooperation across different sectors, knowledge sharing and a multidisciplinary approach are essential," said Dr. Béla Merkely, Rector of the university at the signing ceremony. The healthcare programme, which involves 50,000 people, will focus on cardiovascular risks of high LDL cholesterol levels. "The aim of this initiative is to find the most effective intervention points in the treatment of cardiovascular disease, using the latest technologies such as artificial intelligence and machine learning-based methods," highlighted the rector.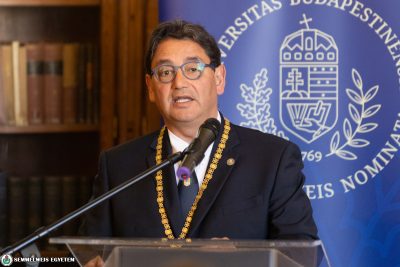 The collaboration will also contribute to making the latest cell and gene therapy solutions available to patients at Semmelweis University. At first, the focus will be on spinal muscular atrophy (SMA) and hereditary retinal disease, with screening programmes in both areas, he noted.
In addition to this, our joint work will increase access to clinical research, technical and digital innovations. One of Semmelweis University's strategic objectives is to increase clinical research activities and to enhance efficiency in this field"
– Dr. Béla Merkely stressed.
Dr. László György, State Secretary of the Ministry of Innovation and Technology (ITM) expressed his great gratitude to Semmelweis University and Novartis, to be part of this collaboration. "This is a symbolic step that can be a prime example of a successful partnership between scientific institutions and companies," he said.
Dr. László György reminded that the cooperation aims to create a centre of excellence in gene therapy at Semmelweis University. "We are also building new capabilities, new ways to apply data analysis using artificial intelligence and machine learning, to gain insight into what interventions will have the biggest impact on cardiovascular diseases," he said.
In the light of the recent cooperation, the state secretary also spoke about the significant results of Hungarian competitiveness. According to him, the amount of money spent on research, development and innovation in Hungary is growing dynamically, and since 2010, Hungary has seen the highest increase in the number of people employed in RDI within the EU. "Hungary is ranked 34th out of 132 countries in the global innovation index, and we want to further increase this advantage in the future," he stressed.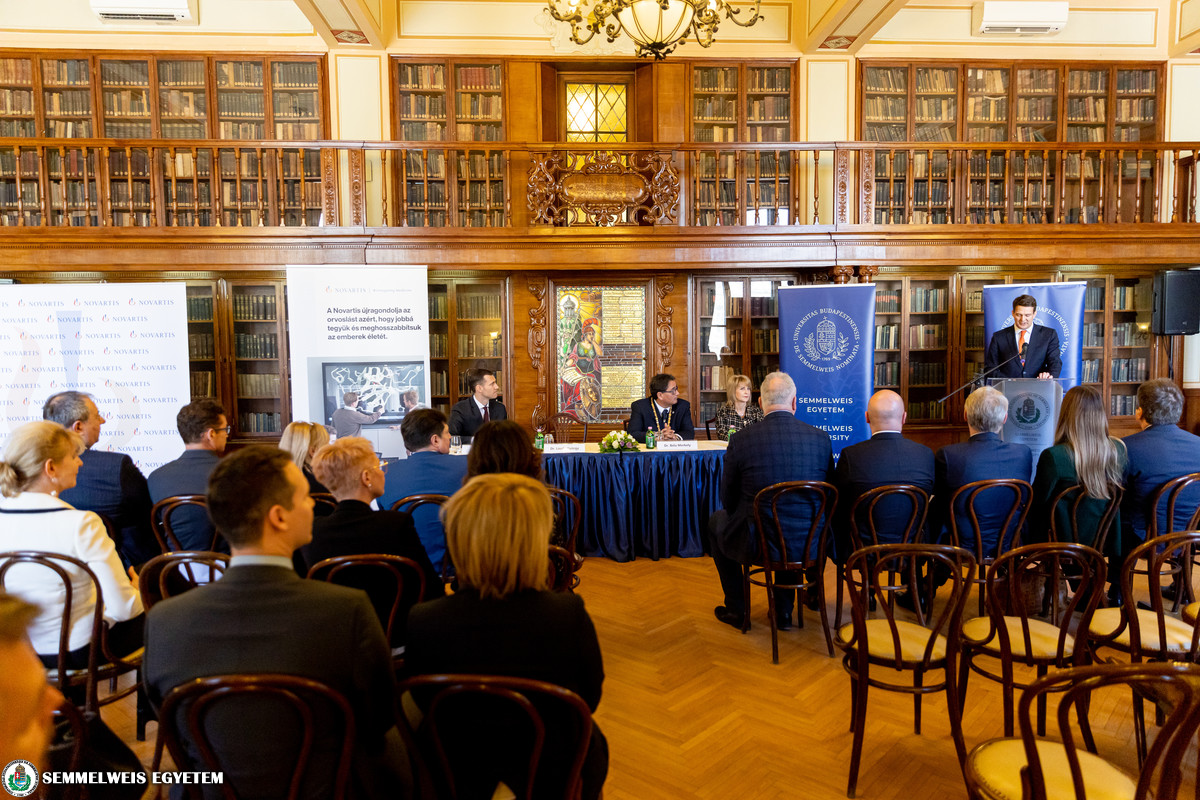 Matt Zeller, Managing Director of Novartis Pharma Hungary called the agreement a unique initiative, which, according to him, will not only change how do we approach cardiovascular diseases on a large scale, but also how to drive innovation within Hungary. "Unfortunately, someone dies due to cardiovascular disease every 8 minutes in Hungary. This is a silent and growing epidemic that requires a new approach," he stressed. The CEO believes that the partnership will deliver tangible results in the foreseeable future, as lowering the 'bad' cholesterol levels can have a meaningful impact on the lives of patients and the care system that serves them.
"This agreement demonstrates Hungary's ability to bring on real change, and to be at the forefront of healthcare and innovation on a global scale. With this cooperation, Semmelweis University is at the leading a unique initiative of its kind, showing that it deserves its place among the world's leading universities," said Matt Zeller.
Viktória Kiss
Photo: Attila Kovács – Semmelweis University