In this year's Semmelweis International Students' Conference, over a hundred presentations were shared by students from 14 universities in 8 countries. Due to the pandemic, all lectures took place online. However, for the first time, nations from beyond our continent were represented as well, thanks to the university's growing number of international contacts.
Dr. Attila Szijártó, President of the Students' Scientific Association was the first to address the participants at the opening ceremony online. According to him, besides the traditional Students' Scientific Conferences (TDK), Semmelweis University has been organizing an international conference since 2012, so this is the 10th occasion, which aims to build international connections between the talented youth. He reminded that participating in such conferences can be a life-changing experience, and a mayor learning opportunity as well. "Serving science is a lifelong vocation, and recognizing and supporting talented young people is one of the noblest tasks," he emphasized.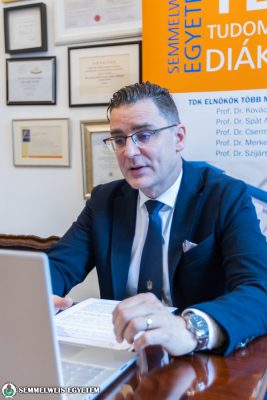 The President of the Students' Scientific Association pointed out that this year's event hosted a record number of over 100 exciting presentations created by students from 14 universities in 8 countries, which indicates that the university's international contacts are continuing to grow. Also, for the first time, nations from beyond Europe are also represented. "After all, science knows no borders: as the recent pandemic has shown, we can only achieve great results if we work together – and we need to do the same to defeat the coronavirus," he added.
Dr. Szijártó Attila reminded that Semmelweis University attaches particular importance to international relations, which are highly beneficial for both parties: thanks to partnerships, many foreign students and researchers are awaited at the institution, and Semmelweis Citizens are also welcome at the partner universities. This not only contributes to the development of science and outstanding publications, but enhances the prestige of the university as well. "Semmelweis is currently ranked among the world's top 300 universities; the aim is to be selected among the top 100 in the world and the top 5 medical universities in Europe. To achieve this, we need strong international relations and such young talents who are open to science", the president concluded.
On behalf of the international participants, dr. Arben Gjata, Rector of the University of Medicine, Tirana (Albania) expressed his pleasure that a partnership with Semmelweis University has been established recently. The University of Medicine in Tirana has over 9000 medical students, with a keen interest in professional collaborations. "I personally find it essential to internalize the university, so students and colleagues of Semmelweis are cordially invited to our international student conference, in Tirana this summer," the rector said.
RUDN University (The Peoples' Friendship University of Russia) is one of the oldest partners of the Students' Scientific Association of Semmelweis. In her orientation speech, Maria Grinberg, deputy director of PhD studies at RUDN reminded how rapidly the world is changing right now, and that there is a significant role of young people here.
Students need a strong sense of responsibility, so with creative thinking, knowledge and professionalism, they might find answers on how to solve the problems our modern world is facing
– she said. Maria Grinberg highlighted the fact that the circle of participants at Semmelweis International Students' Conference is expanding every year, and that she is grateful for RUDN University's students being part of it. "I hope to meet the best from the best of this conference in the postgraduate courses at RUDN, within the framework of the international cooperation programme between our universities," she added.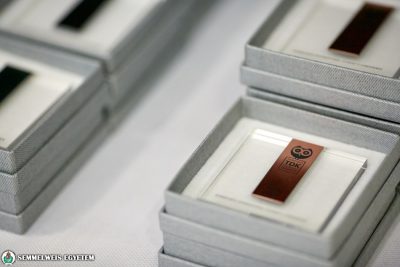 Vyacheslav Goryachev, president of the Students Scientific Society at RUDN University expressed his great appreciation to Dr. Béla Merkely, Rector of Semmelweis University and the Students' Scientific Association to provide an opportunity for international students to meet and discuss important topics like the latest results in scientific research. "Today, it is more important than ever to support student research and international conferences like this, to share experience and knowledge. Innovation is driven by science, which is, in my opininon, a vision of the future we would like to live," he said, adding that next time, he sincerely hopes to be able to meet in person and continue the successful cooperation with the partner universities.
The 14 institutes represented at the conference:
"George Emil Palade" University of Medicine, Pharmacy, Science, and Technology of Targu Mures; "Iuliu Hatieganu" University of Medicine and Pharmacy, Cluj-Napoca, Romania; Bashkir State Medical University; Central South University, China; Federal State Educational Institution of Higher Professional Education The Peoples' Friendship University of Russia; Harbin Medical University; Medical University of Graz; National Pirogov Memorial Medical University, Vinnytsya; The Second Xiangya Hospital, Central South University; The University of Agriculture Peshawar; University of Medicine, Tirana; University of Sarajevo; Voronezh State Medical University named after N. N. Burdenko; XiangYa School of Public Health, Central South University.
The list of the winners is available at this link (pdf).
Viktória Kiss
Photo: Attila Kovács – Semmelweis University, Bálint Bartha