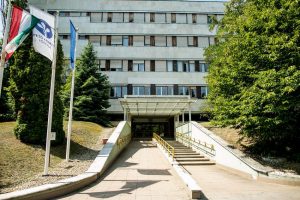 Faculty website
Address: 6 Kútvölgyi út,  1125 Budapest
Telephone: +36 1 224 1500
András Pető Faculty, formerly known as András Pető College joined Semmelweis University in the Fall of 2017. The faculty and its predecessor institutions have more than 50 years' experience in conductor training and the history of developmental work goes back 70 years. András Pető Faculty is the centre for quality assurance, research, education and it is the cradle of "Pető method", which is a conductive pedagogical system recognised worldwide.
The Faculty offers practice-oriented conductor training by a balanced blend of tradition and innovation and provides adult learning programmes internationally and in Hungary. The undergraduate conductor training programme is a four-year undivided full-time course and the undergraduate pedagogy programme is available as a three-year correspondence course.
Nearly 1,000 children and adults suffering mainly from motor problems participate in permanent or interval conductive education in a day-care or residential system at the practice locations managed by András Pető Faculty. The institution runs baby and mommy courses, classes for public education institutions (kindergartens, primary schools) as well as adult and international conductive development groups.
The primary academic objective of the institution is the continuous improvement of existing courses while taking the changing needs of society and the profession into consideration, and the accreditation and introduction of new forms of training and new academic content.