Dr. Gábor Gerber, D.M.D., PhD
Faculty of Dentistry, Dean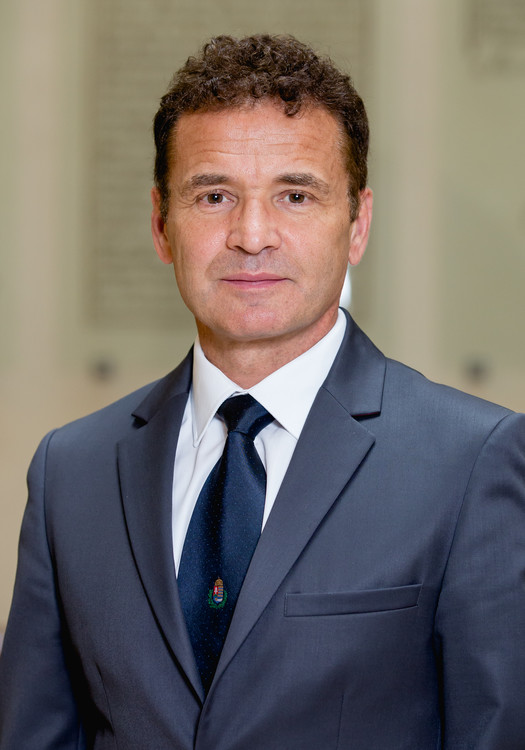 Born
30 May 1960, Budapest, Hungary
Marital status: married, 4 children
Qualification
1983 D.M.D. Semmelweis University of Medicine
1994 "candidate of medical sciences" (Ph.D). Hungarian Academy of Sciences
Employment

| | |
| --- | --- |
| Instructor (1983-1990)     | 2nd Dept. of Anatomy, Semmelweis University of Medicine |
| Research associate (May 1986 – January 1990) | Dept. of Veterinary Physiology and Pharmacology, Iowa State University |
| Assistant professor (1990-1994) | 2nd Dept. of Anatomy, Semmelweis University |
| Assistant Scientist (November 1996 – 1999) | Dept. of Biomedical Sciences, Iowa State University |
| Senior assistant professor (1995- 2004) |  Dept. of Anatomy, Semmelweis University of Medicine |
| Associate professor (2004- present) |  Dept. of Anatomy, Semmelweis University |
| Vice chairman (2006-2014, 2016-2020) |  Dept. of Anatomy, Semmelweis University of Medicine |
| Acting Head (2014- 2015) | Dept. of Anatomy, Semmelweis University |
| Vice Dean (2010-2015) | Faculty of Dentistry, Semmelweis University |
| Acting Dean (2015-present) | Faculty of Dentistry, Semmelweis University |

Scientific training and experience
| | |
| --- | --- |
| 1980-83 | Working as a dental student in the Laboratory of Neurophysiology of the 1st Dept. of Anatomy (Semmelweis Univ. of Med.) under the guidance of Dr. László Simon. The adaptation of the nervous system was studied on labyrinth impaired rats by monitoring motor reactions and nystagmus. |
| 1984-86 | Neurohistological analysis of the mediobasal hypothalamus using single section Golgi impregnation and Co2+ labeling techniques in the laboratory of Dr. Miklós Réthelyi (Semmelweis Univ. of Med.) |
| 1986-90 | Research associate in the laboratory of Dr. Mirjana Randic at Iowa State University, Ames, Iowa. Electrophysiological and pharmacological analysis of the synaptic transmission in the rat spinal dorsal horn using in vitro slice preparation and current- and voltage-clamp techniques. |
| July-Sept. 1991 | European Training Program Short Term Fellowship in the laboratory of Dr. Clifford J. Woolf at University College London, UK. Study of the effects of ionotropic and metabotropic excitatory amino acid receptor antagonists on the ventral root reflex in the hemisected spinal cord preparation, in vitro. |
| May- Sept. 1992 | Study of the effect of morphine on the ventral root reflex in the hemisected spinal cord preparation in the laboratory of Dr. Clifford J. Woolf at University College London. |
| Nov. 1996 – Dec.1999 | Assistant Scientist in the laboratory of Dr. Mirjana Randic at Iowa State University. Analysis of the role of metabotropic glutamate receptors in synaptic function in the spinal cord in normal state and following tissue or nerve injury using current- and voltage-clamp techniques simultaneously with Ca2+ imaging in slice preparation. Investigation of the effects of k-opioid receptor agonists on the NMDA-evoked Ca2+ transients in acutely isolated spinal dorsal horn neurons. |
Educational experience at Semmelweis University Budapest and Pázmány Péter Catholic University
| | |
| --- | --- |
| 1981-83 | Teacher assistant. Laboratory courses in gross anatomy, developmental anatomy and histology. |
| 1984-86 | Instructor. Laboratory courses in gross anatomy, developmental anatomy and histology for medical students. |
| 1990-94 | Assistant professor. Laboratory courses and lectures in gross anatomy, developmental anatomy and histology for medical students both in the Hungarian and English program. |
| 1995-2004 | Senior assistant professor. Laboratory courses and lectures in gross anatomy, developmental anatomy and histology for medical, dental and biomedical engineering students in the Hungarian and English programs as well. |
| 2001- present | Lectures and laboratory practices for students of psychology at the Pázmány Péter Catholic University. |
| 2010-present | At the Faculty of Dentistry, he is a lecturer in the subjects of anatomy, histology and development, then Macroscopic anatomy and development, and Microscopic anatomy and development. |
| 2004- present | Associate professor. Anatomy, Histology and Embryology Course director for the Faculty of Dentistry since 2010. Laboratory courses and lectures in gross anatomy, developmental anatomy and histology for medical, dental and biomedical engineering students in the Hungarian and English programs as well. |

Current and future research interest
Study the roles of metabotropic glutamate receptors in the sensory (especially nociceptive) signal processing and synaptic plasticity in the spinal cord dorsal horn in normal state and following tissue and nerve injury. This work involves intracellular recording (conventional and whole-cell patch-clamp techniques) of synaptic potentials from individual spinal dorsal horn neurons in the in vitro spinal cord slice preparation and the combined whole-cell patch-clamp recording of synaptic currents with fluorescence imaging of calcium responses.
Morphological and electrophysiological characterization of dental pulp and periodontal stem cells and investigation of their regenerative potential in central nervous system injury.
List of Dr. Gábor Gerber's publications in the Hungarian Database of Scientific Works
Invited presentations
Dept. of Vet. Phys. & Pharm., Iowa State University, Ames, Iowa 1989
2nd Dept. of Anatomy, Semmelweis University of Medicine, Budapest, Hungary 1990
University College London, UK, 1991
Sensory Integration and Pain Symposium, Pécs, Hungary 1991
Sandoz Inst. For Medical Research, London, UK 1992
Dept. Biomedical Sciences, Iowa State University, Ames, Iowa 1998
Neuroscience Program, Iowa State University, Ames, Iowa 1998
Recent Advances in Pain Sensation, Symposium, Budapest, 2000
The structure and function of the spinal cord from Mihály Lenhossék to our days, Symposium, Budapest, 2003
Partners Hungary Foundation, Biological Sex – Gender conference. The human brain in the mirror of biological sex. Budapest, 2006
Institute for Social and European Studies, 'Keresd a Nőt!' konferencia Sopron, 2007
School of Dentistry Kyungpook National University 2007, Daegu, South Korea
University of Belgrade, School of Medicine 2007, Belgrade, Serbia
University of Barcelona, Barcelona, Spanyolország, 2012
College of Dentistry, Gangneung-Wonju National University Gangneung , South Korea, Dental Education in Hungary 2014
Continuing Dental Education Course lecturer 2013, 2014, 2015. Pain: Pathways and Interventions

Awards
1992            Rector's Commendation of Semmelweis University
2003            Outstanding Worker of Semmelweis University
2007            Visiting Professor University of Belgrade School of Medicine
2016            Apáczai Csere János Award

Conference organization
2006            International IBRO Workshop, Budapest member of local organizing committee
2009            Hungarian Anatomical Society, Budapest, member of local organizing committee
2012             Stem cell Symposium co-organizer at the joint meeting of the Hungarian
Physiological and Anatomical Societies, Debrecen
2013            Hungarian Neuroscience Society annual meeting, Budapest; member of local organizing committee
2016            International Symposia of Clinical and Applied Anatomy (ISCAA), Budapest; Scientific Committee Member, Section Chair 
2017           Conference of the Hungarian Anatomical Society, Budapest;  President. 
2018          November 22-23, EFOP-3.6.2-16-2017-00006 Translational interactive hands-on training and conference on epithelial ion transport Research in oral cavity – from basic science to clinical use section president
2019         Conference and Symposium organizer. Joint conference of the Hungarian Anatomical Society, Hungarian Physiological Society, Hungarian Biophysical Society, Hungarian Microcirculation Society, Budapest
2020         Semmelweis 250 Clinical Conference section president
2022         Semmelweis Symposium 2022 organizer and president of two sections

Memberships
Secretary General of the Hungarian Anatomical Society (2009-present)
Society for Neuroscience
Sigma Xi, The Scientific Research Society
Hungarian Neuroscience Society
International Brain Research Organization (IBRO)
Dental Section of the Hungarian Medical Chamber
Member of Hungarian Accreditation Committee (HAC) (2012- present)
Co-chair of HAC special committee for Medical Sciences (2012- present)
Member of the expert panel of the Kosovo Accreditation Agency (KAA)
International Federation of Associations of Anatomists (IFAA)
European Federation for Experimental Morphology
ad hoc reviewer
European Journal of Neuroscience
Interventional Medicine and Applied Science (IMAS)
Neuropsychology
Brain Research
Neuroscience Letters
International Journal of Molecular Sciences
Publications
| | |
| --- | --- |
| Scientific papers | 104 |
| Citation | 1468 |
| Independent | 793 |
| Hirsch index | 19 |
| Conference abstracts | 53 |