The current level and future possibilities of the university's Core Facility system was in focus of the third Semmelweis Business Forum, organized by the RDI Business Development Center. Besides many else, presenters introduced the core facility virtual ecosystem, and gave account of recent developments concerning the in vivo imaging facility, the molecular oncogenomic core facility services, animal housing and the 3D bioprinting facility.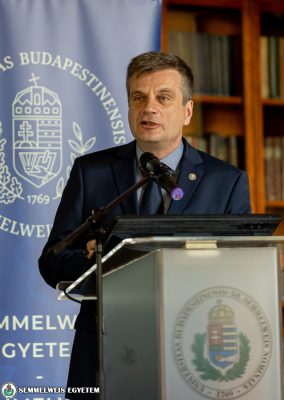 In his greeting speech, Dr. Péter Ferdinandy, Vice-Rector for Science and Innovation reminded that Semmelweis University's long-term vision is to become the engine of a healthcare innovation ecosystem in Central and Eastern Europe, and to move further up in world rankings. "In order to achieve that, four RDI strategic goals are to be kept in mind: to strengthen and complete the systematic functioning of core facilities, create and facilitate an innovation culture, improve technology transfer and spin-off management, and to develop a well-functioning RDI support system. We need to improve data centres, support biobank networks and animal testing, not to mention core facility management and utilization itself, which is to be made visible for internal users and external scientific collaborations as well," he said. According to the Vice-Rector, the university would like to create an ideal ecosystem of pharmaceutical and medical technology industry, where academic institutions are surrounded by spin-off companies creating additional possibilities and attract further funding. "An excellent tool to increase our RDI impact is the Science Park that is being built at Semmelweis, which involves large-scale real estate development besides many else. In short, we need to strengthen and complete the systematic functioning of core facilities, focusing on areas like bioinformatics, multi-omics, biobanks, data centres, animal house, virus laboratory, clean rooms, artificial intelligence and 3D printing," Dr. Péter Ferdinandy concluded.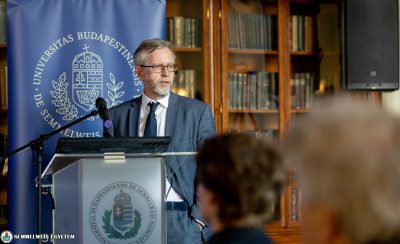 Dr. Gyula Péter Szigeti, Director of Semmelweis University's Innovation Center introduced the Online Core Facility System in detail, which offers a wide range of instruments and services for in-house and external researchers as well. The Cardiovascular Imaging Core Laboratory performs experimental and clinical cardiovascular imaging at the highest level. The Large Animal Experimental Service Laboratory has equipment for research in the field of cardiovascular physiology, in vivo imaging, electrophysiology, interventional cardiology, cardiovascular surgery and heart transplantation. The NanoString GeoMx Digital Spatial Profiler system investigates RNA and/or protein expression in connection with tissue morphology. The Central Experimental Histopathology Core Lab's provides basic and advanced histopathological research equipment and techniques. The Live-Cell 3D Bioprinting Unit offers facilities and technologies to print and work with in vitro, growing three dimensional tumour models for basic research and drug testing experiments. The Viral Vector and the Cell Culture Laboratory are Biosafety Level 2 labs. The former is for the production and preclinical use of viral vectors, the latter is for the culture and investigation of different types of cardiomyocytes and other cell cultures.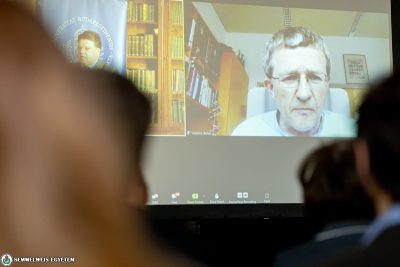 Dr. Vladimír Beneš, Head of Genomics Core Facility at the European Molecular Biology Laboratory (EMBL) joined the forum online, and explained what the main missions of their core facilities are. "In addition to providing high quality services and offering access to and expertise in cutting-edge technology, services are ought to be integrated with overall scientific objectives. It is also important to contribute to internal and external training courses, workshops and technology developments in collaboration with industrial partners," he said. According to him, the strength lies in the establishment. In summary, EMBL core facilities have a stable user base, a critical mass in highly skilled staff and cutting edge equipment. It offers subsidized, affordable user fees, and a significant contribution to international training activities, networking, user feedback and technology scouting mechanisms," Dr. Beneš added.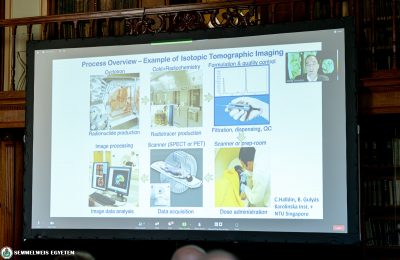 Dr. Domokos Máthé, Head of Advanced Core Facility at the Hungarian Centre of Excellence for Molecular Medicine (HCEMM) joined the forum online as well. He spoke about recent developments and further possibilities of the Semmelweis University in vivo imaging facility at the Department of Biophysics and Radiation Biology. "Just to give an overview, regarding 3T MRI/PET imaging, measurements of kinetic and dissociation constants are possible on a high level. With SPECT/CT imaging, antibody distribution is detectable, whereas the brain Doppler ultrasound – which is faster and cheaper than a functional MRI – is the go-to method for the measurement of brain cortical activation," he reminded. "Translational molecular imaging with PET is now done across species, from mouses to human models. On the whole, there is an impressive set of services at the facility, from fluorescent reporters of gene expression and quantitative drug effect profiling to organ dosimetry of radiotherapeutics," said Dr. Domokos.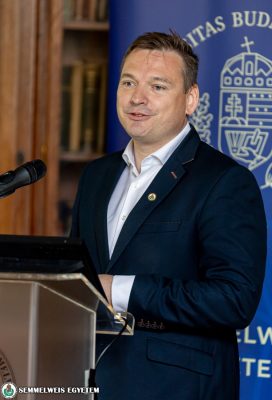 Dr. Csaba Bödör, Head of Molecular Diagnostics at the Department of Pathology and Experimental Cancer Research introduced their molecular oncogenomic core facility services. In particular, he gave a detailed account of the NanoString GeoMx Digital Spatial Profiler system, which basically investigates RNA and protein expression in connection with tissue morphology. It is characterized by versatile 'region-of-interest' selection methods (geometric, segmentation, cell type specific, contour and gridded), using special morphology markers and an in-built mirror system. "There are a number of biomarkers to be investigated here in regard to immunology, immuno-oncology, neurodegeneration or neuroinflammation," he said. In essence, the combination of the aforementioned system with next-generation sequencing or the nCounter readout analysis system (both available at the 1st Department of Pathology and Experimental Cancer Research) provides reliable output from all kind of experiments.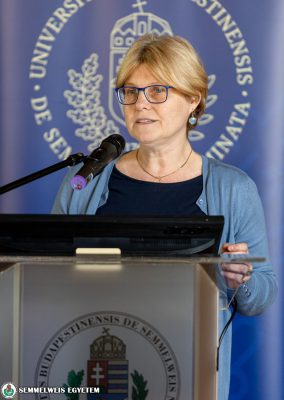 Dr. Anna Sebestyén, Senior Research Fellow at the Department of Pathology and Experimental Cancer Research, Head of the Tissue and Cell Culture Laboratory spoke about their unique 3D bioprinting facility. Regarding the fact that therapy resistance and failures in drug development are on the rise, the main aim is to rebuild complex in vitro models and mitigate such factors. "Fortunately, a whole set of new tools have become available to us, including live cell 3D bioprinting, which was once considered science fiction," she stressed. As for future perspectives of 3D bioprinted in vitro cancer models, advantages are indisputable since they could ultimately reduce the number of in vivo experiments, rationalize drug target research, drug preselection, preclinical tests, phase trials and may entail a new patient-derived tumour cell drug sensitivity test as well. "Basic research is a multi-parametric puzzle game. For this, we need to be creative and complete this puzzle, where 3D bioprinting offers new options to create new model systems in cancer research," she concluded.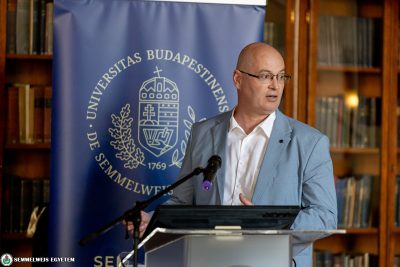 The university's animal housing facility was introduced by Dr. László Hiripi, Head of the Laboratory Animal Science Coordination Center (LASCC). According to him, besides the development of rational operation, their main aim is to establish a long-term education and research strategy related to laboratory animal science. "We have conventional and individually ventilated cages with a high hygenic status; we offer surgery and laboratory rooms, GM and genome edited animal housing, a special breeding service, genotyping, and there is an in-house small animal ultra-sonographic service available," he said. Dr. Hiripi highlighted that prices vary within cage types, but for Semmelweis users, it is non-profit, and for projects with payments related to RDI fund as well as collaborative business projects with the university, special prices apply. Among their future plans, he mentioned the design and production of genetically modified and genome engineered animal models, long-term storage of special animal lines, close cooperation with an in-house SPF (specified pathogen free) unit, and the development of a modern microbiological animal unit.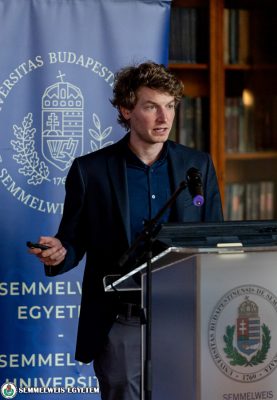 The small animal ultrasonography's features were presented by Csenger Kovácsházi, PhD student at the Department of Pharmacology and Pharmacotherapy. The institution has a VEVO 3100 – ultra high frequency animal ultrasonography with a spatial resolution down to 30 µm (30 microns), which is suitable for various species and has a wide applicability to the cardiovascular system, oncology, abdominal and developmental areas. "The device is open for academy and industry utilization, and, regarding core facility services, supports full study management, study design, measurement and evaluation," said Kovácsházi. Among future plans and goals, they would like to gradually increase the number of collaborators, introduce new applications like a contrast-enhanced ultrasonography, and new softwares for image analysis.
The Semmelweis Business Forum, hosted by Dr. István Szabó, former Director of the RDI Business Development Center, aims to strengthen the university's links with the business community and to promote the commercialization of knowledge accumulated at the institution. The patron of the franchise event held in the Semmelweis Salon is Gábor Orbán, Chair of the Board of Trustees.
Viktória Kiss
Photo: Attila Kovács – Semmelweis University