In recognition of her outstanding work, Dr. Andrea Fekete, Associate Professor of the 1st Department of Pediatrics has received the Jedlik Ányos Award of the Hungarian Intellectual Property Office. This year researchers, physicians and outstanding professionals contributing to the fight against the coronavirus have been awarded.
Dr. Andrea Fekete, pediatrician, associate professor of the 1st Department of Pediatrics at Semmelweis University, executive director of SigmaDrugs drug development startup has been awarded with the Jedlik Ányos Award.
Dr. Andrea Fekete's patented invention related to Sigma-1 receptor stimulation may lead to a breakthrough in the treatment of pneumonia and pulmonary fibrosis as complications of the coronavirus infection. The invention of the university's spin-off company for antifibrotic treatment has also been patented in the United States, Europe, Japan, China and Israel. In November 2020, Phase 2 clinical trials began, in which COVID-19 patients with complications of moderate severity receive fluvoxamine therapy.
Dr. Andrea Fekete's research results have been published in prestigious journals, she is a regular reviewer of the Journal of Physiology, American Journal of Human Genetics, Transplant International, Nephrology Dialysis Transplantation, and a member of the editorial board of Journal of Pediatric Sciences. She is also invited as speaker at various international conferences. Dr. Andrea Fekete is a co-founder and executive director of SigmaDrugs Biotech; in cooperation with her colleagues, they have created several patents related to drug development. She previously received the Semmelweis Innovation Award and the Gábor Dénes Award.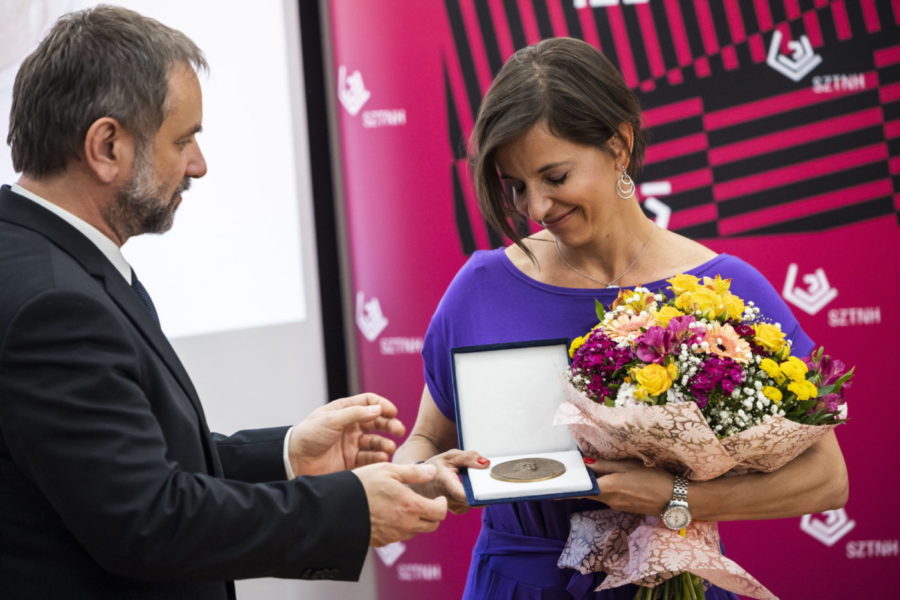 At the award ceremony, Tibor Gulyás, Deputy State Secretary for Innovation of the Ministry for Innovation and Technology, and Gyula Pomázi, President of the Hungarian Intellectual Property Office delivered a speech.
In recognition of their outstanding work, the following people were also recipients of the Jedlik Ányos Award: Katalin Karikó, research biologist, Imre Dékány, professor, András Kotschy, pharmaceutical researcher and András Szecskay, lawyer. At the event, the special prize of the Innovation Award of the Hungarian Association for Innovation was also presented, which was awarded to András Kovács, managing director of Hagyó Kft. this year.
Dóra Horváth (Source: MTI)
Featured image: Attila Kovács – Semmelweis University
Translation: Katalin Illés-Romhányi