Even as a child, Dr. Béla Merkely followed with excitement his grandfather's work as a practicing doctor in the same house where today's rector and his children, who have also chosen the medical profession, grew up. Respect for family and tradition was always important, which is also symbolized by the location of our interview, the family's multi-generational house in Buda. As part of our "Generations at the University" series, we talked with rector Dr. Béla Merkely, director of the Városmajor Heart and Vascular Center, his children Dr. Petra Merkely and Dr. Gergő Merkely, his son's wife Dr. Júlia Karády, as well as relatives Dr. Keresztély Merkel, Jr. and Dr. Eperke Merkel.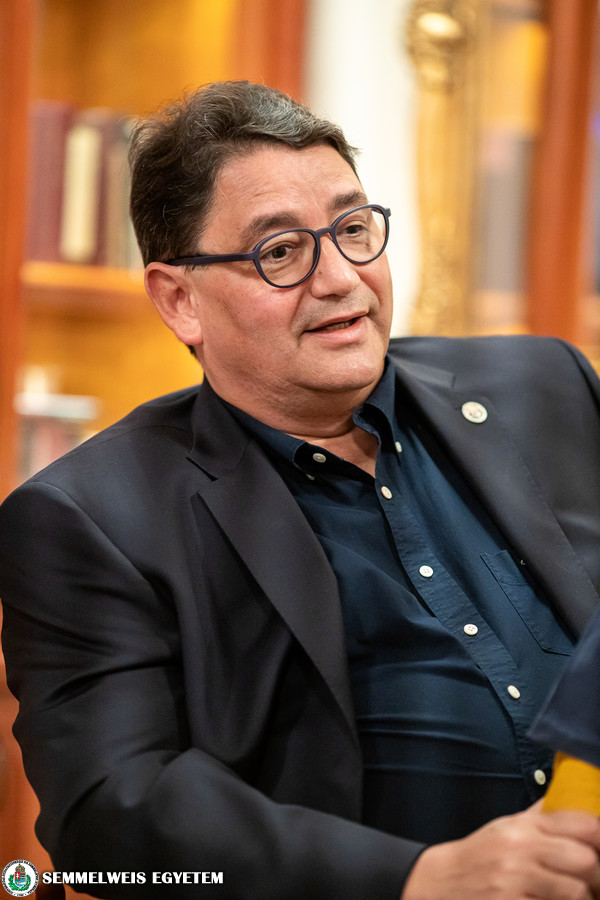 "Son, when you're getting ready to see a patient, make yourself comfortable, be fully prepared and turn all your attention to them," – this is the advice that was handed down by the paternal grandfather of rector Dr. Béla Merkely, who as a child experienced himself how Dr. Keresztély Merkel, a general internist doctor, welcomed patients in the house in Buda that at the time – and today as well – served as home to several generations of the family. The grandfather, who was a chief supervising physician at the János Hospital, also dealt with psychosomatic diseases, which took up a lot of time; patients would spend up to an hour with him while others waited outside the room that acted as his office. While this was going on, the grandchildren had to be silent, but they were so excited to know what was going on inside the doctor's office that more than once they tried putting their ears to the door.
The house where we are conducting the interview was bought by Dr. Merkely's great-grandparents and grandparents in 1952, when the family moved from Mohács to the capital, in order to follow the grandfather where his medical practice took him. However, medicine has even older roots within the family. They had always held in high esteem József Fodor, whose picture hung on the wall. The first professor of public health, the pioneer of public health and epidemiology in Hungary, the former dean of the medical faculty and the rector of the University of Pest (1894/95) was Dr. Béla Merkely's great-great-granduncle.
Despite the grandfatherly influence, Béla Merkely was the only one of seven brothers to pursue a career in medicine, which in addition to his grandfather was also inspired by Dr. Géza Tasnádi, the renowned pediatric and vascular surgeon who died recently, and who was the father of his first wife and grandfather of his grown-up children. Three of the rector's siblings – following in their father's footsteps – are physical education teachers. But his father's profession also has an effect on Dr. Béla Merkely's daily life: he notes that sports were a natural part of everyday life in their household, they started swimming when they were 3 years old, and later started playing water polo as well.
"We also grew up learning to know and respect our elders, traditions, the values of the past. Our grandmother, who lived to be more than 100, played a big role in this," says the rector. The importance of family roots is well symbolized by the multi-generational house with several apartments where Dr. Béla Merkely and his children grew up. His eldest son, Dr. Gergő Merkely, is a PhD student at Semmelweis University and is currently research fellow at the Department of Orthopedic Surgery of Brigham and Women's Hospital at Harvard Medical School. (Read our article about his research there by clicking on this link.) Rector Merkely's daughter Dr. Petra Merkely is a resident at the Department of Obstetrics and Gynecology, and a PhD student at the university. "With such role models as my father and grandfather I never really considered doing anything else, I was always interested in patients and diseases, it's in my genes," says Petra, who only hesitated slightly between whether to pursue veterinary or human medicine.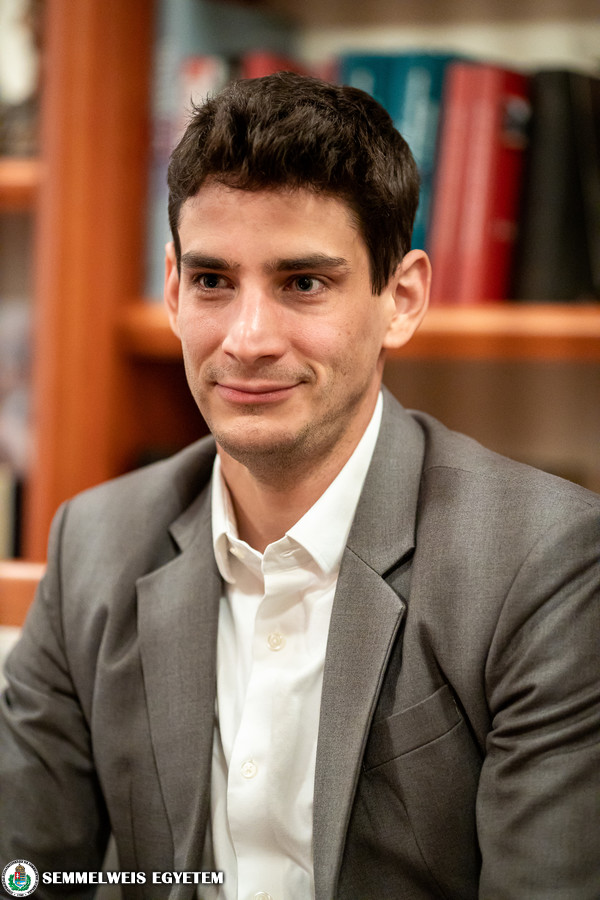 Gergő was slower to settle on this career path, as he played basketball competitively when he was in high school and spent all his time doing sports, so he only decided at the last minute to apply to medical school, since – as his father told him – with this move, he wouldn't be closing any doors behind him, but opening up new opportunities. "Our grandfather was a well-known doctor, a pediatric surgeon, and we grew up hearing him talk at the dinner table in detail about the day's operations. When we had friends over, we were surprised to see that they felt less comfortable in these situations. We were not in the least bothered by these stories, they were a part of our everyday lives," says Gergő, indicating why among others he felt this was his path as well. Eventually, with orthopedics he found a specialty where sports and medicine intersect. He landed on this field due to a personal experience, when he was operated by Dr. László Hangody after he tore a ligament during a game.
Marci, 8 years old, also has a ready answer to the question of what he will be when he grows up: "now I think, a doctor," he says, this phrasing referring to the fact that for a long time he had his eyes set on saving people as a firefighter.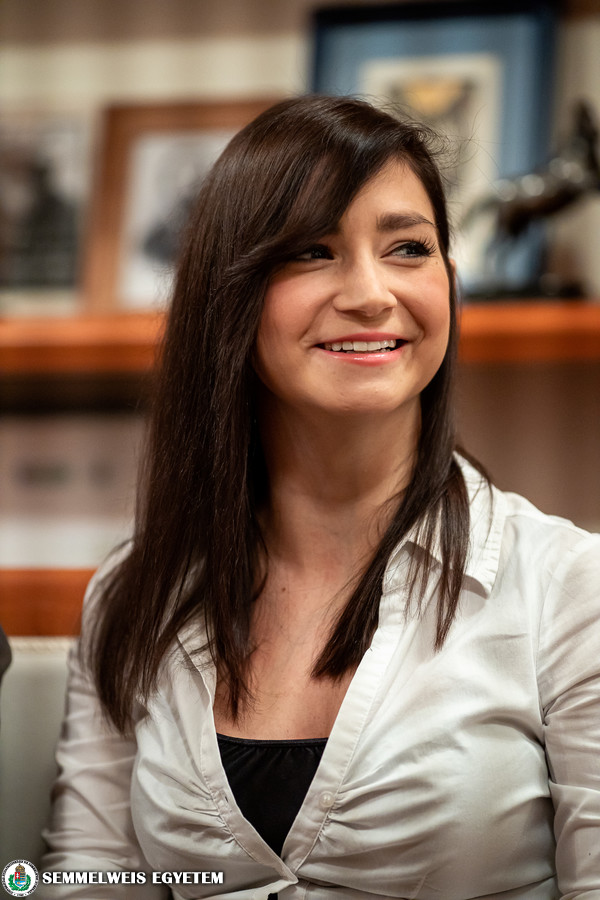 Dr. Béla Merkely never dared to hope that his children would also pursue this profession. To this day, he remembers when all his daughter asked for her sixth birthday was for "Daddy to be home more." But for a doctor, regardless of specialty, traditional work hours will never apply. Nevertheless, Petra says that however much he worked and was away from home, his positive example is stronger for her. She was also sure that within medicine she wanted to choose a manual profession: her choice fell on obstetrics-gynecology because it is diverse, with virtually every medical profession present in it in some small form, which she notes also makes it difficult to choose a further specialization. The love of sports is present in her life as well; for years she was a TRX and aerobics instructor, and her current research topic is also related to sports, as it concerns the role played by hormonal and gender differences in the vascular system.
Rector Merkely notes that choosing a specialty within medicine was not an easy decision for him either; he says that more often than not, it is not a profession that a person chooses but a teacher. His fate was sealed in his sixth year, when he was on a scholarship at Heidelberg, and he had a chance at the heart clinic there to get a glimpse of the future of cardiology, with the development of catheter interventions and electrophysiology. After graduation, he landed at the Városmajor clinic, where his master Dr. Zoltán Szabó had the greatest influence on his career path, while other mentors that had a great effect on him were Dr. Sándor Juhász-Nagy in the area of research, and Dr. József Tenczer in the area of cardiology. "I started on this career path due to family traditions, but it is thanks to my master and mentors that I am where I am today in cardiology," he says.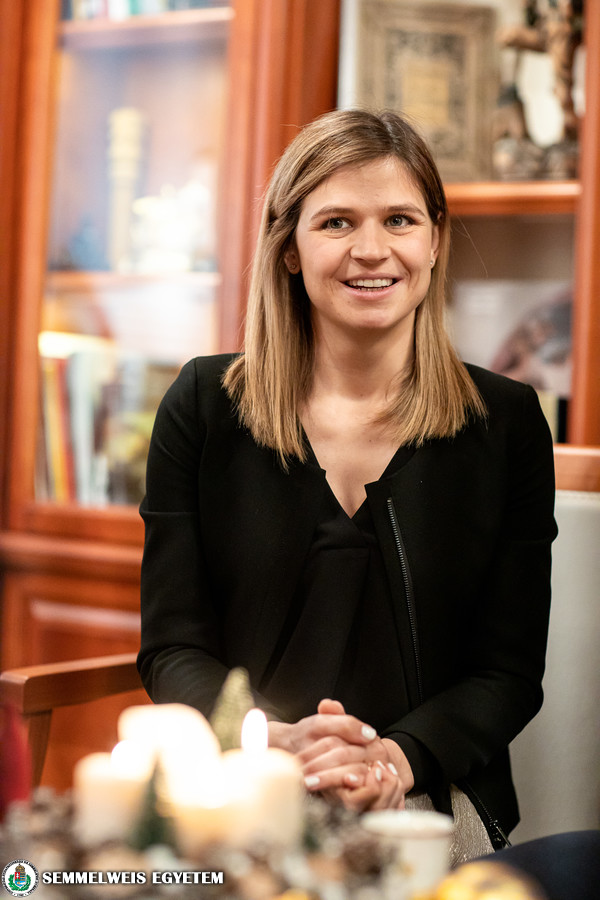 The Merkely family recently welcomed a new doctor to its midst. Dr. Gergő Merkely and his wife, Dr. Júlia Karády, first met during an internal medicine practice in their third year, and they got married this January. Júlia's grandparents and mother were also doctors, but when she decided to pursue this career her grandfather, Dr. József Csengődy, advised her to spend a few months among patients before starting medical school. That was how she ended up at the Városmajor Heart and Vascular Center, as at the time her grandfather was being treated there by Dr. Béla Merkely. Her first experience in an operating room was a fantastic and defining moment, as they allowed her to be there when her grandfather had a pacemaker implanted. "That is how I have known Professor Merkely for a longer time than Gergő; what's more, since my grandfather was also a vascular surgeon, our grandparents knew each other too, both of them were among the first generation of vascular surgeons in Hungary," recounts Júlia, who is currently also a PhD student at Semmelweis University, and similar to Gergő, is in a research position at Harvard, at the Massachusetts General Hospital.
And as to what kind of an additional bond a common profession and common university roots mean within the family? As they tell it, in their family group chat, in addition to personal things, they also frequently share medical news and interesting reports, and if a question arises someone is sure to know the answer, since between the three of them, they cover three large areas of medicine. Furthermore, family conversations can easily lead to strategies as well, as Dr. Béla Merkely listens to the experiences at Harvard or in the field of obstetrics and gynecology not just with the ear of a father, but with that of a rector as well, gathering ideas for best practices that could be implemented at the university.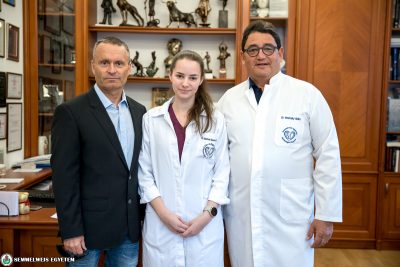 The grandfather, Dr. Keresztély Merkel, Sr., also influenced the career choice of Dr. Béla Merkely's cousin, Dr. Keresztély Merkel, Jr. "There was no other path; my mother was a doctor as well, she worked as an oral surgeon," says the surgeon, who works at the Szent Imre Hospital, as well as in English and Spanish-speaking countries, and whose main specialties are colorectal and breast surgery. His daughter, Dr. Eperke Merkel, is currently a resident at the Városmajor Heart and Vascular Center and a PhD student at the university. She recalls that she has known since she was six years old that she wanted to be a doctor, in which family traditions played a big role. Initially, she was planning to become a surgeon like her father, but in the end she chose cardiology, which better fits her physically but also requires manual skills; she is currently a member of the pacemaker surgery team. The reasons behind the different spellings of the family name are lost in the mists of family anecdotes. One thing is certain: Dr. Béla Merkely's father, who was born in 1942, already spelled his name with a 'y' at the end, while the birth certificate of his brother who is two years older used the version of the name without the 'y'.
Pálma Dobozi 
Translation: Tamás Deme
Photo: Attila Kovács – Semmelweis University