Dr. István Sebe, a research fellow at Semmelweis University's University Pharmacy, Department of Pharmacy Administration, has won the Albert Szent-Györgyi Young Investigator Award, which is given by the New York Hungarian Scientific Society to Hungarian scientists under the age of 35 living in Hungary or in neighboring countries.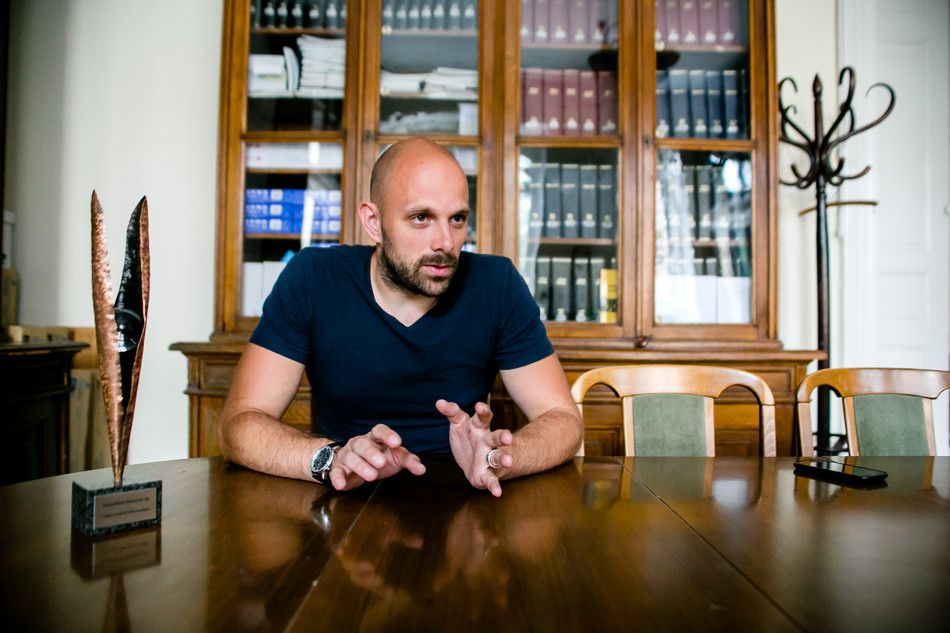 Dr. István Sebe submitted his application for the award based on the results of his previous research, his scientific publications, his PhD dissertation and the active role he takes in the scientific community, representing the university's Faculty of Pharmaceutical Sciences and the University Pharmacy.
Dr. István Sebe's area of research is nano- and microfibrous drug delivery systems, which have significant biomedical applications and usefulness in the formulation of drugs. In 2016, he received an Innovation Award from Semmelweis University for the most innovative PhD thesis. In collaboration with his colleagues, he has developed a multifunctional system, with controlled drug release, that can be used in the topical treatment of wounds. This allows among others the increased solubility of the active ingredient, thus reducing the preparation's active ingredient content, while also stimulating tissue regeneration.
The topical application of this system also has significance in the area of antibiotics, in combating multiresistant bacteria (in the case of chronic and postoperative wounds or traumatic injuries). The formulation of nanofibrous drug delivery systems, due in part to the already mentioned increase in the solubility of active ingredients, has the potential to become a new and relevant solution in industrial pharmaceutical technology, thus in the not too distant future drug forms integrated with fibrous systems could be available on the market.
The New York Hungarian Scientific Society was formed in 2010 as an informal social club, but has been operating since 2012 as a New York nonprofit corporation organized exclusively for charitable, scientific and education purposes.
The Albert Szent-Györgyi Young Investigator Award was established in 2015 to support original research by young Hungarian scientists living in Hungary or in neighboring countries. The Award is funded by the generous support of the American-Hungarian scientific community.
Tamás Deme
Photo: Attila Kovács – Semmelweis University