The RDI Business Development Center, a new organizational unit at the university, is building a business development network with faculty-level associates. Director Dr. István Szabó aims to have 100 spin-off companies based on university patents, developments and services operating in close cooperation with Semmelweis University by 2030. The manager sees himself as a kind of producer, and his task is to be present from the initial idea and to take the process through to the sales stage, in cooperation with other RDI support departments. Dr. Szabó started his career at the 2nd Department of Internal Medicine, built his first business on a patent and then gained considerable experience in the health and pharmaceutical industry.
"I am quick to learn new things that I can apply systemically in a short time, I adapt easily to new environments and I can calculate faster than the average person. These are probably my most specific skills that I need for business," says Dr. István Szabó, a medical doctor with extensive experience in the health and pharmaceutical industries, who has been heading the new RDI Business Development Center, a centrally-established organizational unit, since June.
As an integral part of the institutional innovation ecosystem, the center coordinates the commercialization of RDI (research, development and innovation) products and services from the university, i.e. it helps to ensure that the products and services resulting from research are exploited by market partners and investors. The tasks include compiling Semmelweis University's portfolio of RDI products and services, identifying interested industrial players and financial investors, establishing sales opportunities, and developing key RDI business areas.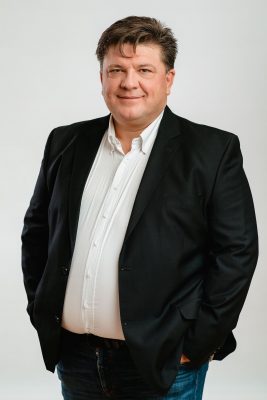 "I identify, calculate, position, secure funds and, if necessary, sell. Business development is responsible for raising money and partners, and then kneading the idea, development or service into a market product," he sums up briefly the tasks set out for the unit in the Organizational and Operating Rules. A service currently available at the university, through the Innovation Center and the University Innovation Committee, is the "incubation" of research ideas and developments, and support in getting them to patent. "The incubation process lasts on average 2-3 years, during which time we continuously organize the exploitation of future patents. The autonomous role of the organization I manage actually starts when we have a sample or a boxed product, when we can finalize the business plan – the RDI Business Development Directorate wants to take the process from production to building a company, and if necessary to its sale," notes the director. He believes that although the university's excellence is well-known nationally and internationally, people are not necessarily aware of the value proposition from a business development perspective.
I'm sure there's a lot more exploitable value, a lot more ideas, than we're getting at the moment; we've got a gold mine, metaphorically, but we don't know where the gold is, so we have to sift through it all
– he illustrates. That is why a business development induction network is being set up at the university, which will also have representatives at faculty level, who will first act as a kind of mentor to guide talented people, and then as a filter to check whether an idea meets the conditions, is sufficiently business-oriented, and whether the idea meets a real market need. The ideal business development officer will accelerate the innovation process, increase the value of the product and facilitate its market launch. "I welcome applications from people who are interested in this world, as we are building the future success stories of our own resources," he said.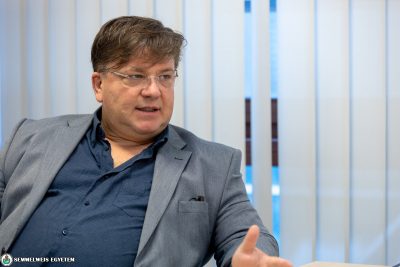 In addition to the exploitation of intellectual property, the center will also develop a business plan for the efficient use of the university's scientific infrastructure (core facility), which has great potential for sale as a service in addition to internal use. In addition to high-value assets, biobanks are also part of this infrastructure, which is why the operation of this infrastructure as a single system is so important. Dr. István Szabó pointed out that the university can provide an excellent test environment for the development of certain products, both from a professional and infrastructural point of view. The head of the RDI Business Development Center aims to have around 100 spin-off companies operating related the university by 2030, based on university patents and developments.
Dr. István Szabó graduated as a general practitioner in Szeged in 1996. As he says, his ancestors are clinicians going back several generations, most of them internists, so he started his career at the 2nd Department of Internal Medicine. Despite the family tradition, he was attracted to research, including molecular medicine, from the very beginning. He first developed his own patented product line and clinical laboratory network, building a successful market, and later worked in the pharmaceutical industry at EGIS, Hexal, Sandoz and Beaufour Ipsen, among others. He has also held government management positions at the National Institute of Pharmacy and Food Health and the former Institute for Quality and Organization Development in Pharmacy and Health Care (GYEMSZI), and was managing director of the Hungarian Center of Excellence for Molecular Medicine (HCEMM) until March 2021.
"I've always been a classic startupper, I was given a new idea, a portfolio, that then three or five of us started to build, and after two years I looked around and we were sitting at a thriving company," says Dr. István Szabó, noting that the key to this was the selection of excellent employees, dynamic decision-making and teamwork. As he points out, he wants to build and help lay the foundations of a new kind of corporate culture on the foundations of the university, so he sees himself as a kind of producer of academic excellence, responsible for building and leveraging the product portfolio.
Pálma Dobozi
Translation: Tamás Deme
Photo: Zoltán Tarnavölgyi; Attila Kovács – Semmelweis Egyetem