The Clinical Conference was one of the flagship events of the program series organized on the occasion of the 250th anniversary of the foundation of Semmelweis University. The award ceremony of the two-day, English language event held last autumn was canceled because of the pandemic. Therefore, the awards were handed over recently at a ceremonial board meeting at the Semmelweis Salon by Dr. Attila Szabó, Vice-Rector for Clinical Affairs, President of the Clinical Center and Dr. János Réthelyi, Director of the Department of Psychiatry and Psychotherapy, Board Member of the Clinical Center.
The Semmelweis 250 Clinical Conference held online on 9-10 November 2020, was open for staff from all health care institutions and partner universities in Hungary in addition to the staff and students of Semmelweis University. Semmelweis students also had the opportunity to get credit points by participating in the event. The award ceremony was canceled because of the pandemic, thus it has recently been held at the ceremonial board meeting of the Clinical Center.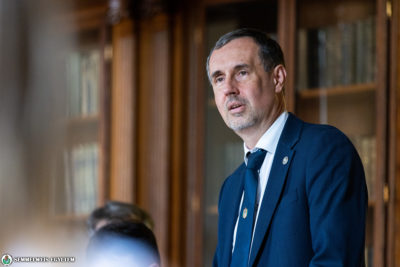 "Semmelweis University staff not only played an important role in the fight against the coronavirus, but successfully organized several programs related to Semmelweis University's 250th anniversary in addition to providing uninterrupted patient care, screening and vaccination services. One of such programs was the two-day, online Clinical Conference held in November 2020", said Dr. Attila Szabó.
The Vice-Rector for Clinical Affairs also added that the event was the first international English language conference, which provided a multidisciplinary overview of the clinical activities of Semmelweis University.
Dr. Attila Szabó highlighted that 1,500 participants registered for the event, which showcased 80 speakers including 20 international experts and poster sections. The President of the Clinical Center expressed his gratitude to those staff members who helped in the organization of the conference.
Nearly 60 PhD students and medical specialists presented their research results in four poster sections, which were attended by almost 400 participants. Numerous disciplines of medicine, including psychiatry, neurology, hematology, medical imaging, pulmonology, pediatrics, dermatology, forensic medicine and public health care were represented both in the presentation sections and in the poster sections, too.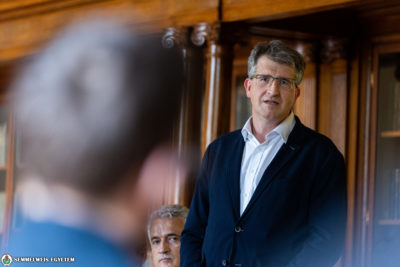 "The conference was an exceptional experience, providing a comprehensive overview of Semmelweis University's entire clinical practice", said Dr. János Réthelyi.
The Director of the Department of Psychiatry and Psychotherapy emphasized that the event successfully gave an in-depth introduction to the broad spectrum and high quality of patient care, clinical and translational research at Semmelweis University despite it was held during the second wave of the coronavirus epidemic. In addition, the institution's extensive international relations and cooperation with international partners were showcased.

The awards and certificates were handed over following the ceremonial speeches.

The list of awardees may be viewed here.
Dóra Horváth
Photo: Gábor Ancsin
Translation: Katalin Illés-Romhányi