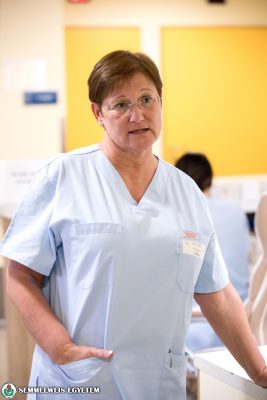 "I have always loved novelty and challenges.", said Zsuzsanna Nagy, chief nurse of the recently established Assisted Reproduction Centre (ARC) at the Department of Obstetrics and Gynaecology.
When she first saw her future workplace, she was looking at bare walls. In addition to organising a whole new team and taking up on a new position as chief nurse and head of the centre, she actively participated in decorating the rooms. In accordance with the concept of Dr. Miklós Sipos, Director she found it very important to create an atmosphere at the centre that was friendly and comfortable and to avoid a formal and detached ambience. This idea is reflected in the yellow walls, the pictures depicting the beauty of motherhood and the modern, but colourful chairs in the waiting area.
"It is also important for the patients, who in most cases have had to overcome several difficulties and have struggled a lot, to be greeted by a friendly, smiling staff. When choosing the members of my team, I took this aspect into consideration as well." , said Zsuzsanna Nagy.
Her favourite spot is the reception area at a central location of the Centre, where she occasionally takes over if needed. She loves the bustling life around the reception desk, because here she can be close to patients and it is a central base for the colleagues as well.
Zsuzsanna Nagy has been working in health care since she was 18, previously as a midwife, later as an anaesthesiology assistant. She received her degree in nursing in 2009 and in 2010 she started to work at the 2nd Department of Obstetrics and Gynaecology. She knew that she wanted to work in health care from a very early age. As a child, she often walked past a maternity centre close to her home and told her mother that she would work there. Later, at the age of 13, she could get a closer look at health care during an event of hospitalisation, which reassured her in her decision.
"Choosing this profession was an absolutely natural process. In my current position I am particularly pleased to be involved in the fantastic world of reproductive science.", she said.
Pálma Dobozi
Photo: Attila Kovács – Semmelweis University
Translation: Ágnes Raubinek