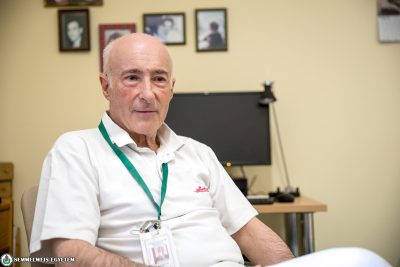 Dr. István Sugár, associate professor and deputy director of the 2nd Department of Surgery shows the modern lighting technology, the built-in camera and projector system to be used in education and the automatic doors of the department's operating theatre that was moved to the Korányi Central Patient Care Unit in January 2020. The department was moved from the Kútvülgyi Clinical Block to the third floor of the Korányi Unit, where it has twenty rooms with 42 patient beds. 
"The team stayed together, which is very important for us, as we have built a very enthusiastic community with strong connections. Everyone does their best for the patients, the profession and each other in their own field of work. I remember the first few days after moving; the corridor of the clinic in the new building was packed with hundreds of boxes and furniture and we worked together hard to get everything in place.", Dr. István Sugár said, who has been working at the university for nearly 50 years and spent 23 years at the 2nd Department of Surgery in the Kútvölgyi Clinical Block.
Although the new office of Dr. István Sugár is still lacking some furniture, the photos on the walls tell a lot about his professional career and the major part of the history of surgery at the university. Dr. István Sugár received his medical degree in 1971 Semmelweis University. He began his career at the 2nd Department of Surgery, which used to be at location of today's Department of Transplantation and Surgery. Then moved on to work at the 3rd Department of Surgery until 1987. For the following ten years he worked at the Department of Surgery based at Szent János' Hospital and since 1997 he has been at the 2nd Department of Surgery in the Kútvölgyi Clinical Block aiding the work of the department's last three directors as deputy director.
Besides Batthyány-Strattmann László and the Hungarian Surgery awards, a photo reveals Dr. Sugár's figure skating career that he gave up upon receiving his medical degree. During his university years though, he and his partner Ilona Berecz were three-time Hungarian champions of ice dancing. The family photos show that there are musical talents in the family: one of his sons is a horn player at the Wiener Symphoniker, while his other son pursued a successful singing career at the beginning of the new millennium.
Pálma Dobozi
Photo: Attila Kovács – Semmelweis University
Translation: Ágnes Raubinek