Dr. Christos Chinopoulos, associate professor at the Department of Medical Biochemistry, reveals that his favourite place at the University is actually his workplace, more specifically, the newly-established RPPA (reverse phase protein array) facility.  This state-of-the-art laboratory, equipped with special machines, is of paramount importance in the fight against cancer: with the facility's tools, thousands of tissue samples can be examined in just a few days, and research here can help develop new treatments for cancer, said Dr. Chinopoulos.
This facility has been my dream for years and the process lasted three years, but when I finally got the news that our application won, it was a truly happy moment in my life – he said, adding that this is the first such lab in Eastern Europe. "When I arrive to the building, my first trip is always here, and before I leave I always check to see if everything is OK," he said.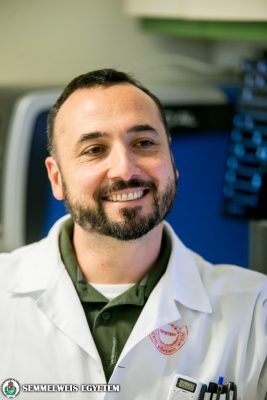 Dr. Christos Chinopoulos was born in Greece but left the country at the age of 18. He has lived in Hungary since 1991, and considers it his home. Although he is not fluent in Hungarian, he can use the language without difficulty in his everyday life. "I don't really feel much homesickness; I actually feel more like a tourist in Greece," he added. The associate professor graduated from the Faculty of Medicine in 1998, obtained his PhD in 2002, and after a few years of work and research abroad he returned and has been at the Department since 2005. Last year, he was awarded the university's prestigious Huzella Tivadar Medal for his outstanding work in biochemical research.
Tamás Deme
Translation: Faye Gillespie
Photo Credit: Attila Kovács – Semmelweis University
In our article series entitled "My University", we ask university citizens to show their favorite university location, and discuss its importance to them. These articles are a part of the celebration of Semmelweis University's 250th anniversary year.