The 250-year-old Semmelweis University is the host of this year's National Touristic Meeting of University and College Students (EFOTT). At a press conference held in the festival venue of Velence on the first day of the event, officials said that thanks to the prevention-related programs organized by the university, in addition to the usual concerts, following a healthy lifestyle will also play an important role at this year's event.
"This festival is a celebration for higher education," declared László Murai, president of the National Union of Students in Hungary (HÖOK). He thanked the host Semmelweis University, adding that the programs organized by the university's students and workers are more substantive than ever before and contribute to making EFOTT not just the most athletic, but the healthiest festival as well.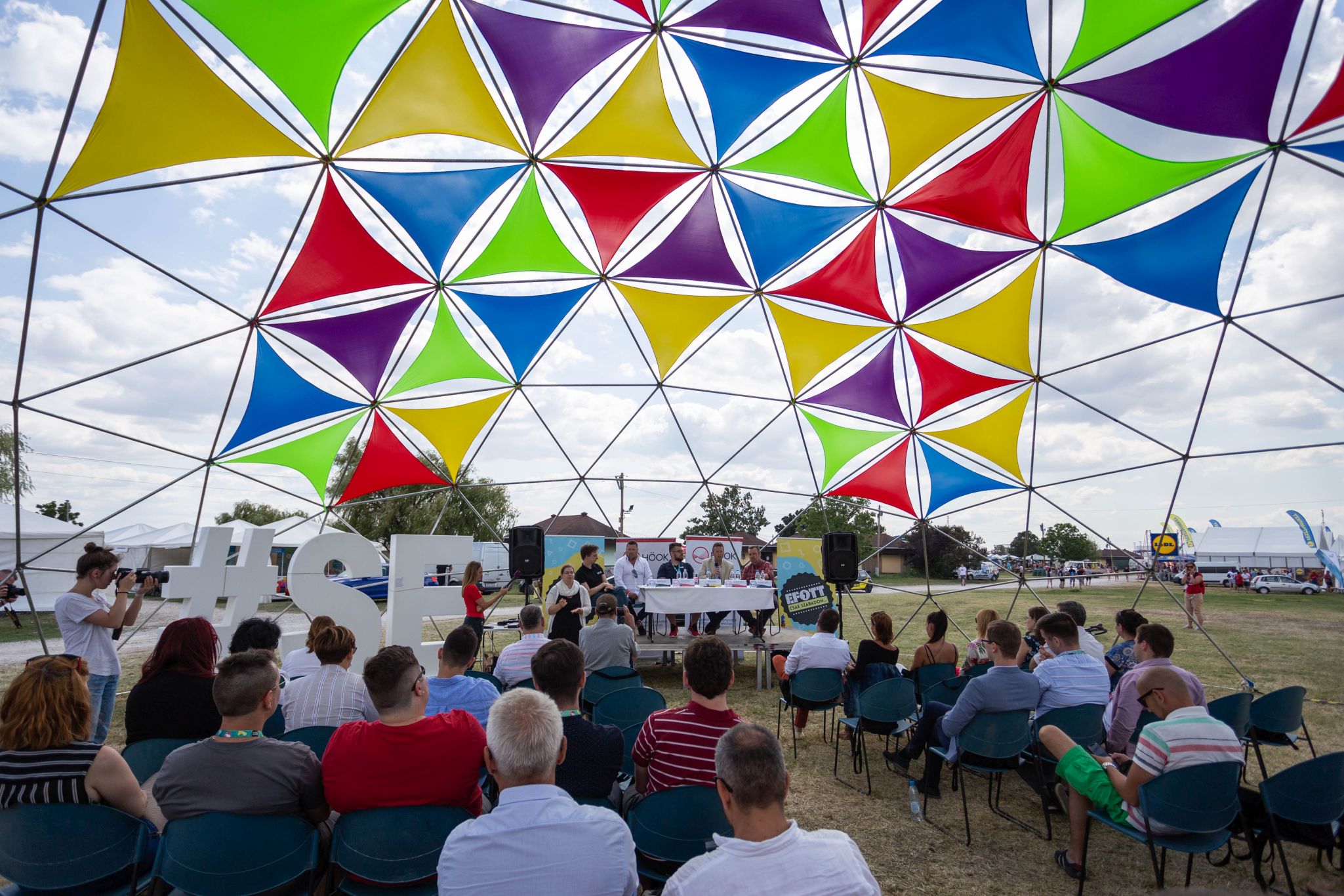 Dr. Balázs Hankó, Semmelweis University's vice-rector for strategy and development, said that the 250-year-old institution, in addition to cultivating tradition, strives to reach as many young people as possible. This has already yielded results, as due in part to positive evaluations from students, the university was recently ranked 41st in a Times Higher Education ranking of European universities. Young people are the future, noted the vice-rector, which is why the university's Students' Union and its newly formed Health Development Center organized programs at the festival that serve and promote healthy living. In cooperation with the National Public Health Center, the university installed two screening buses at the event, where festivalgoers can get their blood sugar levels, blood pressure and cholesterol levels checked, as well as get a complex body mass analysis and receive lifestyle and diet advice, said Dr. Balázs Hankó.
Already in the first few hours of the blood drive organized by Semmelweis University and the Hungarian Red Cross, one-fifth of the goal set for the entire event in terms of blood donors was reached. The vice-rector noted that, co-organized by the university, the official university and college beach handball and volleyball championships finals will take place at the festival as well. Dr. Balázs Hankó also talked about two changes to the Semmelweis University curriculum that serve to promote health: in the future, students will receive credits for volunteer prevention activity similar to the current presence on the festival, while regular sports activity will become part of the curriculum for all students.
László L. Simon, Member of Parliament and the founder of the Foundation for the Velence Lake Small Region, said that last year, more than 118,000 guest nights were registered in the region, partly due to EFOTT, which has by now become a brand synonymous with Velence. Visitors that come here will be treated to a cultural smorgasbord, said Velence mayor András Koszti, referring to the diverse range of programs available at the festival and in the city.
Eszter Keresztes
Translation: Tamás Deme
Photo: Bálint Barta, Semmelweis University Students' Union