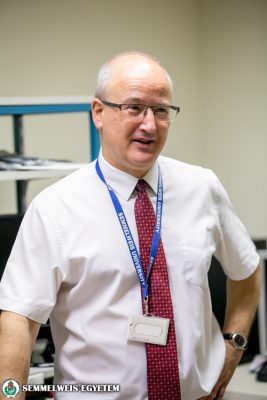 "If I want peace, quiet and a form of escape, I happily make my way to the lab and down to the molecular world," says Miklós Kellermayer, Director of the Department of Biophysics and Radiation Biology, Dean of the Faculty of Medicine, visiting the Békésy György Biophysical Research Center's optical tweezer laboratory at the Basic Medical Science Center (EOK).
According to Dr. Kellermayer, both the method and the lab play a very important role in his career, and perhaps the most heartwarming story of his life is related to the optical tweezer. In 1996, Dr. Kellermayer worked in the lab of Henk L. Granizer at the University of Washington in the United States, where he built his first optical tweezer device which was used to stretch titin molecules. This was the Golden Age of the optical tweezer, which was considered a novelty at the time, and it raised the attention of Dr. Samuel Lehrer, a visiting professor from Boston.
"Did you build this apparatus?" Professor Lehrer asked.
"Yes," answered Dr. Kellermayer.
"Are you a physicist?"
"No, I am a physician!"
"Don't tell me, are you Hungarian?"
This dialogue took place between them, and Professor Lehrer later explained that his boss, the director at the Boston Biomedical Research Institute, was Dr. János Gergely, who was also Hungarian. Professor Lehrer told him that Dr. Gergely did not know what "impossible" was, and that that characteristic is how he identified Hungarians. This meeting was confidence building and inspiring, says Dr. Kellermayer, who would have otherwise liked to pursue a career as an architect. Life had brought him down the path of medicine, but the urge to plan, draw, create and build something with one's own two hands, stayed. 
The Basic Medical Science Center's first optical tweezer device was also built by Dr. Kellermayer; he brought it home to Budapest from Pécs after becoming department director in 2008. The sophistication of the device is illustrated by the fact that a talented PhD student can learn how to operate the instrument in about two years, according to Professor Kellermayer's experience. The device also requires optical, electronic design and computer programming. Recently, a new generation of Dutch-developed optical tweezers have been acquired, and currently, a world-class, impressive center has been established at the department, where molecules can be tested in an in vivo environment. Still, Dr. Miklós Kellermayer says that to this day, the optical tweezer device he built himself, and is still in use, is the closest to his heart.
You can read more about ongoing university research related to optical tweezers in our previous article.
Pálma Dobozi
Translation: Faye Gillespie
Photo Credit: Attila Kovács – Semmelweis University
In our article series entitled "My University", we ask university citizens to show their favorite university location, and discuss its importance to them. These articles are a part of the celebration of Semmelweis University's  250th anniversary year.