Five questions – five answers: in our series of interviews, we ask former scholarship students about their experiences, about the role of the scholarship in their careers, and above all what they advise to future scholarship students. Zoltán Deák-Ilkó's 10-month scholarship began in September 2017.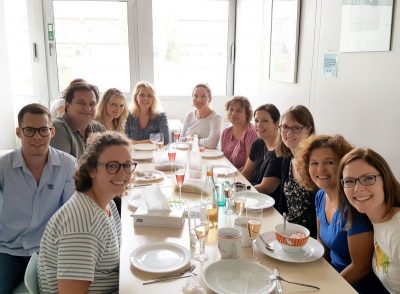 Name: Zoltán Deák-Ilkó
Faculty: Faculty of Medicine
Scholarship name and date: Jellinek Harry Scholarship (10 months), 2017-18
Receiving institution: Ruprecht-Karls University Heidelberg, Department of Immunology, Transplant Immunology Laboratory
Why did you choose this institution? What were you working on during the programme?
I have found organ transplantation very attractive since the beginning of the university. Although mostly interested in surgical aspects, I was fascinated and captured by the special vision that characterizes this area and which I have seen from my supervisor, Dr. László Piros. As a third year student, I joined the scientific work at the Department of Transplantation and Surgery of Semmelweis University, where I had the opportunity to regularly assist transplant surgery with my supervisor. On such an occasion, I met Dr. Dániel Wettstein, who, as a former Jellinek Harry scholarship student, told me about this opportunity, the scholarship programme itself and his research in Heidelberg. With his help, I contacted Prof. Caner Süsal, head of the Transplant Immunology Laboratory at Ruprecht-Karls University in Heidelberg. Since the two institutions have had a good work relationship for many years, Dr. Zoltán Máthé, the then director of the department, was also glad to support a new cooperation. During my research I dealt with the analysis of the gene expression profile of patients undergoing kidney transplantation, and with the valuable post-transplantation diagnostic possibilities inherent in different transcripts.
What was the most defining experience during the scholarship?
In my opinion, living abroad for a long time is a great challenge in itself. One must do well in a completely new environment, which is not an easy task. Among all of the experiences I had, the most important one was that you have to believe in what you are doing and should not let anyone or anything deviate you from your goals.
How did the scholarship period help you in your life and career?
Starting to work in a renowned foreign lab is really challenging. It was very informative for me to see how to build a research project from the beginning to the end, and what problems must be solved with a short deadline. Since one of my supervisor's primary goals was to involve me in every process as much as possible, I could gain a broad insight into research work, from ordering various reagents to statistical analysis. I believe that although these situations were difficult, I learned a lot from them. I would definitely like to point out that through the research started in Hungary and through the scholarship, I have been in contact with people from whom I have learned a lot both professionally and, perhaps even more importantly, personally.
What advice would you give to outgoing Semmelweis students?
Most importantly, enjoy the opportunity offered by the scholarship. Not everyone is given the opportunity to do research in such a beautiful environment, at such a recognized university. This includes finding a balance between work, rest and fun. I think Heidelberg is a perfect place for this, as the city offers plenty of recreational and sporting opportunities. In addition, it is worthwhile getting involved in the everyday life of the labs and organizing free time activities with colleagues.
What do you think those who go to Heidelberg with a scholarship should not miss?
Running along the Neckar is almost mandatory if you move to Heidelberg. The castle offers breathtaking views of the city and the landscape any time of the day, and the sunset is particularly beautiful. You should also try the local wines or visit one of the local breweries.
Translation: Diána Módos