All of Ignác Semmelweis's descendants who are or have been practicing doctors have links to Semmelweis University: his great-great grandchild, the recently deceased Dr. Kálmán Hüttl was a professor at the Városmajor Heart and Vascular Center, while his brother Dr. Tivadar Hüttl is a senior lecturer there. Their sons – i.e. the great-great-great grandchildren of the university's namesake – Dr. Artúr Hüttl and Dr. András Hüttl, are residents at the Városmajor clinic and at the Department of Urology, respectively. The vocation of being a doctor has passed down for four generations now within the family. In their interview, we also asked the three family members about what it means today to work at the university as a descendant of the greatest Hungarian doctor.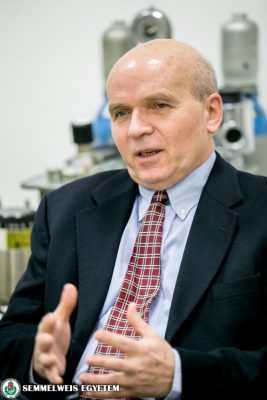 "It is no merit being a descendant of Semmelweis, but we look at this family relation with pride and respect," says Dr. Tivadar Hüttl, a senior lecturer at the Városmajor Heart and Vascular Center, and a great-great grandchild of Ignác Semmelweis. As he describes it, this connection is not in the forefront of their minds during everyday life, but it does provide an additional boost to enter the gates of a university day after day that carries the name of their ancestor. They took part in several commemorative events during last year's Semmelweis memorial year, and their names have perhaps come more into focus as a result, but they do not really wish to "flaunt" this family connection, he notes. Since their names are not the same, in many cases the connection is only revealed by accident even to friends and co-workers.
"As a starting resident, I was holding the retractors when the assistant jokingly turned to the visiting physician leading the operation and, pointing at me, said that 'he is the most famous doctor at our clinic, a relative of Semmelweis,'" says the senior lecturer's son Dr. András Hüttl, a trainee specialist at the Department of Urology, recalling one story. And when each November he grows a mustache for the Movember awareness-raising movement, he does get comments from his colleagues that he resembles his famous predecessor. Dr. András Hüttl says that although he does not keep it a secret, he usually does not volunteer the information that he is the great-great-great grandson of the most famous Hungarian doctor.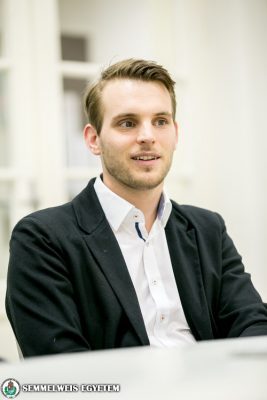 His younger cousin, Dr. Artúr Hüttl, a resident radiologist at the Városmajor Heart and Vascular Center – the son of Dr. Kálmán Hüttl, who was a professor at the center – treats this issue similarly. As he says, this connection gives him conflicting feelings: on the one hand, it is a source of great pride, while on the other, he also feels pressure that with such a bloodline, he cannot perform just like any other person. "Once during an exam, the teacher's first question was whether it is true that I am a descendant of Semmelweis. Well, the stakes just got higher from then on, but fortunately this does not happen every day," he recalls.
Ignác Semmelweis does not have any descendants that bear his name; the only relations still alive today are from his daughter Antónia, who was one year old when her father died. Of Antónia's five children, one of her daughters, Marietta Lehoczky, married Tivadar Hüttl, a surgeon from Debrecen, in 1916 and gave birth to twin sons, but she died shortly following childbirth. The two brothers, Tivadar and Kálmán, were raised with the help of their grandmother, Antónia Semmelweis. Kálmán died in World War II while serving as a gunnery lieutenant, while his brother followed in his father's footsteps and became a medical doctor. Dr. Tivadar Hüttl, a professor of surgery, worked at the university's 1st Department of Surgery from 1944, and his sons are Dr. Kálmán Hüttl and Dr. Tivadar Hüttl. Dr. Tivadar Hüttl says that he became aware of his relation to Semmelweis gradually, through stories told within the family. "Unfortunately, no personal recollections of Semmelweis himself survived in the family, and the only physical memorabilia is a tortoise-shell letter opener engraved with a message that it was made for his youngest daughter, meaning my grandmother, Antónia Semmelweis," he recounts.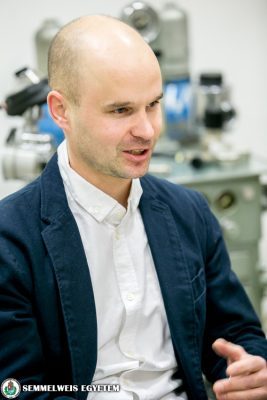 There have thus been doctors in the Hüttl family for four generations now, and Dr. András Hüttl says that for him, Semmelweis is more a historical example, while during his everyday work as a surgeon he feels it is more important that his activities "live up" to those of his grandfather and great-grandfather. Both Dr. András Hüttl and Dr. Artúr Hüttl note that they consciously tried for a long time to separate themselves from their ancestors and not become doctors simply because of the family tradition. András studied to become a biologist in the U.S., and it was only when he read a half-page section on Semmelweis in the notes of his biology course that he decided he would indeed become a doctor.
Artúr also says that at a certain point, he just felt that this is the right course for him, independent of the family tradition. "Of course, it is difficult to say that my ancestors had no influence on me, as this was what I grew up in, and my first childhood memories are also linked to the Városmajor, so it was a very familiar feeling to go there for my residency," he says.
As for what it was in Semmelweis's story that affected his offspring most? Dr. Artúr Hüttl says that for him, the attitude of the professors who refused to recognize Semmelweis's achievements and attacked him is a cautionary tale. When we impulsively say that something cannot be true, that the other person is wrong, we should always be aware that ideas that sound absurd at first could also turn out to be true. Dr. András Hüttl believes that the greatest tragedy of Semmelweis's life is that his work was not valued while he was alive. The recognition that should have been his has gone instead to his descendants, as today Ignác Semmelweis is the pride of the entire Hungarian medical community, and in fact the entire country.
Dr. Tivadar Hüttl quotes the conclusion of Semmelweis's famous book, The Etiology, Concept and Prophylaxis of Childbed Fever, in which he says that he is certain that the time will come sooner or later when childbed fever will cease to exist in the world, and even if it does not happen in his lifetime, the knowledge will sweeten the hour of his death. Dr. Tivadar Hüttl notes that this thought also indicates that Semmelweis staked his life with passion on what he believed in, this was his lodestar. At the same time, Semmelweis's tragedy also shows that carrying through an idea requires some diplomacy as well, and this should also be part of a doctor's toolbox today, he added.
Dr. Kálmán Hüttl passed away on March 5, 2019 at the age of 64. In the book In Memory of Ignác Semmelweis, published in 2015, he said that being a direct descendant of Semmelweis afforded him with inner spiritual capital. It provides a feeling of strength to be linked to one of the most famous doctors that ever lived in the world, as he put it. For his descendants, the task is simpler than we would think: live up to his life's work. As he emphasized in the book, it was through his famous ancestor that he realized that we have to stand by our discoveries and our convictions, and sooner or later the truth will prevail.
Pálma Dobozi 
Translation: Tamás Deme 
Photo: Attila Kovács – Semmelweis University
The interview was conducted in the Central Library of Semmelweis University.