Dr. Tomas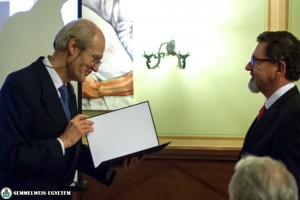 Hökfelt, the internationally renowned professor of the Swedish Karolinska Institute received the Semmelweis Budapest Award in 2015.
In his speech, Dr. Ágoston Szél, Rector said that the Semmelweis Budapest Award is Semmelweis University's highest attainable international scientific honor, which was established by the Senate of Semmelweis University in 2009. The Award recognizes the achievements of world-renowned and accepted international researchers working in the field of natural sciences, whose research activities have produced internationally-acknowledged results, and whose work contribute significantly to the understanding of living natural science, and benefit humankind.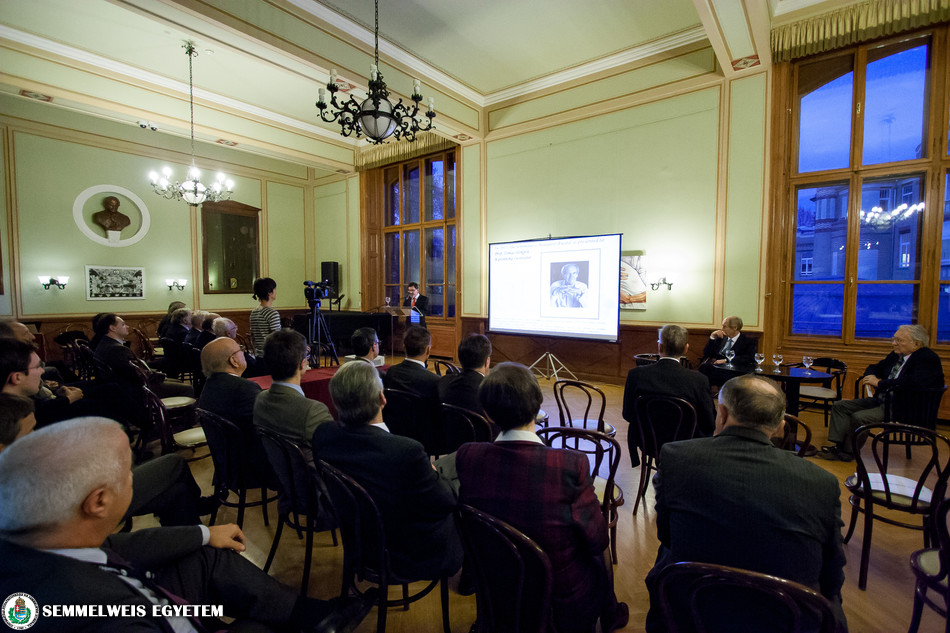 "It is a great honor for Semmelweis University that we may confer this award on Professor Thomas Hökfelt. The recommendation of Professor Hökfelt for the Semmelweis Budapest Award, was accepted by the University's Senate unanimously.", Dr. Ágoston Szél said.
The laudation of the awardee was presented by Dr. György Bagdy, Vice-Rector for Scientific Affairs.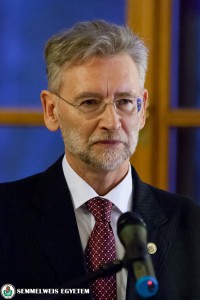 "The scientific achievements of Dr. Tomas Hökfelt are recognised all around the world, which is demonstrated by the high number of his international awards.", the Vice-Rector said.
Dr. Tomas Hökfelt is the honorary doctor of various prestigious universities, member of professional associations and he was vice-chairman of the Nobel Committee for two years. He has had a scientific cooperation with the researchers of Semmelweis University for decades, which has resulted in joint research and exchange programmes and publications. Currently he is working together with Dr. Miklós Palkovits, Dr. Alán Alpár and Dr. György Bagdy.
"I have personally known Dr. Tomas Hökfelt since 2004, when we started to work in a European consortium made up of 13 countries' clinical and basic research groups.", Dr. György Bagdy said.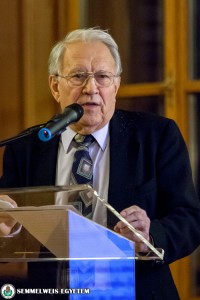 Dr. Miklós Palkovits, professor emeritus of the Department of Anatomy, Histology and Embryology first met Professor Hökfelt at the first large-scale chemical neuroanatomy symposium in Chapel Hill in 1974. Both of them are neuroanatomists, however their approaches and techniques for solving problems are completely different.
"Dr. Tomas Hökfelt is a kind, polite and slow-speaking person, however when it comes to science, he is very strict, rigorous but helpful.", said Dr. Miklós Palkovits.
Before presenting his academic achievements, Dr. Tomas Hökfelt said that receiving the Semmelweis Budapest Award was an important moment in his life and expressed his thanks to his wife for her support and to the Senate for conferring the award upon him.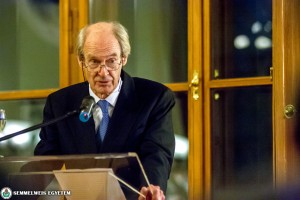 "The researchers of Semmelweis University have an ample scientific knowledge and take part in joint projects with great enthusiasm. I greatly appreciate the Hungarian traditions in science and the academic achievements that Hungary has provided the world with, even in the field of neuroanatomy.", Dr. Tomas Hökfelt said.
He introduced his former teachers and spoke about his Hungarian relations in detail, and mentioned his meeting with János Szentágothai, who he considers an outstanding neuroanatomist and charismatic person.
As a closure, he invited young researchers to take their chances, pursue their ideas and constantly try to solve the problems they have ahead of them.
Semmelweis Budapest Award has been conferred for the sixth time, previous awardees are Jeremy K. Nicholson, Sir George Radda, Dr. Péter Somogyi, Dr. György Oláh and Dr. György Klein.
Pálma Dobozi
Photo: Attila Kovács, Semmelweis University
Translated by: Ágnes Raubinek