The Semmelweis Budapest Award, Semmelweis University's most prestigious academic award goes to Dr. György Klein, Hungarian-Swedish cellular biologist, immunologist, oncologist, essay writer, doctor of biology and the honorary member of the Hungarian Academy of Sciences. The award was handed over by Dr. Ágoston Szél, Rector and Mária Judit Molnár, Vice-Rector for Scientivic Affairs.
At the award ceremony Dr. Ágoston Szél pointed out that an award does not only represent the university's appreciation of the awardee but the honour that the awardee grants to the institution by accepting it. The Rector mentioned that Professor Klein has traits that are inevitable in order to become a great man. These characteristics are love, interest, curiosity and wisdom.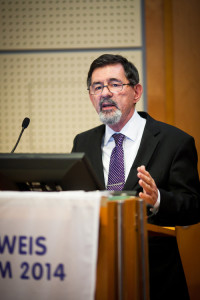 Dr. Ágoston Szél referred to an article by academician János Gergely published in the journal of the Hungarian Academy of Sciences which declares that Professor Klein is an acknowledged scientist by several academic fields. "Is he a doctor, pathologist, geneticist, tumour biologist, virologist, molecular biologist or essayist and writer? All of them at the same time", states the article. The Rector emphasized that someone with so many claims from so many fields can only be looked upon as a polyhistor. Dr. Ágoston Szél remarked that the professor besides being an awarded scientist possesses extensive humanistic knowledge. As Professor Klein himself said, these two areas are the two aspects of the same coin.
The professor's laudation was presented by Dr. Mária Judit Molnár. She emphasized that Dr. György Klein is an internationally acknowledged researcher of neoplastic processes on cellular level and has accomplished great achievements in the virological and immunological study of tumours. He has been married to immunologist and oncologist Éva Klein since 1947.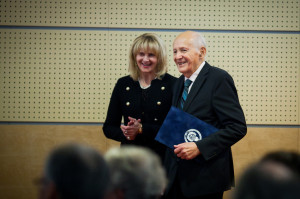 He became a fellow researcher of the tumour biology department of Karolinska Institutet in 1947 and settled down in Sweden in 1948. He taught with Torbjörn Caspersson at the cytological department from 1951. From 1957 to 1993 he was the head of the tumour biology department and at the same time acted as a member of the Nobel Committee for physiology and medicine. He has been working as the head of a research team at Karolinska Institutet's Department of Microbiology, Tumour and Cell Biology since 1993 with the title professor emeritus.
"Dr. György Klein studied at Semmelweis University's predecessor in title and was taught by Dr. Tivadar Huzella. "The university is honoured to welcome a former student and award him with the greatest award possible", said the Vice-Rector.
"It has been seventy years today that on 8th November 1944 I escaped from a train taking me to labour camp. I believe in its deep symbolism. This was the most important I have done in my life because it determined the rest of my life.", started his presentation Dr. György Klein. He said that by that time he had already known about Auschwitz and knew where the train was taking him. He had to choose between ending his life in the concentration camp or getting shot during his escape.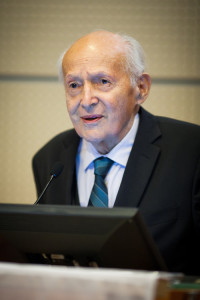 Dr. György Klein spoke about the impact his teachers, Dr. József Baló and Dr. Tivadar Huzella made on him at the university in Budapest. He got the love and devotion for science from Dr. József Baló and with the help of Dr. Huzella he got acquainted with a technology to grow cell cultures on connective tissues, which later lead to the most important steps in his career in Sweden.
He also mentioned that his life has been a series of unpredictable events shaped by the sequences of interdependent actions. Together with his wife they wrote an essay about this topic in the 80s. In his present research he mainly focuses on the mechanisms that can protect people from developing cancer. "It is said that one out of three people develops cancer, but I would rather say that two out of three do not contract cancer. In the study of cancer resistance it is not enough to examine one or two genes, research should be done together with system biologists.", pointed out Dr. György Klein, who is currently collaborating with Hungarian professors Dr. Péterrel Csermely and Dr. Tamás Korcsmáros.
In connection with the award Dr. György Klein said that Semmelweis was one of the most tragic heroes of medical science and he is proud to have studied at the university named after him as well as to behold this award.
Since the foundation of the Semmelweis Budapest Award in 2009 it has been granted five times, previously to Jeremy K. Nicholson, Sir George Radda, Dr. Péter Somogyi and Dr. György Oláh.
Pálma Dobozi
Translated by: Agnes Raubinek
Photo: Kovács Attila, Semmelweis University