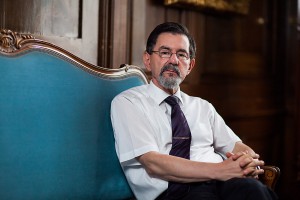 Where the past and the future meet… At Semmelweis University – Hungary's oldest medical school – nearly 250 years of tradition, experience and expertise serve as the basis for innovation and the application of modern technologies. Built on the classic trinity of education, health care and research, the University occupies a distinguished place in the Hungarian higher educational system. Moreover, Semmelweis University is Hungary's largest health care institution and a well-recognised, outstanding centre of research.
 Despite the unfavourable financial situation faced by higher education and health care institutions within Europe and in Hungary, our University's exemplary traditions and excellent international reputation puts us in a position which gives rise to hope. We possess enormous intellectual capital, which allows us to always prevail over the challenges facing us.
The University's five faculties confer over 1500 diplomas every year, which are not only recognised in many countries around the world, but the international acclaim of which is unquestionable.  Graduates generally find employment anywhere in the world within 2 months of graduation and would choose Semmelweis University repeatedly if they were to start their academic studies again. Objective studies have also confirmed the University's reputation as Semmewleis University occupies the prestigeous 102nd place among the world's most international higher education institutions according to a rencently published  ranking.
Our University's foreign language programmes are especially worth noting, which have provided the University with enormous recognition and a solid reputation on both the national and international scenes. Today, almost third of the University's 10,000 students comes from abroad.
Semmelweis University puts a special emphasis on training the next generation of doctors, and on identifying and nurturing talents. The launch of the Kerpel-Fronius Talent Support Programme has been of paramount importance, which provides the most talented high school students with the support and opportunities required to make their university careers as successful as possible.
With its 27 clinics and nearly 8000 employees, Semmelweis University is one of Hungary's largest health care providers covering six percent of the entire population's health care needs, which translates to around 2.3 million cases per year. Clinical work is carried out in close cooperation with education and research, to the benefit of all three areas.
We also strive to establish strong cooperation with progressive and modern national institutions providing excellent quality healthcare. The first successful lung transplantation carried out by Semmewleis University at the Department of Thoracic Surgery based at the National Institute of Oncology is an outstanding example of such collaboration.
Spreading the idea of prevention is our University's priority areas, which involves a combination of educational, health care, and research activities.  
The development of research activities has received increasing attention over the past decade. Over 1300 employees, many of whom are young talents, participate in the research and development work of the University's 80 departments and research groups. Publication activities have improved considerably, with the cumulative impact factor doubling to around 2200 at present.
Semmelweis University has been awarded the prestigious Research University title for the second time. In the past decade, our primary goal was to become a leading institution of education, health care, and research within Hungary and the Central European region as a whole. I consider it important to continue our efforts to stabilise and hold onto these goals.
Our University's traditions, as well as our domestic and international reputation, oblige the leaders of the University to not only maintain this role, but to consolidate and continuously build upon it through continuous development and the mobilisation of available resources.  I believe and profess that the preservation of our University's stability and integrity has to be one of our top priorities.
Dr. Ágoston Szél
January 2016