A record number of international presenters and participants will participate at this year's Semmelweis International Students' Conference, which is being held in line with traditions, simultaneously with the Hungarian-language Student's Scientific Association (TDK) Conference. Students arrived to this year's event from 10 different countries, with 68 presentations.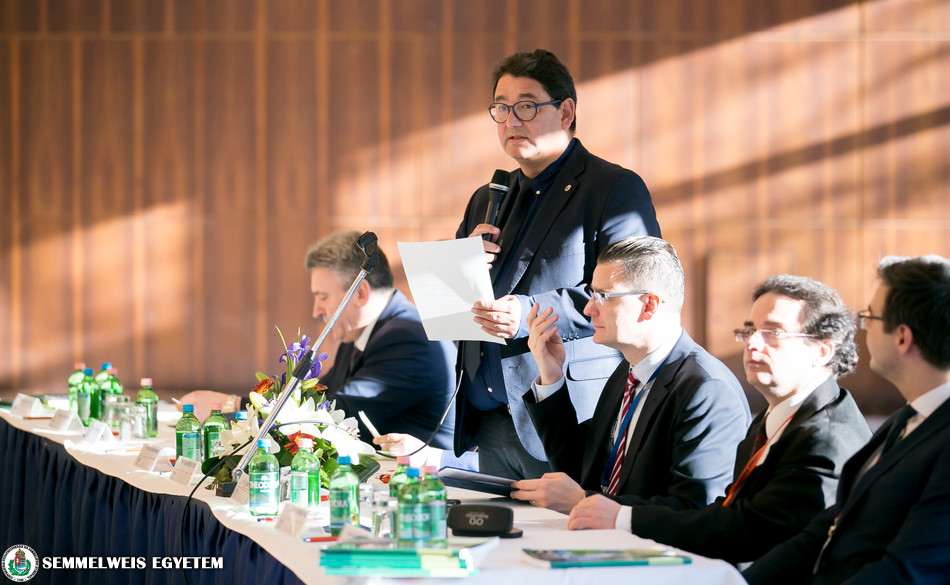 Dr. Béla Merkely, the rector of Semmelweis University and the outgoing president of the TDK Council, said in his opening remarks that the conference, which is being held for the eighth time this year, is probably the largest one to date, as young colleagues from 10 different European countries will take part with 68 presentations, representing 16 different universities. He added that he held the position of TDK president for 10 years, the maximum allowed, but he has other responsibilities now as rector since last July. Therefore, a new person was recently elected to the head of the TDK, Dr. Attila Szijártó, an associate professor at the 1st Department of Surgery.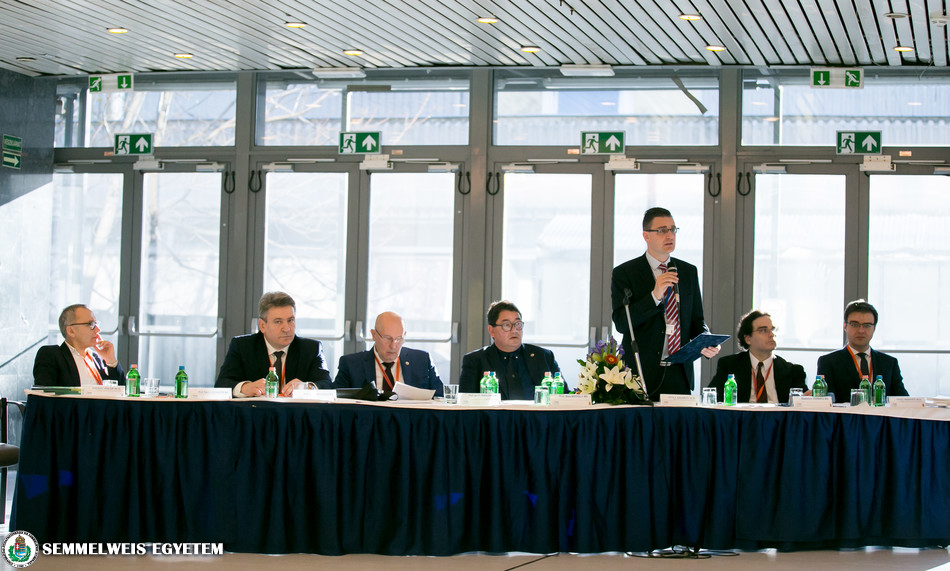 In his welcome speech, Dr. Attila Szijártó expressed his pleasure that this annual international congress is gaining popularity year by year and the number of presenters is growing rapidly from all over Europe. He pointed out that the initial objective of the event is to encourage the development and expansion of high quality medical profession and to promote education in this field. "We hope that participants will find new study targets in their fields, encounter new ideas and build up new collaborations, thus promoting an international exchange of experiences and building partnerships," he added.
A welcome lecture was also held by Dr. Igor E. Esaulenko, the rector of Russia's Voronezh State Medical University, who came to the event as part of a larger delegation from the university. He noted that their institution is a leading medical research and teaching center in Russia. In line with the country's national goals for improving public health care, the university also plans to strengthen its position in international scientific life. As part of this goal, they plan to attract more foreign students and teachers, as well as increase collaboration with international scientific players. It was under this strategy that rector Dr. Béla Merkely, as well as Hungary's Minister of Human Capacities Dr. Miklós Kásler visited the Voronezh university last year.
Participants also heard short lectures by three guest speakers at the event from Hungary and abroad. Dr. Karl J. Oldhafer, the dean's commissioner of the university's off-campus program at Asklepios Campus Hamburg, talked about the modern developments in liver surgery, his field of expertise. He said that open surgeries are still the norm today, and excellent results can be achieved thanks to new techniques, but the future is laparoscopic and robotic surgery. Although robotic surgery is beginning to spread, it is still too costly and difficult to implement in hospitals, therefore it will likely be laparoscopic surgeries that become standard in the next years in the case of liver surgeries.
Dr. Ivan P. Moshurov, chief medical officer at the Voronezh Regional Clinical Oncology Center, talked in his lecture about the main problems of oncology and prospects for development of the population of the Voronezh region. He said there are currently 67,000 patients with malignant tumors being treated in the region, which has a population of 2.3 million, and as part of a national strategy, the goal is to increase the efficiency of detection and treatment with modern technologies, thus reducing mortality. Plans also include increasing international scientific cooperations in Europe and Asia, part of which was last year's announcement of the establishment of a new Russian-Hungarian school of oncology, with centers in Moscow, Budapest and Voronezh.
Dr. Szabolcs Várbíró, an associate professor at Semmelweis University's Department of Obstetrics and Gynecology, discussed the topic of translational medicine in the work of Semmelweis and in his successors today. He said that during his collaborative research with others, he gained important information on gender differences in the physiological adaptation of the heart to swimming sports. He pointed out that different collaborations help us to learn new ways of thinking, new viewpoints on research, and thus eventually lead to improved daily clinical practice.
The International Students' Conference was held, as in previous years, alongside the three-day university Medical, Dentistry and Pharmaceutical Students' Association Conference. At the opening event of the Hungarian-language TDK conference, rector Dr. Béla Merkely, as the outgoing president of the TDK Council, recalled the most memorable events from the past 10 years when he was president. He emphasized that the students' scientific association is the most important foundation of the workshops operating at Semmelweis University. He noted that from the beginning, he placed great emphasis on strengthening international relations, and it was an important goal to make it possible for Hungarian students to take study trips abroad and take part in conferences. With regard to the university TDK conferences, he noted that while the number of presentations remained around the same in recent years, or increased slightly, their quality has improved significantly, which is reflected in the number of award winners as well.
The new president of the TDK Council, Dr. Attila Szijártó, an associate professor at the 1st Department of Surgery, said at the opening event that they face a great challenge in trying to keep up the quality that has been achieved. He noted that future plans include, among others, better involving students taking part in the English and German-language programs in the work of the students' association.
Among others, the awards for Outstanding TDK Educators and Outstanding TDK Students were also presented at the event, as well as recognitions for first publications. Dr. Béla Merkely handed out a Pro Universitate Award to Dr. Krisztina Káldi, the TDK Council's previous vice president and an associate professor at the Department of Physiology, for her outstanding academic work over the past ten years.
The opening presentation of the TDK conference was held by one of the six awardees of the Outstanding TDK Educator award, Dr. Pál Maurovich-Horvat, an associate professor at the Városmajor Heart and Vascular Center, with the title "Predicting myocardial infarctions with the help of visual biomarkers."
Tamás Deme – Pálma Dobozi
Photo: Attila Kovács – Semmelweis University