Girl Innovators and Science Communication – that was the title of the lecture and roundtable discussion at Semmelweis University, held by Dr. Aubrey R. Paris, Gender, Climate & Innovation Policy Advisor in the Secretary's Office of Global Women's Issues (S/GWI) at the U.S. Department of State.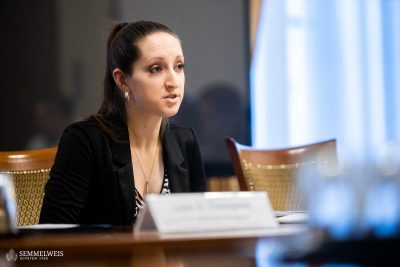 Her short presentation was followed by an informal discussion with former, current and prospective Semmelweis students, in the ground floor conference room at the Rector's Building of Semmelweis University. Present at the program were Dr. Marcel Pop, Director of International Relations, Luke Thompson, Science&Health Attaché, US Embassy and Dr. Angéla Jedlovszky-Hajdú, researcher and associate professor at the Departement of Biophysics and Radiation Biology, Laboratory of Nanochemistry, too.
"Gender, climate change and innovations – it is a frequently asked question to me how these three topics can be combined," Dr. Aubrey Paris said, emphasizing that there is a close tie between gender and climate change. "Climate crises impact women and girls too. Also women and girls can combat against climate change. In terms of experience we have on governmental level, we see how in different regions the communities are tackling climate challenges. We saw several stories how women and girls evolve advocates in communities' fight against climate crisis," she added. Dr. Aubrey Paris also reminded that women and girls play an important role in the fight against the consequences of climate change e.g. draught, water scarcity, energy insecurity and energy crisis.
"We shouldn't forget the fact that in many communities women and girls have a unique relationship with their families and with their environment in large," she added. "Very often, women and girls are the first to identify the problems and develop solutions that are acceptable to their families, the environment and the community as a whole. They have a sense of what type of solutions are gonna work, on lower or even scientific level", she explained emphasizing that in different geographical regions different solutions are required. "Innovations really involves finding better creable solving problems. It means learning from existing challenges, recognizing existing tools and most important one is understanding the global contexts," she added.
At the event, Dr. Angéla Jedlovszky-Hajdú, board member of Association of Hungarian Women in Science (NaTE) emphasized that these messages should reach students as young as possible: they should hear about the importance of women's role in innovation and science certainly during the high school, but if possible even earlier, even at age of ten.
Dr. Aubrey R. Paris, is a, Ph.D., a Gender, Climate & Innovation Policy Advisor in the Secretary's Office of Global Women's Issues (S/GWI) at the U.S. Department of State where she leads policy and public diplomacy efforts that ensure the leadership of women and girls in developing solutions to climate change. Previously, she served as a Science, Technology & Innovation Policy Advisor in the Office of the Science and Technology Adviser to the Secretary (E/STAS). She holds a Ph.D. in Chemistry and Materials Science from Princeton University (2019), as well as an M.A. in Chemistry from Princeton and a B.S. in Chemistry and Biology from Ursinus College.
Rita Kónya
Photo: Bálint Barta – Semmelweis University