The 5th Semmelweis Summer University program, held on August 31 – September 1, enjoyed great popularity among students and other participants. The two-day event featured numerous presentations and panel discussions on the hot topics of medical science and the medical profession with a special emphasis on the digital present and future, during which international students could also meet their professors and ask for their career advice.
This year's International Program was opened by Dr. Alán Alpár, Vice-Rector for International Studies at Semmelweis University. First of all, he congratulated the freshmen on their enrolment, and reminded that there are a number of excellent healthcare education systems in Central and Eastern Europe, namely over 150, but according to the rankings, Semmelweis is the No. 1 in the region. "We put great effort and invest a lot of energy to remain in this position, so that we can provide proper knowledge and skills to our students, which enables them to become a good doctor and succeed in any place or field of their choice," the Vice-Rector highlighted. This year, the university welcomes students from over 70 different countries all over the world, which contributes to a diverse international culture of the institution, he added.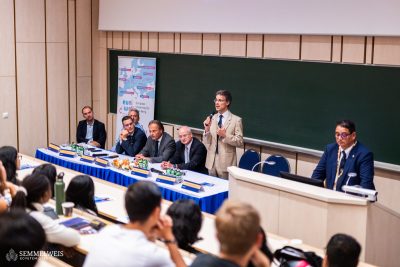 Dr. Alán Alpár reminded that this is not the first time the institution organizes a Summer University, but the idea of an international division was launched within the framework of the 40th anniversary of foreign language trainings last year. He noted that the international program is organized by the Center of International Training Programs and the Directorate of International Relations, in close cooperation with the international student associations ISSA and DSVS and the Alumni Directorate.
As for the program, he raised attention to the fact that it has been compiled regarding the needs of students, and as an orientation, it features a detailed introduction of Budapest and also Hungary, for those spending their university years in this country with an interest to become familiar with their surroundings.
The international program's first keynote presentation was held by Dr. Bea Pászthy, Associate Professor and Psychiatrist at the Department of Pediatrics, who focused on the various mental health issues medical students may come across during their university years. The professor started out by saying that there is a lot of worrying data concerning burnout, anxiety and depression among young people, and unfortunately, stigmatization stops them in getting the help they need.
There is a considerable amount of bias, stereotyping, rejection and avoidance around this, but we have to beat it, so it doesn't limit their opportunities to grow, learn, and thrive. As educators, we try our best to act in your best interest. We want you to find joy, happiness, meaning and purpose at Semmelweis,
she stressed. The professor reminded that unfortunately, the pandemic precipitated burnout in medical students, and besides all the issues caused by this, more than one in 10 medical students have experienced thoughts of suicide during their training, which has to be addressed as well.
Dr. Bea Pászthy laid emphasis on personal awareness when tackling mental health issues, highlighting the importance of self-care for soon-to-be medical professionals. Taking charge of one's own wellbeing, she encouraged flexibility and adaptation, building secondary competencies, and paying more attention to physical needs. Equally importantly, she suggested to connect to one's purpose, connect with the community, become aware of one's own limits, and last but not least, keep learning.
As a continuation of her train of thoughts, Dr. Sloan Kudrinko, Semmelweis Alumni and Project Manager of the Mental Health Seed Funding Project of EUniWell (European University for Well-Being) gave account of the latest Mental Health Symposium hosted by Semmelweis University, which was initiated by students of seven EUniWell partner universities. To begin with, she briefly introduced EUniWell to the international freshmen, since this alliance represents over 300,000 students and more than a thousand research groups all over Europe, in 11 higher education institutions. Concerning the symposium, Dr. Kudrinko explained that exploring and enhancing mental health initiatives and resources, EUniWell's aim is to collaborate with partnering universities to improve the mental health and well-being of all university students by aligning resources offered across various campuses.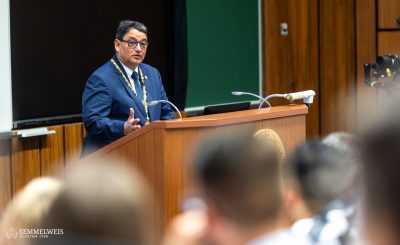 The afternoon block revolved around the topic of forming a medical career, starting with Rector Dr. Béla Merkely's keynote presentation during which he talked about how young medical professionals can develop a career in clinical research. To demonstrate his argument, he discussed his own career path while emphasizing the importance of mentors during the formative years of a medical professional.
Firstly, he started with the fact he was admitted to Semmelweis University in 1984 as a student, and this has been his only workplace so far. According to Dr. Béla Merkely, Semmelweis University has a three-fold mission: providing education and health care and conducting scientific research.
Speaking about his own career path, Dr. Béla Merkely expressed his gratitude towards his late mentor, Dr. Sándor Juhász-Nagy, for helping find his career. He quoted his mentor's words, according to whom mentees always carry on certain principles even unconsciously, which constitute a form of impersonal survival for the mentor. Dr. Béla Merkely has already had several generations of mentees so far.
No question, Semmelweis University is by far the best university in Central andEastern Europe. And if you take into account all of the universities around the world, which is around 30,000 altogether, we are at the 236th position according to the Times Higher Education University Rankings,
he highlighted, then added that ever since he took the rectoral office, his primary goal was to increase the scientific output of Semmelweis University, due to which the number of PhD students as well as scientific publications in prestigious professional journals significantly increased. He also pointed out that the Városmajor Heart and Cardiovascular Center took the 43rd place in the US New Rankings in 2022, of which result he is especially proud, being a cardiologist and the head of the department.
"If you would like to be successful, it is very important to collaborate, and use international collaboration. The basis of international research is international collaboration all over the world", the rector concluded his presentation.
In the following panel discussion, the leadership of the university shared their thoughts on the challenges and opportunities for international medical students. Rector Dr. Béla Merkely first warned that being a doctor is a life-long, a 7-days-per-week job, to which students have to be prepared for.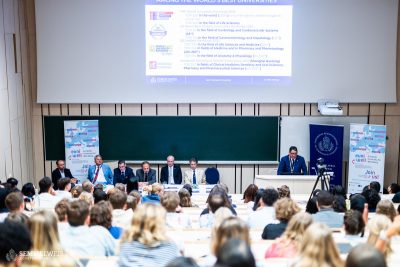 According to Dr. Alán Alpár, Vice-Rector for International Studies, nowadays the word "career" is understood in a bad connotation as it means one has to compete with fellow professionals. In contrast, as he pointed out, being part of a big team for a common goal should be the real meaning of the word. "If you do it well, this makes you happy, and this is what I would call a career", he said while adding that medical professionals need to love science in order to become scientists.
Dr. Miklós Kellermayer, the Dean of the Faculty of Medicine agreed with Dr. Alpár, adding that career is also curiosity and desire – a desire to understand nature. According to him, there is no major difference between clinical and basic research as scientists intend to understand how things work and why they work the way they work.
Dr. Zoltán Benyó, President of the Doctoral Council pointed out that the students of Semmelweis University can find their fields of interest during their studies. "Not a single topic of biomedical science is missing from our portfolio, so keep your eyes open and find the right place for you", he suggested.
Among the other panelist were Dr. Levente Kiss, Director of the Directorate of International Relations, who gave his advice to the students: "Don't assume that medical studies last for 6 years. Enthusiasm and solid foundation are needed, and you also have to remain inspired."
To the question regarding how to become a future-proof medical professional, Rector Dr. Béla Merkely said there is always a need for life-long learning. According to him, AI will bring about significant changes also in the medical profession, and it will assist doctors in decision making processes, but it will not replace human resource: the work of medical professionals is future-proof.
The second day of the event also covered presentations on various hot scientific topics such as the application of 3D printing in medicine, the role of AI in medical imaging, digital health and health inequalities. In the closing presentation, Dr. Betalan Meskó, the Founder of the Medical Futurist Institute and Lecturer of Semmelweis University also discussed how generative AI will upgrade healthcare.
Viktória Kiss
Mária Sánta
Photos:
Bálint Barta — Semmelweis University
Attila Kovács — Semmelweis University