On the closing day of the Semmelweis Symposium 2022, Dr. Franz Weidinger was awarded the title of Doctor Honoris Causa. Semmelweis University's most prestigious international scientific event, attracting more than 600 participants this year, lasted three days, with dozens of lectures made from diverse fields of medicine.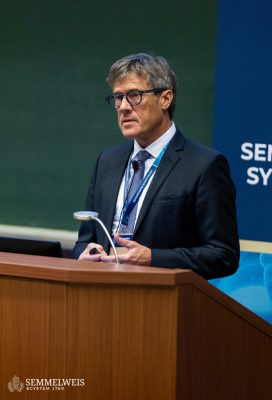 Professor Franz Weidinger, President of the European Society of Cardiology (ESC) and Head of the 2nd Medical Department with Cardiology and Intensive Care Medicine at Klinik Landstasse (former Krankenanstalt Rudolfstiftung), Vienna held his presentation about The Future of Cardiovascular Medicine.
He started with a quote of Franco Ongoro: "future is not something to predict, it is something to build." He recalled the cardiac achievements of the past 60-70 years, talking about the disruptive evolution of interventional cardiology, the controversy of revascularization of Left Main Coronary Artery Disease, and about heart failure which is "the last great battleground in cardiology". He showed graphics about how percutaneous coronary interventions' number has increased during recent years in the EU.
Outlining the trends in cardiovascular diseases and therapies, Professor Franz Weidinger stressed that superspecialization has been taking place where innovation, efficacy and safety are key. The professor explained the inequalities among ESC member states with greater CVD burden and lower procedure rates in middle-income vs high-income countries. He showed statistics from 2021 about how premature CVD crude mortality depends on the current health expenditure in the GDP/capita.
He emphasized that pollution is a serious cardiovascular risk factor: it means 790 000 excess death due to ambient air pollution per year in Europe. In connection to the excess mortality attributed to air pollution in Europe he pointed out that 48% of these deaths are due to CVD. Climate change has also cardiovascular risks, especially for older people and for individuals with low socioeconomic status.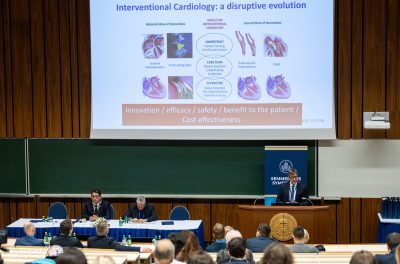 Among the main challenges for the future, the professor mentioned escalation of healthcare costs, workforce shortage, shift from surgical to more interventional therapies, quality of care (patient-centered, personalized), and adaptation to the needs of elderly/multimorbid patients.
He stressed the importance of digitization in healthcare. "We need competence in the cardiovascular field, which means exploiting big data and examining their utility (mobile apps, CIED, EHR, wearables), creating interest across all subspecialties, and understanding the value of AI, machine learning, deep learning," he said.
The professor concluded his presentation with two quotes: "Life can only be understood backwards, but it must be lived forwards" (Soren Kirkegaard), "The future depends on what you do today" (Mahatma Gandhi).
After his lecture, Professor Franz Weidinger was awarded the title of Doctor Honoris Causa (DHC) of Semmelweis University. Dr. Ferenc Bánhidy, Vice-Rector reminded that this was the 47th time since 1967 that Semmelweis University has awarded the title of DHC. "This is one of the most prominent events in the academic life of our university, where we welcome internationally renowned professors with important links to our university," he added.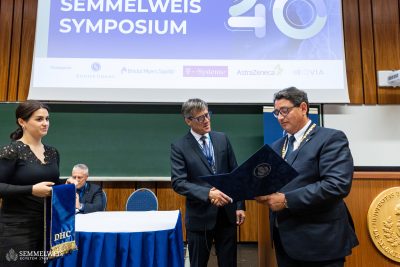 In his appreciation Rector Dr. Béla Merkely recalled that Professor Weidinger started his career as the Research Fellow of the Cardiovascular Division of Brigham and Women's Hospital, Harvard Medical School, Boston, under the patronage of Professor Eugene Braunwald.
"On returning to Vienna, he was able to establish the same animal model he had worked on at Harvard, and then, he moved to Innsbruck Medical University," Dr. Merkely said, adding that this was the era when the biggest life-saving invention of cardiology, primary PCI, started to be widely applied and when the STEMI network in Austria was established to provide a more uniform access to primary PCI and improve patient outcomes.
"Professor Weidinger himself was also instrumental in establishing a national Austrian registry of acute coronary syndromes, which opened the door to his activities within the European Society of Cardiology's working groups, committees and task forces," the rector emphasized. He also pointed out that Professor Weidingers research interests include Interventional Registries, STEMI networks, primary PCI and acute coronary syndromes. As of today, he has published more than 160 scientific papers, his impact factor is over 600.
The rector also recalled that under the umbrella of the European Society of Cardiology he has been working together with Professor Weidinger for more than a decade. Between 2016 and 2018 Professor Weidinger was Councillor in the Board where Dr. Merkely held the position of the Vice-President. "We were responsible for the strengthening of the partnership with almost thirty national cardiac societies and the Cardiologists of Tomorrow, the young ESC community," the rector said.
He emphasized that Professor Weidinger held lectures at Hungarian cardiology congresses several times, he was an active participant of the Central-Eastern European Summit Meetings, which was an initiative Mr. Merkely launched during his ESC Board membership aiming to eliminate the disparities in healthcare, research and innovation throughout Europe. Professor Weidingers department and the Heart and Vascular Center of Semmelweis University collaborated in several large randomized trials, out of which more than ten joint publications were born.
The following posters on new trends in medicine, dentistry, pharmaceutical and health sciences were awarded:
Bras Ana Rita: Microglia-endothelial interactions in vascular and leukocyte responses
Dr. Dóra Dávid: Non-Small Cell Lung Cancer Patients Treated with Anti-PD1 Immunotherapy Show Distinct Microbial Signatures and Metabolic Pathways According to Clinical Outcomes
Ákos Roland Tóth: Protective effects of Sigma-1 Receptor Agonists in Renal Ischemia/Reperfusion Injury
Noémi Varga: Novel multispectral imaging algorithm predicts Breslow tumor thickness of malignant melanoma
Lili Gerendás: Progenitor cells in the adult human retina
Zsolt Vass: Nitric oxide and prostanoids contribute to estradiol-dependent vascular response, role of CB1 receptors
Nino Giunashvili: Non-steroidal anti-inflammatory drugs (NSAID) enhance the mEHT effect on TNBC (4T1) and melanoma (B16F10) melanoma tumor model
Orsolya Oravecz: Placental galectins: key regulators of innate and adaptive immune responses in pregnancy
Anett Behon: The impact of age on long-term outcome after cardiac resynchronization therapy
Dr. William Kothalawala: Transcriptomic and cell type enrichment analysis of colorectal cancer by integrating multiple independent cohorts
The following lectures were held on the 3rd day of the Semmelweis Symposium:
Francesco Sartorio

(

Istituti Clinici Scientifici Maugeri

– Pavia, Italy): 

Musculoskeletal disorders in dental professionals: an ergonomic approach for prevention

Miklós Sahin-Tóth

(

Boston University

– Boston, USA): 

Hereditary pancreatitis: from clinical presentation to disease mechanism

Teija Kaisa Aholaakko

(

Laurea University

– Vantaa, Finland):

The development of intraoperative aseptic practices

Stéphanie Tubert-Jeannin

(Clermont Auvergne University – Clermont-Ferrand, France):

Education of oral health professionals in Europe: A public health Issue

Franz Weidinger

(Vienna Medical University, Vienna, Austria):

The future of cardiovascular medicine

Gabor Gäbel

(Helios Clinic – Krefeld, Germany):

Why does EVAR not always work forever?

Stefanos Sakellaropoulos

(Praxis Gruppe Schweiz – Hünenberg, Switzerland): 

Exercise oscillatory ventilation in hypertrophic cardiomyopathy

Lior Lowenstein

(

Rambam Health Care Campus

– Haifa, Israel): 

Advances in gynecology surgery

Rade D. Paravina

(

University of Texas – Texas, USA): 

Colour in aesthetics: Biomimetic disruption, bench to chairside

Anton Sculean

(

University of Bern

– Bern, Switzerland): 

Translational research in regenerative periodontal surgery: From the lab to the clinic

Andrew I. Spielman

(New York University – New York, USA):

Post-COVID dental education: Challenges and opportunities
You can read about the first day of the symposium here. 
Sponsors of the Semmelweis Symposium: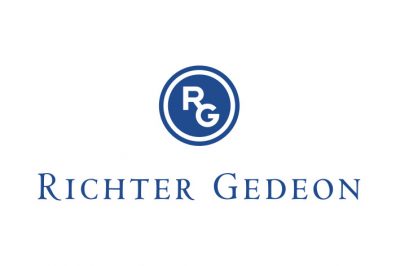 Richter Gedeon
Bristol Myers Squibb 
T-Systems 
AstraZeneca
IQVIA 
Rita Kónya, Gábor Kiss
Photo: Attila Kovács, Bálint Barta – Semmelweis University