The second Bilateral Pathology Symposium of Semmelweis University and Karolinska University was held in Budapest, at the Department of Pathology and Experimental Cancer Research of the university, on 11-12 November, in the framework of the Dies Academicus ceremony. Leading representatives from the fields of radiology, laboratory medicine and pathology met to share their knowledge and inform colleagues about the latest scientific discoveries.
"If everyone moves forward together, success takes care of itself". Dr. Béla Merkely, Rector of Semmelweis University opened the Bilateral Pathology Symposium with the words of Henry Ford. He recalled that the connection between Karolinska Univerity and Semmelweis University began 12 years ago.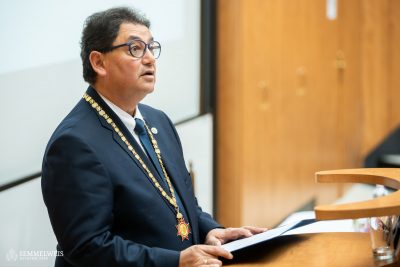 "Since then, we have proven that we can indeed achieve a lot together – we have worked very hard to achieve success. We have developed a very close professional relationship between our institutions, with many of our staff members visiting Sweden for longer or shorter periods of time, and we have also had the opportunity to host several specialists from our partners in Budapest. In 2019, we signed a bilateral agreement on science, education and diagnostic care, and our first bilateral congress took place in the same year," the rector explained.
He pointed out that the relationship between the two institutions has already been fruitful, with numerous scientific collaborations, joint publications and working groups. "After this second symposium, the number is expected to grow: this year, leading representatives from radiology, laboratory medicine and pathology came together to share their knowledge, inform colleagues about the latest scientific discoveries and, build relationships," Dr. Béla Merkely said.
He emphasized that both Semmelweis and Karolinska strive for excellence, and are committed to treating patients and educating students to the highest standards. In the field of medicine and health sciences, both universities are considered to be the region's inescapable knowledge centers. Karolinska is ranked 49th in the latest Times Higher Education world rankings, while Semmelweis is the first university in Central and Eastern Europe to be included in the top 250.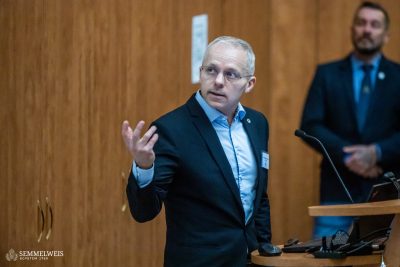 Dr. Mathias Axelsson, head of Medical Diagnostics Karolinska, Karolinska University stressed that the future of healthcare requires cutting edge technology, advanced specialization and collaboration. He presented that their institution – including Imaging and Physiological Medicine, Clinical Laboratory Medicine, and Biobank and Study Center – is a competence and technical leading center in diagnostic, intervention and treatment, according to the patients need today and in the future.
Dr. Axelsson presented the unique collaboration at Precision Medicine Center Karolinska with the following main characteristics:
– new seamless organization, heads of the Karolinska Univerity Hospital and Institute deeply engaged
– cross collaboration between disciplines, academy and health care
– sharing knowledge and infrastructure
– geographic proximity
– testbeds for industrial collaboration
Dr. Joakim Dillner, Head of Unit of the Center for Cervical Cancer Prevention at the Karolinska University Hospital, made a keynote speech entitled "Elimination of cervical cancer and the role of Human Papillomavirus genotyping".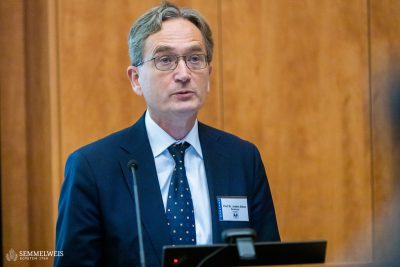 He outlined the major strategies for cervical cancer elimination: HPV vaccination to stop the circulation of HPV, as soon as possible and to offer HPV screening to those who may have been infected and developed a cancer precursor before HPV circulation was stopped.
Dr. Dillner stressed the importance of a maximally effective and convenient screening program. "Yesterday it was 'one size fits all' with appointments, the entire population was summoned to screening at regular intervals. Today there is self-sampling at home, offered for the entire population, and tomorrow will be self-sampling – by the women who actually need screening," he pointed out.
Mentioning the challenges, Dr. Dillner emphasized the following:
– Several million women who do not need screening are screened.
– No particular priority is given to the small number of women who have high cervical cancer risk.
– With the introduction of HPV genotyping in the screening program risk differences (on file in lab databases) are several thousand fold. 
– Results on risks are not clearly conveyed to women. 
The Karolinska professor recalled that the World Health Organization (WHO) declared the global elimination of cervical cancer as a prioritized aim in 2016, and that this was adopted by the World Medical Assembly in 2020.
The following lectures were made at the bilateral symposium:
Nanobiophisics of the coronavirus – Miklós Kellermayer, Department of Biophysics and Radiation Biology, Semmelweis University
Covid-19 and post-COVID associated pathologies – László Székely, Clinical Pathology and Cancerdiagnostics, Medical Diagnostics Karolinska, Karolinska University Hospital
COVID-19 associated cause of death and liver pathology in autopsy cases – András Kiss, Department of Pathology, Forensic and Insurance Medicine, Semmelweis University
Detection of SARRS-COV2 and covid associated pathology in autopsy cases – Tibor Várkonyi, Department of Pathology, Forensic and Insurance Medicine, Semmelweis University
Placental pathology in maternal SARS-COV2 infection – Nikos Papadogiannakis, Clinical Pathology and Cancerdiagnostcs, Medical Diagnostics Karolinska, Karolinska University Hospital
Cell Plasticity as a diagnostic tool and therapeutic target in cancer – Jonas Fuxe, Department of Laboratory Medicine, Division of Pathology, Karolinska Institutet
Modelling metabolic heterogeneity in cancer – Anna Sebestyén, Department of Pathology and Experimental Cancer Research, Semmelweis University
Cancer proteogenomics for precision medicine diagnostics – Janne Lehtiö, Clinical Pathology and Cancerdiagnostcs, Medical Diagnostics Karolinska, Karolinska University Hospital
The role of extracellular matrix in cancer progression – Kornélia Baghy, Department of Pathology
and Experimental Cancer Research, Semmelweis University
Sex dimorphism in the immune tumor microenvironment – Toward "Genderized immunotherapy" – Dhifaf Sarhan, Department of Laboratory Medicine, Division of Pathology, Karolinska Institutet
Phenotypic drug screening to target invasive cancer – Lars Holmgren, Department of OncologPathology, Karolinska Institutet
Tumor specific enzyme assisted chemotherapy – a novel approach to treat liver cancer – Arun
Selvam, Department of Laboratory Medicine, Division of Pathology, Karolinska Institutet
Cellular Energetics in liver regeneration – András Budai, Department of Pathology, Forensic and
Insurance Medicine, Semmelweis University
30 years of clinical liver cell treatments: from hepatocyte transplantation to new perinatal stem cell – Roberto Gramignoli, Clinical Pathology and Cancerdiagnostics, Medical Diagnostics Karolinska, Karolinska University Hospital
Tumor spread and "cross-talk" in the liver – Béla Bozóky, Clinical Pathology and Cancerdiagnostics, Medical Diagnostics Karolinska, Karolinska University Hospital
Human papillomavirus (HPV) in oropharyngeal cancer – approaching individualized treatment – Anders Näsman, Clinical Pathology and Cancerdiagnostics, Medical Diagnostics Karolinska, Karolinska University Hospital
Digital image analysis in colorectal cancer – Anna Jakab, Department of Pathology and Experimental Cancer Research, Semmelweis University
Detection of H. Pylori and its chlaritromycin resistance in routine pathological diagnostics – Gábor Lotz, Department of Pathology, Forensic and Insurance Medicine, Semmelweis University
AI based colorectal cancer screening decision support. Endre Kontsek, Department of Pathology, Forensic and Insurance Medicine, Semmelweis University
Sodium selenite-induced tumor-specific cytotoxicity in a tissue slice model of human pancreatic ductal adenocarcinoma – Carlos Fernandez Moro, Clinical Pathology and Cancerdiagnostics, Medical Diagnostics Karolinska, Karolinska University Hospital
Analysis of pancreatic cancer at the molecular level for developing selenium-based therapy – Tímea Szekerczés, Department of Laboratory Medicine, Division of Pathology, Karolinska Institutet
Molecular Diagnosis of Malignant Mesothelioma – Katalin Dobra, Clinical Pathology and Cancerdiagnostics, Medical Diagnostics Karolinska, Karolinska University Hospital
Validation of multiple IHC based digital pathodiagnostics method in renal biopsy samples – Deján
Dobi Department of Pathology, Forensic and Insurance Medicine, Semmelweis University
Klotho in kidney disease and aging – Hannes Olauson, Clinical Pathology and Cancerdiagnostics,
Medical Diagnostics Karolinska, Karolinska University Hospital
Molecular monitoring of the transplanted kidney and heart – Attila Fintha, Department of
Pathology and Experimental Cancer Research, Semmelweis University
High throughput RNA profiling of renal glomerular tissue in health and disease – Jaakko Patrakka, Clinical Pathology and Cancerdiagnostics, Medical Diagnostics Karolinska, Karolinska University Hospital
Multiplexed mapping of the immune cell landscape in advanced bladder cancer – David Krantz, Clinical Pathology and Cancerdiagnostcs, Medical Diagnostics Karolinska, Karolinska University Hospital
AI-based precision diagnostics in breast pathology – Johan Hartman, Clinical Pathology and Cancerdiagnostics, Medical Diagnostics Karolinska, Karolinska University Hospital
HPV status and prognosis in invasive cervical cancer – prospects for improved prediction? – Karin Sundström, Department of Laboratory Medicine, Division of Pathology, Karolinska Institutet
Immunogenic mimicry of melanoma and other cancers – József Tímár, Department of Pathology, Forensic and Insurance Medicine, Semmelweis University
Cutting – edge precisionmedicine in public health care at Karolinska University Hospital – Maria Johansson Soller, Clinical Pathology and Cancerdiagnostics, Medical Diagnostics Karolinska, Karolinska University Hospital
Molecular oncogenomic facilities at Semmelweis University – Csaba Bödör, Department of
Pathology and Experimental Cancer Research, Semmelweis University
Comprehensive oncogenomic profiling in pediatric malignancies – Gábor Bedics, Department of
Pathology and Experimental Cancer Research, Semmelweis University
Precision medicine in cancer – the role of our microbiome – Lars Engstrand, Clinical Pathology and
Cancerdiagnostics, Medical Diagnostics Karolinska, Karolinska University Hospital
Comprehensive genomic profiling of adult-type diffuse high-grade gliomas – Bálint Scheich,
Department of Pathology and Experimental Cancer Research, Semmelweis University
Next-generation sequencing in inherited cardiovascular diseases – Beáta Nagy, Katalin Csonka, Department of Pathology and Experimental Cancer Research, Semmelweis University
The Hungarian Pediatric Leukemia Genomic Program – Borbála Péterffy, Department of Pathology
and Experimental Cancer Research, Semmelweis University
Human myeloid cells in tissue: from inflammation to cance – Egle Kvedaraite, Clinical Pathology
and Cancerdiagnostics, Medical Diagnostics Karolinska, Karolinska University Hospital
Germline GATA2 mutations in familial MDS/AML: a manually curated online registry from the ERAPERMED GATA2-HuMo international consortium – Lili Kotmayer, Department of Pathology and Experimental Cancer Research, Semmelweis University
Activation of telomerase in aggressive thyroid tumors – Catharina Larsson, Department of Oncology-Pathology, Karolinska Institutet
Spatial and temporal profiling in B-cell lymphomas using integrative tissue- and liquid biopsies – Bence Bátai, Department of Pathology and Experimental Cancer Research, Semmelweis University
Chalenges of medical training in the 21th century – Miklós Kellermayer, Dean of Faculty of Medicine, Semmelweis University
Undergraduate training in pathology at Karolinska Institute – Monika Klimkowska/ Katalin Dobra, Clinical Pathology and Cancerdiagnostics, Medical Diagnostics Karolinska, Karolinska University Hospital
Pathology Core Facility Karolinska. Meriana Findakly, Clinical Pathology and Cancerdiagnostics, Medical Diagnostics Karolinska, Karolinska University Hospital
Digital pathology: a tool of integration – Attila Szakos, Clinical Pathology and Cancerdiagnostics, Medical Diagnostics Karolinska, Karolinska University Hospital
Specialist training at Karolinska – Sulaf Abd Own, Clinical Pathology and Cancerdiagnostics, Medical Diagnostics Karolinska, Karolinska University Hospital
Residence training of pathology in Semmelweis University – Zoltán Sápi, Program director of the residence training, Department of Pathology and Experimental Cancer Research, Semmelweis University
Doctoral School of pathological sciences in Semmelweis University – András Matolcsy, Doctoral School of Pathology Science, Semmelweis University
Gábor Kiss
Photo: Bálint Barta – Semmelweis University