A 3-day international vascular symposium is organized jointly by Semmelweis University and the Frank J. Veith International Society. The meeting will bring together an outstanding international faculty from medical insitutions of Europe and the United States to discuss latest developments in medical, endovascular and surgical treatment of vascular diseases. Several hundred participants are expected to the event that will be held on 18-20 May, 2023.
This is the first time that such an international vascular symposium will be held at Semmelweis University. The event is being organized jointly with the Frank J. Veith International Society which has the mission to educate vascular specialists worldwide and advance the vascular care.
Multidisciplinary management of aortic, peripheral and carotic artery diseases, venous thromboembolism, chronic venous disease, lymphedema, vascular malformations, translational vascular research – these are some of the main topics of the International Vascular Symposium which will take place on 18-20 May, 2023.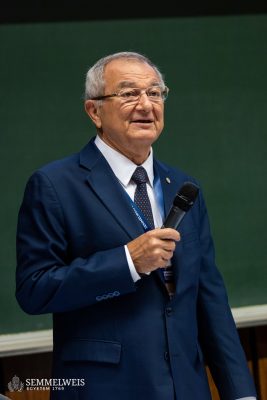 "The list of participants includes a world class faculty of vascular surgeons and vascular specialists. In addition to the very best of Semmelweis University, it includes experts from fourteen European institutions and the Frank J. Veith International Society succeeded to bring professors from the ten largest North American medical institutions," – Péter Gloviczki, member of the organizing committee, President of Frank J. Veith International Society, told our website.
Among others, there will be speakers from Stanford University, Mayo Clinic, Harvard University, Yale School of Medicine, University of California Los Angeles, Houston Methodist DeBakey Heart & Vascular Center, Houston McGovern Medical School, University of Tennessee Health Science Center, Albany Medical Center, Cleveland Clinic Learner College of Medicine and New York University – Grossman School of Medicine.
"Endovascular techniques have revolutionized the way we treat arterial and venous disease, that will be an integral part of the program. For instance, we used to do major open surgical interventions for aortic aneurysms, for dissections and now we can do that very frequently through catheter-based interventions," – Péter Gloviczki, Professor Emeritus of the Mayo Clinic explained.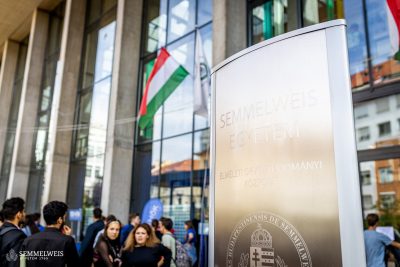 The venue of the symposium is the Basic Medical Science Center of Semmelweis University. The three-day program includes lectures, workshops, panel discussions, and a poster competition. There will be simultaneous presentations in the three large lecture rooms of the center.
During the workshops participants can learn how to perform ultrasound of the arterial and venous circulation to improve diagnosis for vascular diseases. They will also be workshops for trainees to learn how to perfect their surgical skills by performing operations in models, they can perform simulated surgeries.
Vascular surgeons, interventional radiologists, cardiologists, phlebologists and neuroradiologists, as well as vascular medicine specialists are encouraged to submit abstracts to the Symposium. The abstract submission deadline is expanded to 12 February. Trainees' and residents' research works can be submitted for a competition. The best three presentations will be recognized and will receive cash prizes.
The Organizers announced a poster competition for medical students, residents, fellows and recently graduated physicians and invited all poster abstract authors who wish to compete to register their posters.
The official language will be English. Early bird registration fees are available until 30 April, 2023. You can find more details on THIS website.
Gábor Kiss
Photo: Attila Kovács, Bálint Barta – Semmelweis University