With an overwhelming majority – 95 percent of the valid votes from the Assembly of Delegates -, Bálint Tripolszky was re-elected as President of Semmelweis University's Students' Union (HÖK) in May. He will lead the organisation for a further two years after his first term, or until the end of his studies. He fulfilled the first two years of his presidency during the global pandemic, when the organisation had to coordinate thousands of students – a lot of work and responsibility, but he was excited to take on the tasks every morning. In our interview, he also told us that the personal contact with patients is the most important thing for him, and that this was that influenced his career choice: he wants to become a family doctor.
"Even in the Freshers' Camp I said I wanted to be the president of the Students' Union," Bálint Tripolszky recalled with a smile. He added that he had thought about a career in medicine when he was very young, even though no one in his immediate environment had worked in this profession: most of his family members were entrepreneurs or worked in economics-related fields. "In the high school, I didn't know wchich one to choose, the legal or the medical profession, and finally I chose the second one. I went to the ELTE Apáczai Csere János Practice High School and College, I was not particularly good at biology or chemistry, but I wanted to help people," he explained.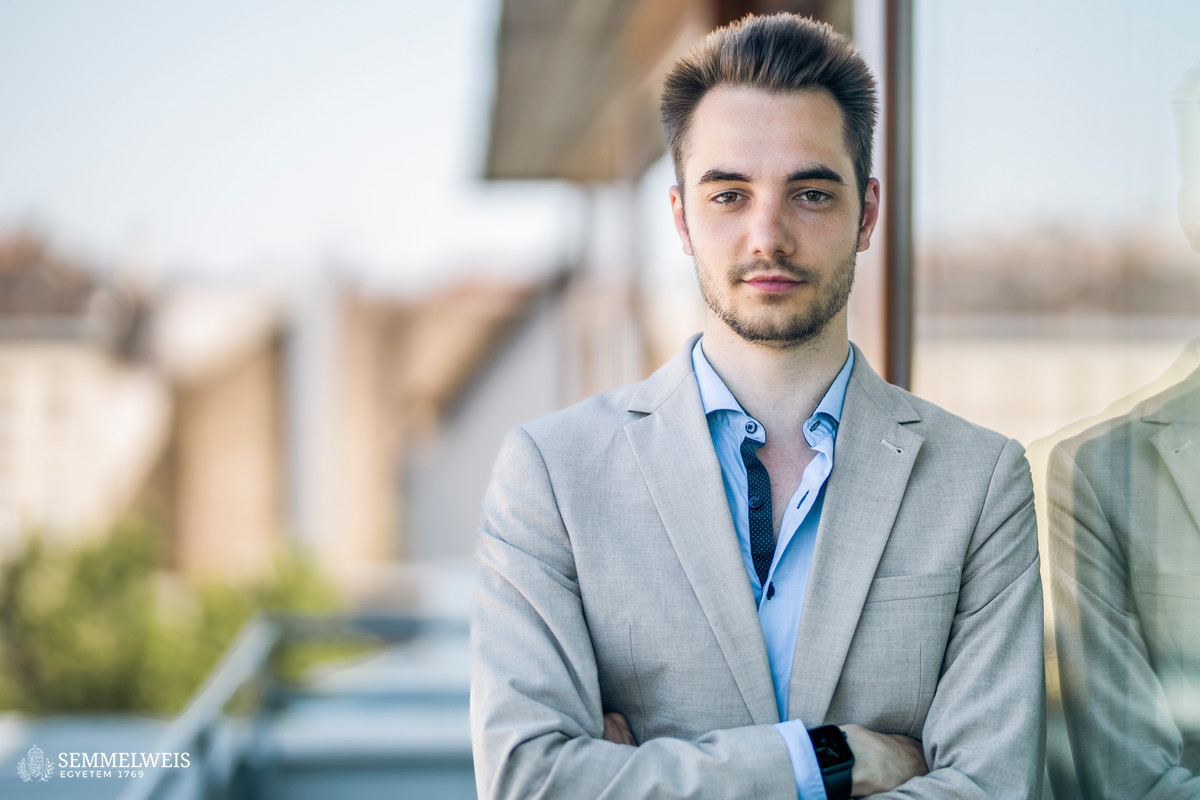 After being accepted to the Faculty of Medicine at Semmelweis University, his family and friends were proud of him. "Medicine is a very closed profession, the Latin language makes it particularly mysterious to outsiders. Those who work in it are working for people's lives, health and healing, no wonder they are so highly respected," he said. One of his first experiences as a Semmelweises freshman was the excellent community that welcomed him there.
The university, the Students' Union and the instructors are also very keen to help the freshers find a 'home' quickly: they organise lots of events and small group activities that help everyone make friends quickly. This is necessary, because the first period is especially hard, you need support to get through the more difficult subjects and exams," he pointed out.
He added that he struggled a lot with anatomy, but once he had passed it, he had no more difficulties with other subjects.
He first met the Students' Union at the Freshers' Camp and quickly got informed how to join. "I had ideas about how to do some things differently, so I felt I had to try my hand there. Practically as soon as I enrolled, I started working in the organisation and worked my way up through the ranks, serving on committees, as a committee president, vice-president and then president," he said. He started his first term as president in 2020, a two-year term that was ruled by the Covid.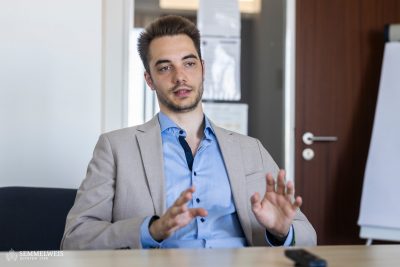 Education continued in a hybrid system, and students participated in the pandemic response alongside their studies, initially assisting with screenings at the university, then at the National Ambulance Service (OMSZ), and working at the bedside or carrying out screenings in the framework of government-coordinated missions. The students were also involved in vaccination work. The HÖK also played an important role in organising and coordinating all these activities. "It was an incredibly exciting task, I woke up every morning full of desire for challenge. I was surrounded by a great team, with nearly 200 people working within the organisation, which was an extra motivation," he underlined. The most difficult period was the third wave of the pandemic: HÖK was in daily contact with the State Secretariat and the university's senior management to coordinate the activities of the more than 4,000 students who were involved in the fight against the virus. Bálint Tripolszky highlighted in particular the work of Dr. Éva Szabó Feketéné, Vice-Rector for Strategy and Development  and her help in the organisation of the event. She herself helped as a nurse's aide in the clinics and supported the OMSZ staff during the screenings. "During our studies and internships we get to know how the clinics work, but this was the first time I met the ambulance service and I really enjoyed having the opportunity to try my hand at screening the population by going door-to-door to do PCR testing," he said.
From his first term as President, Bálint Tripolszky is particularly proud of the fact that all work processes and the structure of the HÖK have been transformed and simplified, making the organisation much less bureaucratic and easier to manage.
We have introduced a system of year representatives, which has received a lot of positive feedback,"
he said. He highlighted the Green University project, which has won the support of the Senate: it has reduced the use of paper, digitalised several procedures and introduced other green, energy and environmental measures. They also introduced an elective course with Dr. Éva Szabó Feketéné, which is very popular among Hungarian and international students, too.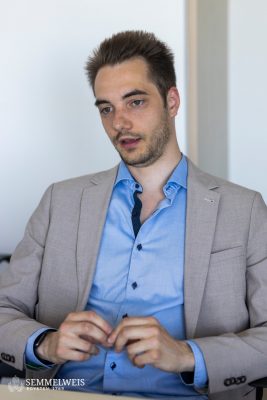 In relation to his re-election, Bálint Tripolszky said that if someone is re-elected as president, it means that his work is rewarded, that's why he feels particularly honoured to lead the Students' Union for two more years. "I would like to continue what we have started with the organisation in the past, and my aim is to maintain the results we have achieved so far for the next period. HÖK is a very fluid organisation, as students can participate until they finish their studies. That's why I want to ensure that there is a supply of new members," he pointed out. He continued to emphasise the importance of internationalisation: over the past two years, the organisation has been able to reach more and more international students thanks to its bilingual social media communication. They have also organised many joint activities and now have a year representative system for international students. "I would also like to increase the grassroots democracy character of the HÖK: we have created a 'Have your say' interface, through which students can participate in our work and express their opinions on, for example, changes to the study and examination regulations or events they would like to see," he said, adding that Rector Dr. Béla Merkely and the university administration see the organisation as a partner, so he feels particularly lucky to lead the HÖK at this time.
In addition to his studies at Semmelweis, Bálint Tripolszky also started studying economics at Corvinus University. "I've always read a lot of news about economics, I'm very interested in that subject and I thought I could benefit from economics and management knowledge in the future," he explained, adding that he would like to study at both universities simultaneously next year. Besides his studies, he also tries to spend time with his girlfriend, friends and family, and enjoys playing tennis. As for his future, he has decided to become a family doctor.
It became clear to me how important it is to have personal interaction with patients – in the clinic there are fewer opportunities for that, because of the constant turnover of patients in the emergency room or in inpatient wards. In contrast, a family doctor knows exactly who the patients in his practice are and has a personal relationship with them – he underlined. Although his term of office as president is for two years, he plans to finish his studies next year, when his term of office ends. "I want to be that president who did his job – if that's how I'm remembered, that's good enough," he said. 
Ádám Szabó – translated by Rita Kónya
Photo: Bálint Barta – Semmelweis University