Semmelweis University was the first in Hungary to be awarded the internationally recognized "Ophthalmic Gene Therapy Centre" rating. The development was ceremoniously handed over due to a cooperation agreement between the former Ministry of Innovation and Technology, the university and Novartis Hungary on Thursday. The treatment centre will be able to use an innovative gene therapy procedure to treat retinal dystrophy, a hereditary eye disease that can lead to total vision loss, so patients will not have to travel abroad for this anymore.
The agreement, signed back in March, aims to secure Hungary's leadership in cell and gene therapies through a unique public-private partnership, with a focus on spinal muscular atrophy (SMA) and hereditary retinal diseases. A strategic agreement between the Basel Institute of Molecular and Clinical Ophthalmology led by Dr. Botond Roska, Semmelweis University and the former Ministry of Innovation and Technology also played a key role in the Ophthalmic Gene Therapy Centre's establishment, bringing novel approaches to restoring vision and slowing down vision loss. This will make Semmelweis University one of the few medical institutions in the world where the most diverse and cutting-edge cell and gene therapy procedures will be available to Hungarian and foreign patients as well.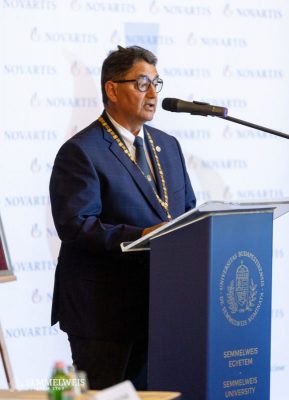 At the opening ceremony, the rector of the university explained: this is a development that directly benefits patients, and can bring a significant improvement in the quality of life to a group of patients for whom no effective therapy has been available at national level.
"Our Department of Ophthalmology is a recognized centre in its field already. However, establishing the Ophthalmic Gene Therapy Centre will make our university the first clinical trial site and treatment centre for ophthalmic gene therapy interventions in Hungary," said Dr. Béla Merkely. He added that the power of science and the dynamic development of knowledge in the field of medical science is demonstrated by the breakthroughs in genetics that have given a boost to ophthalmology.
"Semmelweis University is ready to introduce related ophthalmic gene therapy with a Novartis product. This means that, together with the SMA treatment launched last year, patients will now have access to state-of-the-art gene therapy solutions in two areas. This will also ensure Semmelweis University's place at the forefront of gene therapy on an international level," concluded the rector.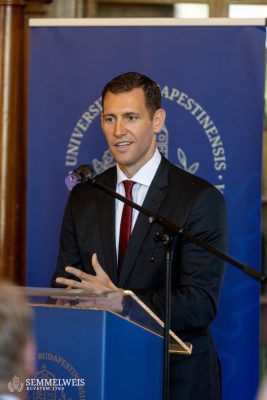 Matt Zeller, Managing Director of Novartis Hungary, called the certificate an important first step and a major achievement of the cooperation between Semmelweis University and Novartis, which will have a wide-ranging impact on patients' quality of life and on the joint professional work as well.
"Semmelweis University will be in a prominent position, since this would be one of the only centers in the world that has the ability to treat SMA as well as hereditary retinal diseases with gene therapy. This is a big deal, which puts the university – and also Hungary – on the map. It will be apparent that this is a place where innovation can be housed, and most importantly, this is a place where one can access the most cutting-edge, exciting therapies," said the director.
Matt Zeller expressed his hope that new therapeutic options will reach even more patients and reminded that there is a real collaboration and mutual thinking between Novartis and the university, which they are committed to bringing further.
The Managing Director of Novartis then presented a commemorative plaque to Dr. Béla Merkely on the occasion of the opening of the Ophthalmic Gene Therapy Treatment Centre.
About retinal dystrophy
Hereditary retinal dystrophy is a highly heterogeneous group of diseases, both clinically and genetically. Mutations in a single gene can result multiple diseases, and a single pathology may mean defects in multiple genes. Up until now, almost 460 genes have been documented to be affected. One of which, retinal dystrophy associated with mutations in the RPE65 gene, causes patients to suffer from visual loss, including impairment of visual function parameters such as visual acuity and visual field, often in childhood or adolescence. Vision loss eventually leads to total blindness in these patients, and no effective treatment has been available to date.
Semmelweis University's Department of Ophthalmology has made significant developments recently: the genetic screening of patients with hereditary retinal diseases has been extended, and one of the first, state-of-the-art FST (full-field stimulus testing) devices in Central Europe has been purchased. In order to start treatments, the university's top retina surgeons and pharmacists took part in a training course provided by Novartis and accredited by the European Medicines Agency (EMA) and learned the various aspects of ophthalmic gene therapy treatment, which was officially recognized with the presentation of certificates at the opening ceremony on Thursday.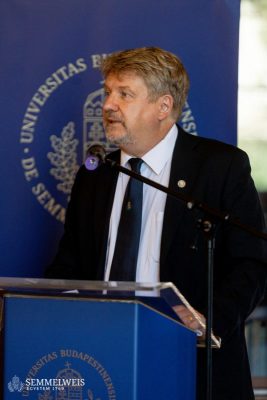 Hereditary retinal dystrophies are a major cause of vision loss and blindness. These serious diseases are relatively rare, but change the entire lives of affected patients. For a long time, there was no effective treatment; fortunately, in 2018, voretigene neparvovec, also known as LUXTURNA™, entered the European market as a single-agent gene therapy. It is currently the only treatment option that allows patients to avoid total blindness and the serious emotional and physical difficulties that come with it," said Dr. Zoltán Zsolt Nagy, Professor and Director of the Department of Ophthalmology at Semmelweis University. The procedure has been available only abroad so far, but with the launch of the treatment centre, this therapy will also become available at Semmelweis University, making it a national centre in this field. "I am delighted that we are bringing the most modern treatments and diagnostic tools to Hungarian patients; hopefully, we can start as early as next month," added Dr. Zoltán Zsolt Nagy.
Viktória Kiss
Photo: Attila Kovács – Semmelweis University