Dementia epidemiology in Hungary based on data from neurological and psychiatric specialty services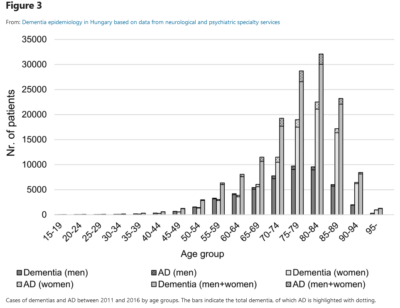 In aging societies dementia remains the leading cause of death and a permanent health damage. Early diagnosis and starting the available treatment strongly affect the quality of life of patients and their caregivers.
"The aim of the study was to estimate the prevalence of dementia in Hungary using data from the NEUROHUN 2004–2017 database, which contains medical reports of the in- and outpatient specialist services in Hungary. The original patient identifier codes were anonymized and encrypted identifiers were used",  dr. Tibor Kovács, associate professor of the Department of Neurology.
Results of the study showed that the number of patients diagnosed with dementia in Hungary is two thirds lower than estimates for the region. Compared to international data, vascular dementia is the most common diagnosis in Hungary, whereas Alzheimer's disease represents 60-80% of dementia cases worldwide. The median survival of Hungarian patients with all dementias is 3.01 years, which is compared to published  data (3.2–6.6 years). The underlying reason for the difference may be the late diagnosis of the disease and are admission to specialist neurological or psychiatric care at a later, more advanced stage of the disease.
Dementia epidemiology in Hungary based on data from neurological and psychiatric specialty services
Nora Balazs (Department of Neurology, Semmelweis University), Andras Ajtay (Department of Neurology, Semmelweis University), Ferenc Oberfrank (Institute of Experimental Medicine), Daniel Bereczki (Department of Neurology, Semmelweis University), Tibor Kovacs (Department of Neurology, Semmelweis University)
Sci Rep. 2021;11(1):10333.
doi.org/10.1038/s41598-021-89179-3