A department for following up the condition of pediatric patients who have recovered from COVID-19, but still have complaints has started to operate since 1 June at the 2nd Department of Pediatrics. Here those pediatric patients are awaited, who have been proven to have a coronavirus infection, and whose symptoms still remain even four weeks after the recovery. With the opening of this outpatient clinic, the post-COVID capacity related to pediatric care at the university will be further expanded. The 1st Department of Pediatrics has been caring for pediatric patients with post-COVID syndrome since March, and so far approximately 140 children have been treated.
"It is recommended to report complaints remaining even four weeks after the proven coronavirus infection at our post-COVID outpatient clinic", said Dr. Gábor Kovács, Director of the 2nd Department of Pediatrics. 
As he highlighted, different symptom groups may be observed in the case of pediatric patients related to the long-term effects of the coronavirus infection. These include respiratory symptoms (e.g. shortness of breath, cough); fatigue, weakness; headache; palpitations, chest pain, heart complaints; rashes the appearance of which cannot be explained with anything else; recurrent abdominal pain, diarrhea; and psychiatric symptoms such as anxiety, depression, lower stress tolerance, fatigue, irritability. 
As it was highlighted by the director, one may request an appointment online on the department's website; no referral is required, but the completion of two detailed questionnaires is necessary, which needs to be handed to the physician in the course of the medical examination. It takes about an hour to complete the questionnaires and it provides support to the physician in recording an accurate and detailed medical history.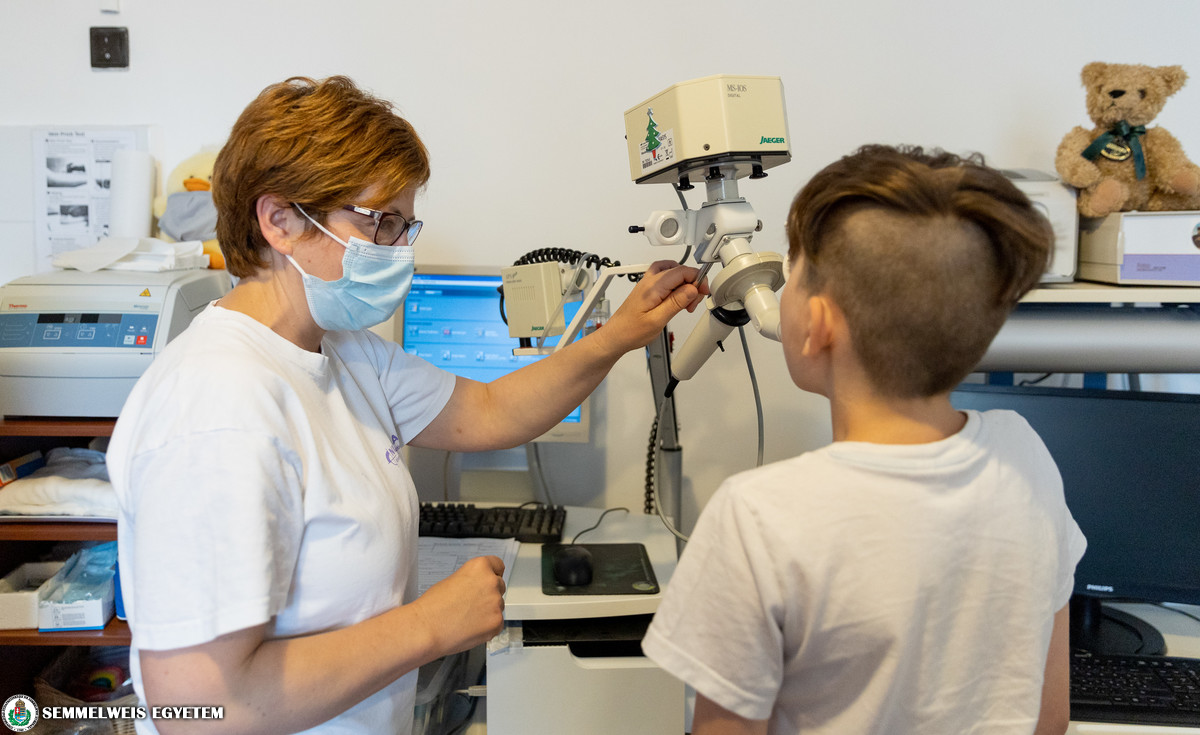 At the outpatient clinic led by Dr. Ágnes Németh, currently three physicians are caring for these pediatric patients. During the first meeting, it will turn out what further medical examinations are needed based on the complaints and the completed questionnaires. The most common examinations are cardiac ultrasound, bone density measurement, endocrinological and immunological examination, and psychological and neurological examination. Dr. Gábor Kovács also mentioned that a research is being conducted about the psychological and respiratory symptoms appearing after the recovery from the coronavirus infection. 
Post-COVID care is a long-term process, as a follow-up examination is also required 1-3-6 months after the first visit at the clinic. The 2nd Department of Pediatrics also provides care in accordance with the university protocol and the outpatient clinic of the 1st Department of Pediatrics has been operating on this basis since March. Dr. Péter Krivácsy, Head of the Department of Emergency Care of the 1st Department of Pediatrics, Head of the Long-COVID Outpatient Clinic, said that during the operation of the clinic of more than two months, approximately 140 people have been treated for post-COVID symptoms. 
We collect information and data that we subject to scientific analysis, but as far as we currently see, the majority of those affected have multiple symptoms, which are markedly diverse and significantly impair their quality of life. Chronic fatigue syndrome is common, but headache and thyroiditis also often develop as a post-COVID symptom. Rehabilitation consists of a complex therapy, which includes physiotherapy, dietetics, vitamin supplementation and, if necessary, psychological therapy"
 – he explained. Dr. Péter Krivácsy also highlighted that young people suffering from long-COVID, who may already be vaccinated due to their age, are strongly advised to have themselves vaccinated. 
Whether a child develops post-COVID symptoms or not is unrelated to the severity of the infection. As Dr. Péter Krivácsy said, only a few of their patients had a condition at the time of the illness that required hospital treatment.
He also emphasized that they are expecting pediatric patients with long-COVID, who still have symptoms even one month after the recovery from the infection that cannot be explained otherwise, or an old complaint has changed significantly.
Pálma Dobozi
Photo: Attila Kovács – Semmelweis University
Translation: Katalin Illés-Romhányi