Dr. Boldizsár Kiss, resident at the Department of Cardiology of the Heart and Vascular Center, won the 2020 Semmelweis Innovation Award for his scientific work in the Students' Scientific Association (TDK). The award encouraging and recognizing young researchers was given to him for developing a scoring system that classifies the chances of survival of successfully resuscitated patients based on risk factors.
"As a third-year medical student, I was admitted to the Heart and Vascular Center of Semmelweis University, on the recommendation of my senior peers. I was looking for a student-centered department where the Students' Scientific Association was active", explained Dr. Boldizsár Kiss.
"The department is a great place to learn, there are cases requiring special care in addition to a high number of cases. You can learn from the most renowned experts of cardiology in an inspiring community with active scientific and clinical life. When I met Dr. István Zima, associate professor of the Department of Cardiology at the time focusing on intensive care for resuscitated patients, I was immediately fascinated by the topic and the research idea came from the joint work", said Dr. Boldizsár Kiss.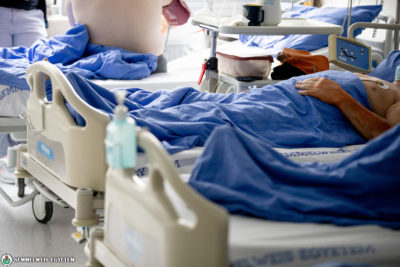 Special scoring systems focusing on selected patient groups have been known in the past as well. A general risk assessment system that is easy to use for physicians caring for successfully resuscitated patients has not been available so far. The idea behind the development was to create a system providing comprehensive information on potential outcomes for patients at the intensive care unit as early as possible. Thus, data that is available as early as the patient's admission to the ICU is used.
The development of the award winning method was preceded by the presentation of his first research topic at the conference of the Students' Scientific Association in 2018. In this project he examined the suitability of a scoring system developed by a group of Finnish cardiologists in resuscitated patients. Based on this, he began to develop the Forecast of Mortality Risk Early in the post Cardiac Arrest Syndrome Therapy (FORECAST) scoring system, which divides resuscitated patients into subgroups based on various risk factors.
"While examining the various prognostic factors, we sought to identify what determined the success of resuscitation primarily in terms of short- and long-term survival and, second, in terms of neurological outcome", he explained.
The scoring system can provide physicians with useful information for patient care and is also useful for communication with relatives.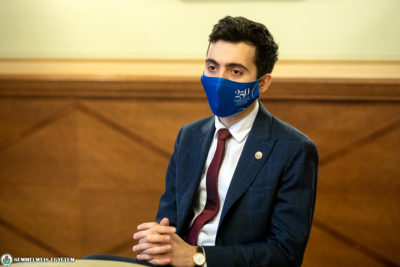 More than 400 resuscitated cases were processed retrospectively in the pilot phase. One of the easily identifiable early factors is the time elapsed between the collapse and the onset of the advanced resuscitation, which can even exceed 10 minutes. That is why he finds it alarming that more and more international publications around the world have seen a decline in people's willingness to resuscitate at a basic level in the past year of the coronavirus. Hungarian data is being processed, but according to Dr. Boldizsár Kiss, it will take serious efforts to increase people's willingness to do basic resuscitation.
The different work phases of the research have been presented to the professional audience at four Hungarian conferences, two international conferences, and at the Conference of the Hungarian Society of Cardiology in 2020. As he received positive feedback on his project, he keeps on doing research in the topic in addition to his job.
"In our new prospective study, we are following up fifty successfully resuscitated patients with timed sampling and collecting measurable parameters. By processing this data, a huge database is built that is suitable for detailed statistical analyses", he emphasized.
Speaking of his further plans, he said he would like to make the scoring system available for health care education, even by involving a medical technology manufacturer. There are also plans to establish a partnership with the National Ambulance Service, to enable access to data generated before hospitalization.

He believes, all students should seek to get the most out of the clinical diversity of Semmelweis University. During the six years, in addition to studying the subjects of the curriculum, the Students' Scientific Association also provides assistance in choosing a specialization. It is an everlasting and decisive experience; with a good mentor, it can pave the way to success in one's future career.
"I can only encourage everyone to participate in a research project from the third year, and it is recommended to actively look for a place and a mentor. It should not be forgotten that these are time-consuming but fruitful endeavours. There are more and more opportunities that recognize the work invested, national and university grants and scholarships also help young researchers", highlighted Dr. Boldizsár Kiss.
Dóra Vas
Photo: Attila Kovács – Semmelweis University
Translation: Katalin Illés-Romhányi