Sudden cardiac death (SCD) is the most common cause of death in apparently healthy athletes and in a high number of Hungarian patients under the age 40. Causes and prevention of sudden cardiac death and the importance of regular cardiological examinations will be the topic of dr. Hajnalka Vágó's presentation on Semmelweis Health Day. Dr. Vágó is a cardiologist and sports medicine doctor at Semmelweis University's Heart and Vascular Center. The programme is free, but registration is compulsory.
All kinds of physical workout activities benefit our health. Sport may be healthy in itself, however one should gradually increase the intensity of workouts. Underlying cardiac diseases are an important factor as they may cause life-threatening arrhytmias during high intensity exercises.
Unrecognized heart failure poses a high risk for athletes doing intensive physical activities, thus it is of crucial importance that athletes go on regular cardiological screenings and they should immediately contact their cardiologists when symptoms arise. Sudden cardiac death has become the most common death cause in athletes
said dr. Hajnalka Vágó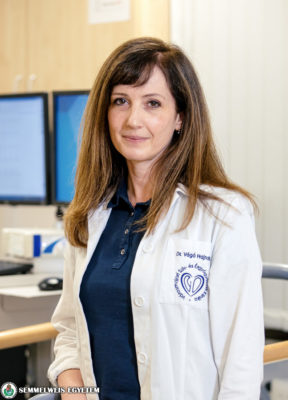 Sudden cardiac death occurs when heart muscles suddenly stop beating due to arryhtmia, which stops oxygen-rich blood from reaching the brain and other organs. A person can die from SCD in minutes if it is not treated right away. The causes of sudden cardiac death in athletes may be caused by several diseases. In dr. Vágó's presentation "Sudden cardiac death in athletes" on Semmelweis Health Day the following topics will be addressed: recognition of diseases causing SCD, cardiological examination of athletes and heart diseases caused by viruses.
Read the detailed program of the Semmelweis Health day on 29 April here.
Participation at the event is free of charge, but registration is compulsory. The registration deadline is 28 April 12:00.
Eszter Csatári-Földváry
Photo: Attila Kovács – Semmelweis University
Translation: Norbert Lukács