The new international project of the Eurolife network consortium deals with updating and developing ethical and conceptual aspects and guidelines related to the use and management of biomedical data. The initiative has received an EU funding of nearly half a million Euros to help the university association, of which Semmelweis University has been a member since 2017, to develop a new, open educational construction with the support of faculty, students and professionals.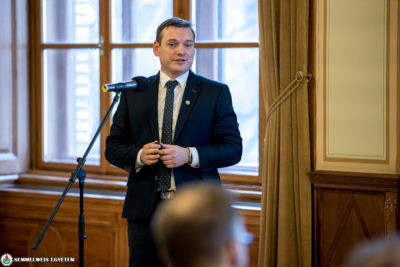 "With the development of health technology, a great deal of biomedical data, called big data is being created – this includes various genomic and genetic information, but also data from imaging procedures. Although, creating these is no longer difficult today, their safe storage, ethical handling, interpretation and the proper application of artificial intelligence are challenging.", said Dr. Csaba Bödör, senior research fellow of the 1st Department of Pathology and Experimental Cancer Research, who is also a member of the educational association of the Eurolife university network. 
Eurolife, of which Semmelweis University has been a member since 2017, recently formed a new consortium to develop the ethical and conceptual aspects of handling and using big data, and to update and develop related policies. 
The DATAETHICS project received support from Erasmus+ Strategic Partnership. According to the announcement of the German Academic Exchange Service (DAAD), which is responsible for EU higher education cooperations, the Eurolife Consortium has received 448,389 Euros in co-financing for the implementation of the project. During the three-year project, the partners participate in creating and sharing a common knowledge base by involving their research network. In addition, the project provides an opportunity to increase cooperation between universities and industrial partners, and to share the best practices on big data between European Union member states. Participating students can also share their experiences and skills gained within the project with their peers as tutors. 
The consortium also plans to develop a new open educational setup. An interactive platform and online courses, would create a learning environment that not only addresses identified challenges, but also enables students and teachers to acquire and deepen the skills they may need in their research. 
DATAETHICS has set four basic goals for the ethical use of big data: sharing best practices; developing widely accessible online materials; creating storage space for the continuous collection of materials; and  developing ethical models for biomedical and healthcare institutions as well as for industrial partners dealing with big data. The project is coordinated by the University Medical Center Göttingen (University of Göttingen), but all partner institutions, including Semmelweis University, are involved in carrying out of the tasks. The collaboration will happen in the form of Summer and Winter Schools during a four-semester period. Training will be attended not only by students and faculty, but also by various academic and industrial partners. A team of students has already been set up at the university, but organizers are still waiting for applications from faculty members and researchers who are interested in big data and would like to participate in the programs as experts. Applications should be sent either to the Innovation Centreor to Bálint Gégény, project coordinator (gegeny.balint@semmelweis-univ.hu). 
The Eurolife network is an association of nine prestigious European universities in the field of life sciences, which was established in 1999. The goals of the network include expanding inter-university cooperations, supporting members' research and teaching activities, and introducing exchange programmes and scholarships.
More information about the opportunities provided by Eurolife and about a related workshop held at Semmelweis University in February 2020 can be read here.
Ádám Szabó
Photo: Attila Kovács – Semmelweis University
Translation: Katalin Illés-Romhányi