A total of 244 Hungarian students who have passed their final exams were awarded their Doctor of Medicine diplomas at the graduation event held in the NET building. The diplomas were presented by Dr. Béla Merkely, rector of Semmelweis University, and Dr. Miklós Kellermayer, dean of the Faculty of Medicine (ÁOK).
The graduation ceremony of the Faculty of Medicine for students completing the Hungarian-language programme was held separately this year, due to the restrictions on events in place resulting from the pandemic situation. The graduation ceremony for international students completing the English and German-language programmes was held on July 17.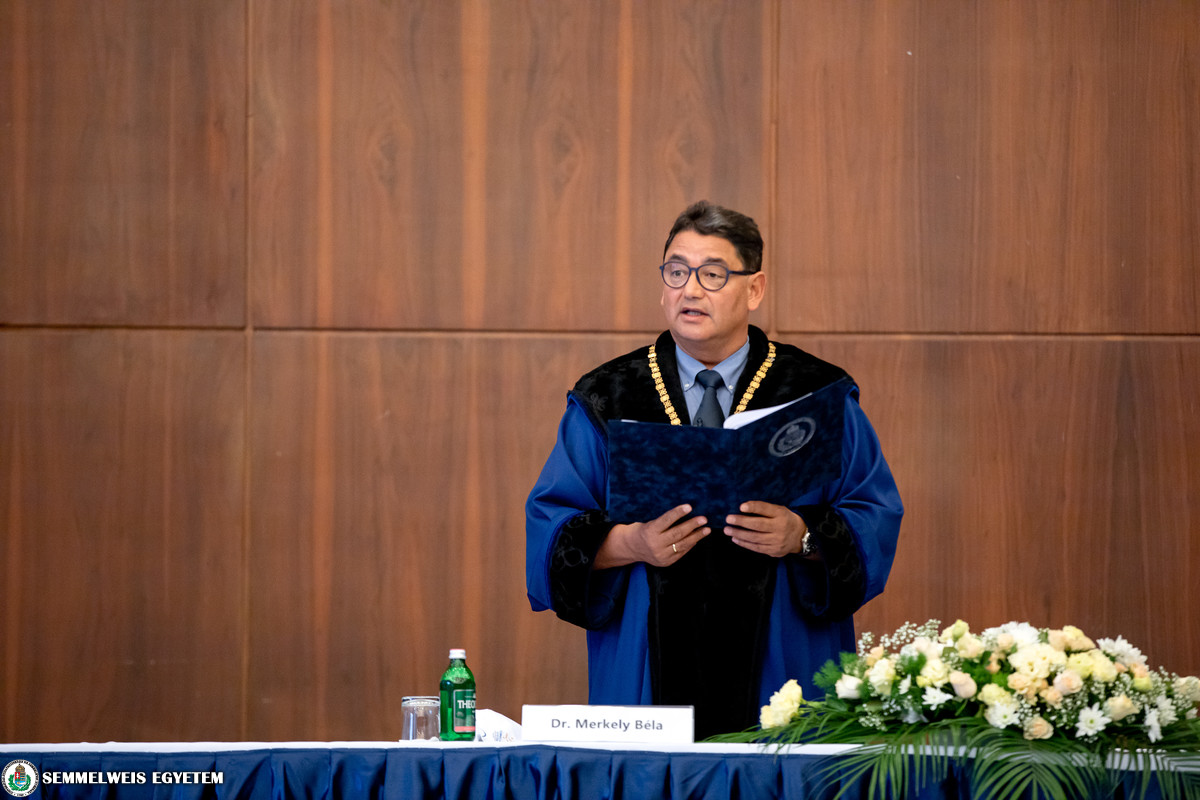 The ceremony was opened by a speech from rector Dr. Béla Merkely, who reminded the graduates of the importance of their profession. "The focus of your work is your fellow human beings. Whether you can help them depends on – in addition to knowledge, science and the available technology – the relationship between doctor and patient," he said. He recalled the challenges of the recent months during the pandemic, noting with pride that 93% of final-year students performed volunteer work during the crisis.
The conferment request was submitted by Bence Gusztáv Stubnya, after which students took their solemn oath and Rector Merkely and Dean Kellermayer congratulated every newly conferred doctor with a handshake. In the graduating class of 344 people, 123 graduated summa cum laude, 211 cum laude and 10 with a grade of rite. Following their conferment as doctors, Dr. Bence Gusztáv Stubnya and Dr. Gergely Lipták held speeches in the name of the graduating class, while students were also awarded various recognitions as part of the ceremony.
The newly conferred doctors of medicine were greeted in a speech by dean Dr. Miklós Kellermayer, who called on the graduates to be empathetic with their patients and to strive to become the best in their profession.
The graduation ceremony were held with the fullest adherence to the currently required safety measures, while the relatives and friends of the graduating students were able to follow the proceedings via an online live broadcast.
For the complete photo gallery and a more detailed report on the event (in Hungarian), see our Hungarian site.
Follow this link to read the report on the graduation of the medical students from the English and German-language programmes.
Ádám Szabó
Translation: Tamás Deme
Photo: Attila Kovács – Semmelweis University