The
Summer University course that will last until September 7
kicked off in the Basic Medical Science Center with a clinical broadcast of the prosthodontic rehabilitation of patients that were operated for sinus tumors. In addition to this, the first day, which was held at full capacity, focused on sports, with world star athletes – including several Olympic athletes and world champions that have medical degrees – taking part in roundtable talks hosted by rector Dr. Béla Merkely. The Summer University is the first event of the jubilee academic year of the 250-year-old Semmelweis University, with students taking part in the course receiving credit points for it.
During the four days of the Summer University, in addition to the various programs participants will also be able to view broadcasts of five educational operations and clinical interventions. The various medical operations, which can take several hours, will be presented in edited form in 35-40-minute videos at the Basic Medical Science Center (EOK). The program of the Summer University kicked off with a video of the prosthodontic rehabilitation of patients that went through sinus tumor operations, and was performed by Dr. Tamás Déri, a medical specialist at the Department of Prosthodontics. In the days to come, videos will be shown of a cleft palate operation (Dr. Krisztián Nagy, 1st Department of Pediatrics), an artificial heart implantation (Dr. István Hartyánszky, Városmajor Heart and Vascular Center), a glaucoma operation (Dr. Zoltán Zsolt Nagy, Department of Ophthalmology), and a kidney transplantation (Dr. László Piros, Department of Transplantation and Surgery).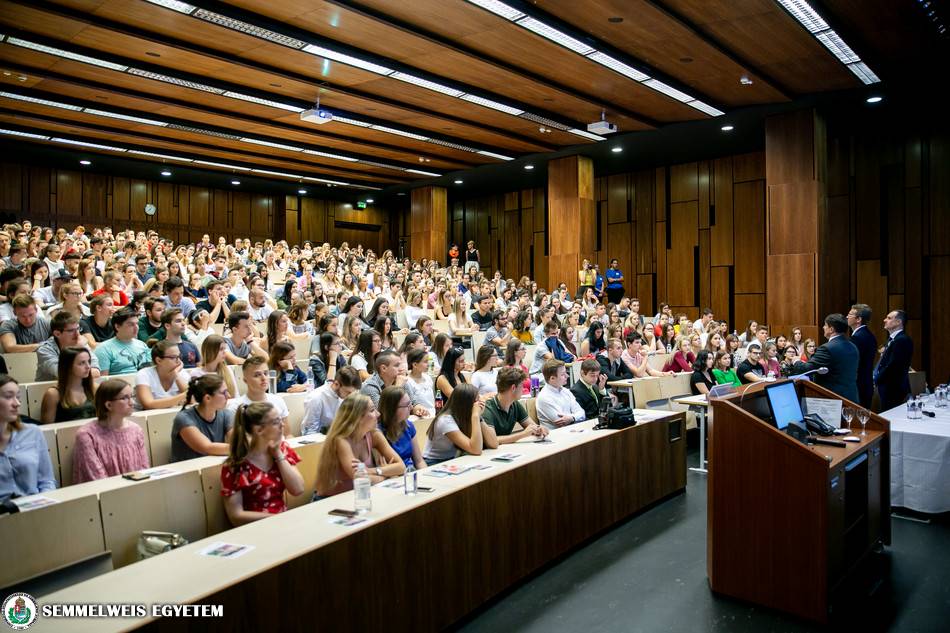 The Summer University, which is intended to become a yearly tradition, will not just focus on health care and sciences: its program includes presentations on the spirit, sports, the arts and history, while in the evenings movies will be shown, there will be a water polo game and other musical, dance events will offer community experiences.
On Wednesday, the focus was among others on sports, with world-star athletes – including several Olympic athletes and world champions that have medical degrees – taking part in roundtable discussions led by rector Dr. Béla Merkely. In both the "Stars in sports" and "Doctors from the marble table" sections, the role that Semmelweis University plays in sports medicine was discussed, as were the strategic cooperation agreements with the Hungarian Swimming and Water Polo Associations, and the parallels that can be drawn between peak performance and medicine, sports achievements and the achievements expected of university students. "You have to swim thousands of kilometers in the pool to achieve outstanding results as a swimmer, and you also have to walk many kilometers within the walls of the university and its clinics to become a good doctor," the rector pointed out.
Dr. Sándor Wladár, Olympic champion Hungarian swimmer, veterinarian, and the president of the Hungarian Swimming Association, noted that talent and diligence are the keys to success. He emphasized the importance of a sports medicine support system and said that Dr. Béla Merkely and the name of Semmelweis University are the guarantee that athletes will receive high-quality care. "These are the reserves that can make Hungarian sport better," he noted.
"As an athlete, Semmelweis University gives me a background that is a huge help in allowing me to prepare even better and more precisely for competitions,"Kristóf Milák, world and European champion and three-time youth Olympics champion swimmer, who also took part in the discussion told the "Why Semmelweis?" section of our website. He advised students that patience and calm is needed to achieve outstanding results.
Ajna Késely, a swimmer on the Hungarian national team, European Championships silver-medal winner and three-time youth Olympics champion, junior world and European champion, also highlighted the medical support the university provides. "It means a lot mentally to know that we are in good hands," she said. She also noted that patient is required to achieve results.
Matilda Gerendás, who plays water polo for FTC and is now starting her second year on the Faculty of Medicine (ÁOK), told first-year students to believe in themselves, that they can do it, since that was what they fought for, to get into the university. She also talked to our website about how to balance studying with competitive sports.
In both sports and medicine, perseverance is important, and you always have to keep in mind that everything that you can imagine is possible, Zsuzsanna Jakabos, European champion swimmer and Olympian, who took part in the second roundtable discussion, told our website.
Árpád Petrov, the trainer of Katinka Hosszú, three-time Olympic champion, nine-time world and 14-time European champion swimmer, talked about how athletes always stretch the limits of their abilities, and for this they need partners like Semmelweis. He recommended that students study the flow theory of Mihály Csíkszentmihályi.
Several of the world-class athletes taking part in the roundtable have medical degrees from Semmelweis University.
Dr. Zoltán Verrasztó, world and European champion, Olympic silver and bronze medal-winner swimmer, graduated from the university's Faculty of Medicine in 1987 and is a practicing surgeon. He talked about sports teach people how to conquer themselves, and that he was also able to use this willingness to fight when he had to study 15 hours a day or perform several major operations one after the other.
Dr. Jenő Kamuti, a world champion, two-time Olympic silver medal-winning fencer, who has been awarded the title of Athlete of the Nation, also graduated from the university, in 1963, and worked as a surgeon. His advice to students was to believe in themselves and in success, and this is true in sports as well as in health care. As a department head, he liked working with colleagues who played sports regularly, as this provides a level of energy and an attitude that brings success in work as well.
Dr. Csaba Sós, European Championship bronze medal-winner, and world championship fifth-place finishing swimmer, the captain of the Hungarian Swimming Association, also received his medical degree from the university, in 1986. He also reminded the audience that Albert Szent-Györgyi only worked with people who exercised at least 2-3 hours a day. "There are ruts in everyone's lives, the question is what you do when you are in one," he said, and suggested that students choose a profession they feel positive in during their everyday lives.
"Love your profession; diligence, luck and health determine everything," noted Dr. István Szívós, Olympic and world champion water polo player, who not only graduated from the university as a dentist, but also worked here, at the Department of Pediatric Dentistry and Orthodontics. He recalled the huge development the university has gone through since he started his studies in 1968. Medicine has changed significantly as well, he said, pointing to the fact that his son Márton Szívós was able to become world champion following cardiac treatment received for an early-stage myocardial infarction, thanks to the medical team at the Városmajor Heart and Vascular Center.
Among the other events held Wednesday, Dr. Ágnes Tiszeker, medical doctor and the managing director of the Hungarian Anti-Doping Group, talked in her presentation about doping substances and their effects, inspections and dietary supplements aimed at athletes, mentioning the situations in which future doctors might encounter such situations. Fertility consciousness expert Herold Janka Cserháti talked about healthy body consciousness and the fertility consciousness method. Mathematician, columnist and psychologist Dr. László Mérő, a professor at the Department of Psychology of ELTE and the Babes-Bolyai University, talked about artificial intelligence in medicine with vice-rector Dr. Balázs Hankó, while Dr. László Molnár, the head of the university's Central Archives, held a presentation on the role of medical students during the 1956 revolution.
The day closed with a podium discussion with award-winning actor Károly Eperjes, followed by a screening of the movie Szabadság, szerelem (Children of Glory). Appearing at a guest at the event was Dr. István Szívós, Olympic and world champion Hungarian water polo player, whose father István Szívós, Sr. was a member of the 1956 Olympic champion water polo team, whose story is told in the movie.
Semmelweis University students will also be able to receive credit points for the Summer University, with a total of maximum three credit points gained after pre-registration and proof of attendance. The first day of the summer university saw a full house at the EOK, with more than 1700 students attending.
Pálma Dobozi
Translation: Tamás Deme
Photo: Attila Kovács – Semmelweis University