The health industry, innovation and competitiveness were in the focus of the second day of the Summer University course. In the morning, the university's rector, vice-rectors and chancellor met students at the "Have coffee with the rector's cabinet" event. This was followed by the day's introductory presentation, held by Dr. György Matolcsy, governor of the Hungarian central bank.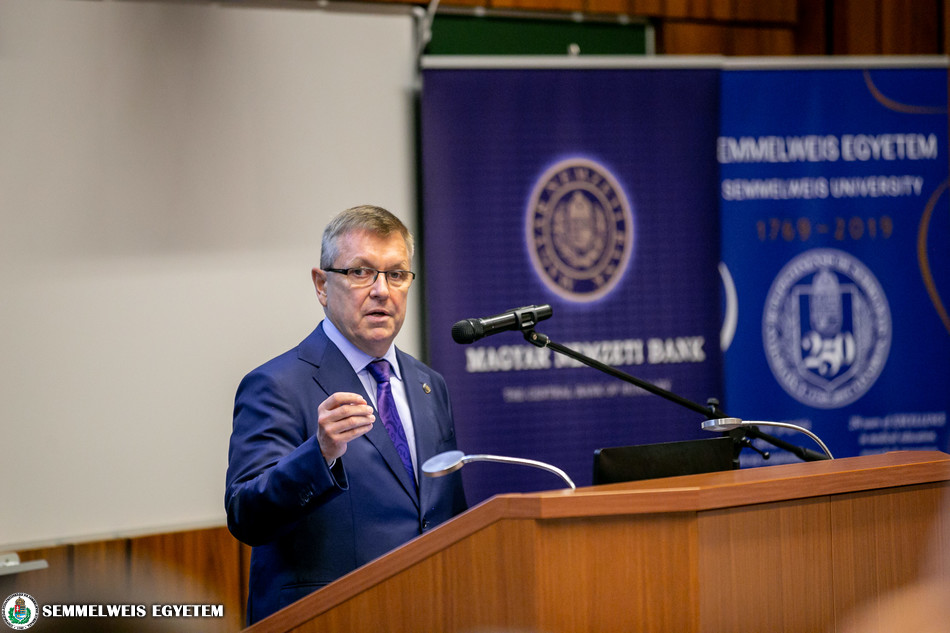 "There can be no turnaround in competitiveness without a healthy society, and without a turnaround in competitiveness the goal to make Hungary one of the best five countries to live in the European Union cannot be reached," said Dr. György Matolcsy, president of the National Bank of Hungary (MNB), in his opening speech on the second day of the Semmelweis Summer University. He noted that of the MNB's 330-point competitiveness program, 46 relate to health care, making it one of the most important areas. "We consider health status to be a factor of competitiveness," he added. Dr. Matolcsy enumerated the challenges he sees in this area, along with the MNB's proposals to create a competitive health care. These proposals relate to prevention, early detection, family-friendly health care, private financing via welfare funds, a review of state financing, as well as the areas of retentive and incentive wages, and professional and financial control. He said that health care could become the engine of economic growth in 5+1 areas, which are: reversing demographic trends; increasing the labor force and improving its quality; strengthening the health industry and health tourism; reducing the gray economy; and establishing a sustainable economic model. Health care could be one of the most important engines of the latter, he noted.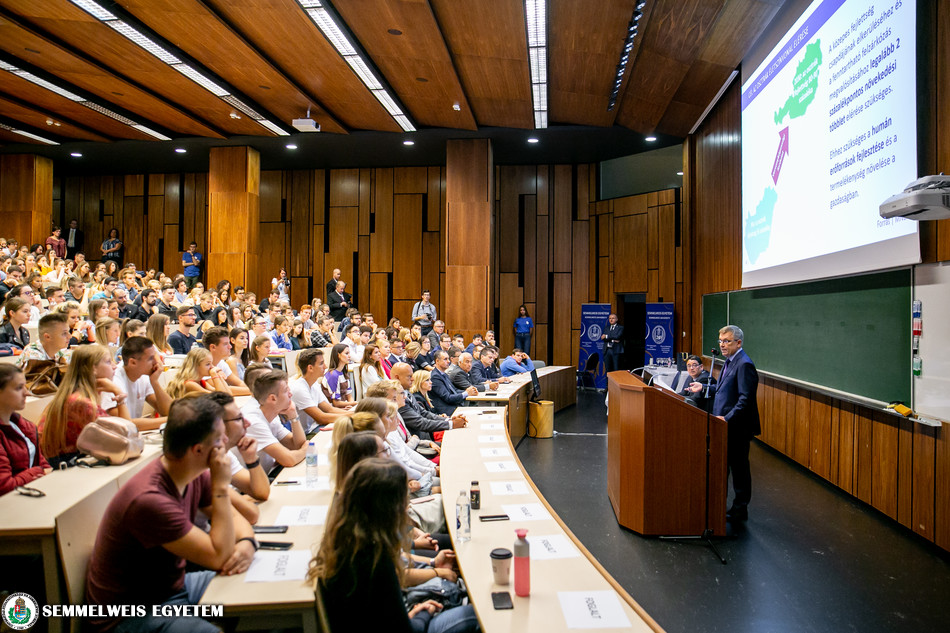 Among others, Dr. Matolcsy emphasized that focus should be shifted from being disease-oriented to living a healthy lifestyle and prevention. The health care system plays a key role in changing lifestyles, and from this aspect it is important that according to studies, Hungarian people trust their doctors, he noted.
At a roundtable discussion on innovation and the health industry, rector Dr. Béla Merkely talked with Dr. László Palkovics, Minister for Innovation and Technology, and Erik Bogsch, the chairman of Richter Gedeon Nyrt. Dr. Palkovics spoke briefly about the strategic issues of Hungary's health industry, pointing out that the goal is for Hungary to grow in this expanding sector at a rate that is two percentage points above the EU average. Nine areas have been identified in the health industry that Hungary should focus on: pharmaceuticals, biotechnology, medical equipment production, medicinal plants, clinical examinations, health tourism, e-health, genomics, and bionics. The startup ecosystem is not too strong in Hungary, because we are afraid of the risks of running a business, of failing, he noted. This is not good, since negative experiences can be turned into a positive; if the first business fails, the second will succeed, he added.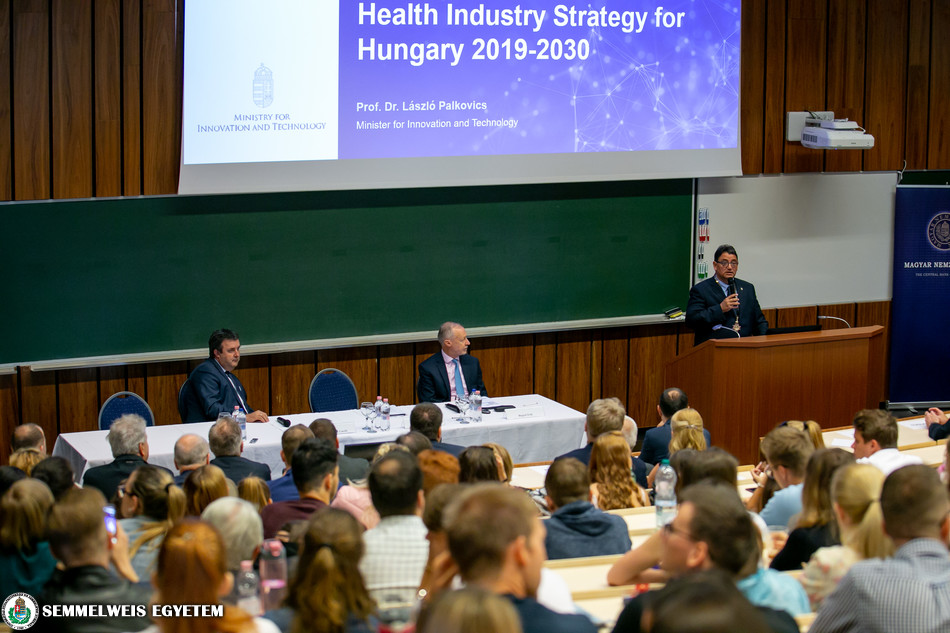 Erik Bogsch said that today, biological products account for the majority of revenues in the pharmaceutical industry, and that these drugs represent the future and innovation in this area. With regard to drug research, he brought the central nervous system as an example of an area that promises lots of innovation opportunities. Drug research requires a lot of perseverance, knowledge and patience, as well as luck, he noted. He offered students the advice of investor Warren Buffet, who said the three keys to success are preparation, common sense and trust. "Success, and thus a successful nation, requires positive thinking, and that was always what I tried to bring to Richter as well," he said.
Dr. Béla Merkely said that in addition to the curriculum reform that has been implemented from this year, his main goal is the development of innovation in the health industry and to make Central and Eastern Europe a leader in this area. The university's job is to establish an environment for teachers, researchers and students that supports the creation of innovative thoughts and products, he declared.
Participants at the discussion agreed that cooperation between universities and industry is indispensable.
The innovation activity of Semmelweis University was presented to students by Dr. Péter Ferdinandy, vice-rector for science and innovation. He said the goal is to create an innovation ecosystem in which know-how can later be transferred to industry. Innovation can also help achieve the goal formulated by the rector of the university becoming a Top 100 institution in the main global rankings over the next ten years. Research and its international acknowledgement is an important part of these rankings, he noted. Innovation requires hard work and motivation, and openness is also necessary, as in order to bring something new, we have to leave dogmas behind, the vice-rector said.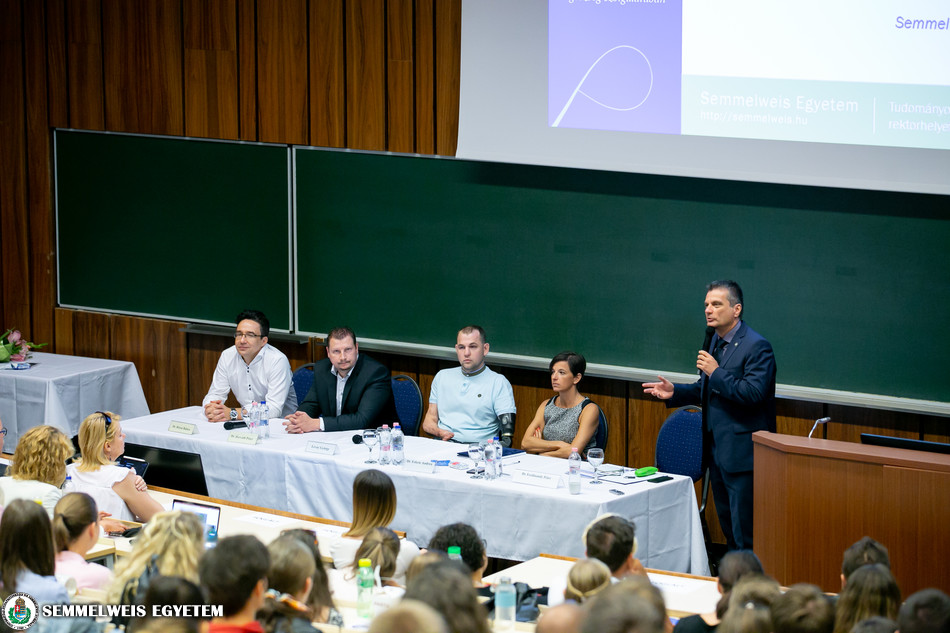 He brought two examples of innovation from the university's part 250 years: the discovery that Ignác Semmelweis made of the importance of washing hands, which shows that for innovations to happen people have to change the way they think; and the various new drugs developed by Dr. József Knoll. He talked the importance of patents and how this can be harmonized with writing publications. He presented several examples of current university industrial property projects (microvesicle IVF, ortho-vesicles, multi-layer plasters), and talked about three companies that started from the university and have achieved global success (3DHistech, Turbine, iKnife). He also talked about the Health Industry-Biotech Science Park that the university is planning to establish in cooperation with the Pázmány Péter Catholic University and the National University of Public Service. Finally, Dr. Ferdinandy suggested three steps students looking to take part in some kind of innovation should follow: join TDK, take up the course on innovation, and get a PhD.
Next up were four researchers who presented the work they have achieved by starting a business. Dr. Andrea Fekete (1st Department of Pediatrics, MTA-SE Lendület Diabetes Research Group) presented the results of her nephrology research, Dr. Balázs Rózsa (MTA KOKI head of research group; managing director of Femtonics Kft) talked about the applications of the two-photon and the raman spectroscope microscopes, György Lévay (Infinite Biomedical Technologies) presented the evolution of prosthetics, and Dr. Péter Horváth (head of the Laboratory of Microscopic Image Analysis and Machine Learning at MTA's Biological Research Center in Szeged) discussed the applications of artificial intelligence and self-learning imaging systems.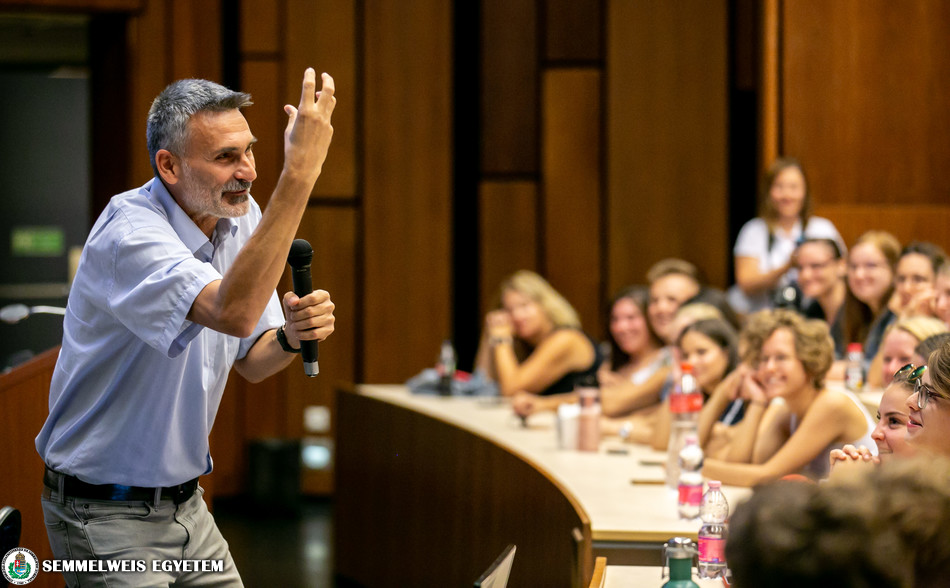 The second day of the Summer Course also included a talk by Ferenc Pál, Catholic priest and mental health expert, with the title "Satisfied with life." Two clinical broadcasts were also presented: Dr. István Hartyánszky (Városmajor Heart and Vascular Center) demonstrated an artificial heart implantation, while Dr. Krisztián Nagy (1st Department of Pediatrics) performed a cleft palate operation. The day closed with a screening of the Hungarian movie A tanú (The Witness), with historian and writer Károly Szerencsés, a professor at ELTE University, appearing as a guest.
You can read about the first day of the course here.
Pálma Dobozi
Translation: Tamás Deme
Photo: Attila Kovács – Semmelweis University