"This centre is like my home, I have often spent days and nights here; I was on call nine times a month," said Dr. Béla Merkely, who has been the director of the Városmajor Heart and Vascular Centre since 2012. In addition to his duties as rector, he is still on call 3-4 times a month, working from 7am to 9pm on clinical days. "I am proud to be the rector of Semmelweis University, but this is still my original profession. I like being at Üllői 26, but I look at that building as more of a workplace; Városmajor feels like home," he said.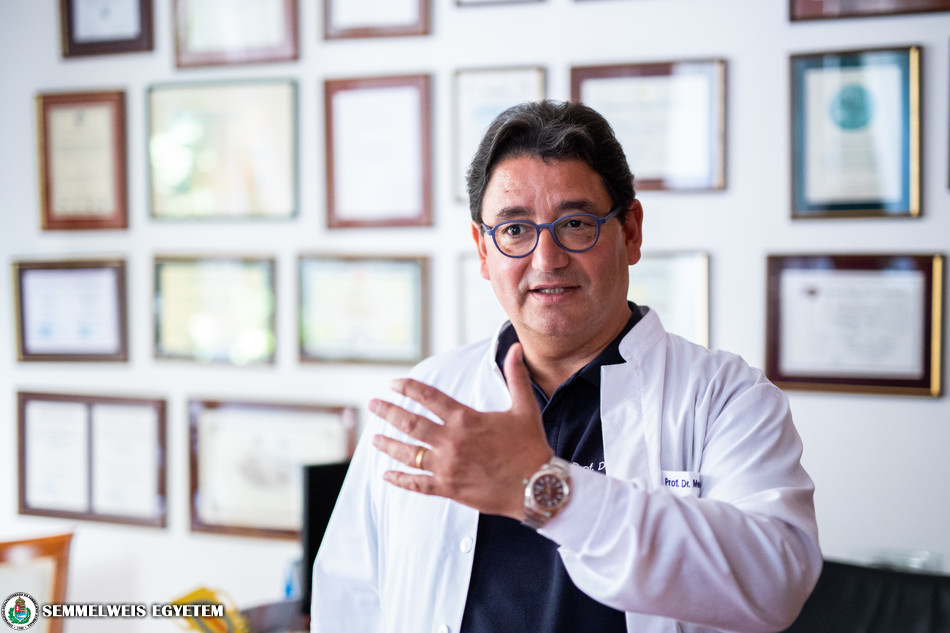 Although he spends most of his clinical days in the operating room, his Director's Office is one of his favorite places. The diplomas, cups, and medals on the walls and shelves are, in part, personal items, while some of the artifacts were received from athletes or are special souvenirs from field experts. His desk faces the Cardiovascular Centre, from there he can look out at diligently working colleagues bustling in the courtyard. To the left is the Experimental Research Laboratory where he himself had conducted experiments and conversed with Dr. Alexander Juhász-Nagy.  "I sit here at the place where Dr. Zoltán Szabó directed the clinic – this room is permeated by the spirit of the great ancestors, whose example has always been crucial to me," he added.
Speaking of the familiar, cozy environment, he said that most of the doctors currently working with him were many of his formal pupils, including professors. Since his 7-year-old son goes to Kós Károly Music Advanced Level Elementary School located in front of the clinic, he often comes to the clinic at the end of the day and hangs his feet in his father's chair.
Walking in the courtyard, Dr. Merkely said that Cardiovascular Center held a special place in his heart because the implementation of the building and the introduction of cardiac catheterization have helped reduce the number of heart attack deaths in the Central Hungarian region by 60 percent.
Presenting the unique hybrid operating room of the clinic, he emphasized: it reflects the idea and interdisciplinary work that Zoltán Szabó had represented throughout his life, so this is why it is named after him. "The university is something that I can compare to my country: everything I did for the university is equal to what I did for my country. I can't wish for anything more than that," he said.
To learn more about the rich history of the Városmajor Heart and Vascular Centre, click here.  
Eszter Keresztes
Photo credit: Gábor Ancsin
Translation: Faye Gillespie
In our article series entitled "My University", we ask university citizens to show their favorite university location, and discuss its importance to them. These articles are a part of the celebration of Semmelweis University's  250th anniversary year.