The first lung transplantation in Hungary was performed at Semmelweis University's Department of Thoracic Surgery located at the National Institute of Oncology (OOI).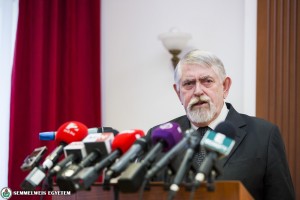 At a press conference in December 2015, Dr. Miklós Kásler, Director General of the OOI announced that the first successful lung transplantation was carried out on 12th December 2015 and the patient was stable.
"This is a great breakthrough in medical history. It would not have been possible without the professional collaboration of Semmelweis University and the financial support of the Hungarian government.", he said.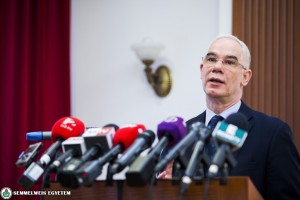 Zoltán Balog the Minister of Human Resources said that despite the difficulties in health care, such achievements can be obtained with hard work.
"The Hungarian government allocated 900 million forints to the establishment of the infrastructure necessary for lung transplantation at OOI and there are no limits to the funding of further operations. The close collaboration between Semmelweis University and the institution was a key factor in the success of the procedure. The presence of Dr. Ágoston Szél, Rector and Dr. László Hunyady, Dean demonstrates a new form of cooperation which promotes the development of healthcare and medical education."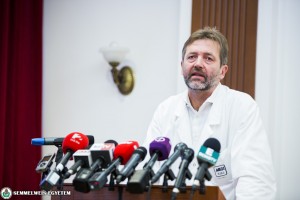 According to Dr. György Lang, Director of Semmelweis University's Department of Thoracic Surgery at OOI, the organ was obtained from a 59-year-old donor, which was received by a 53-year-old patient.
"The 6-hour-long procedure was a bilateral sequential lung transplantation with the involvement of 92 active participants. The procedure's protocol listed all the details from its beginning to the end on 80 pages."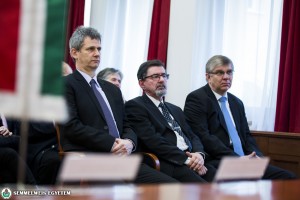 Such a performance could only be achieved by a well founded cooperation within and inside institutions. This achievement also marks the beginning of a new era in thoracic surgery in Hungary, making it competitive in an international context.
"Lung transplantations of lower risk factor will be carried out in Budapest; however more complicated and riskier procedures will still be performed in Vienna for a while. Hungary has provided the clinic in Vienna with 38 lungs so far and 12 Hungarian patients have undergone lung transplantation there.", said Dr. György Lang.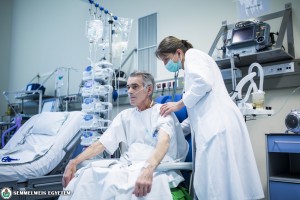 Dr. Ferenc Rényi-Vámos, Head of the Department of Thoracic Surgery at OOI thanked Dr. Jenő Elek and his team for their dedicated work without which the operation would not have been possible.
"I am very satisfied and glad that we have been able to reach such a groundbreaking result.", he said.