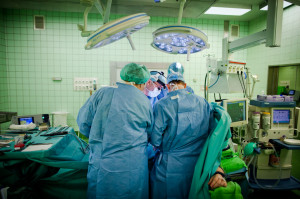 According to the details of the Eurotransplant, an international cooperative framework, Semmelweis University's Department of Transplantation and Surgery undertook the highest number of kidney transplants in 2014. Comparing data from medical centres of the eight European member states, Semmelweis University was among the best regarding abdominal organs transplants: the top institution with 236 kidney transplants and the fifth with 75 liver transplants.
Semmelweis University's Department of Transplantation and Surgery attained the first place among 76 European kidney transplant centres, thus, achieving a better result than numerous renowned European and German institutions.
2014 was a successful year regarding liver transplantation as well: the fifth highest number of transplants was carried in Budapest out of 49 European institutions. The Department celebrates the 20 years anniversary of the first successful liver transplant with this considerable achievement.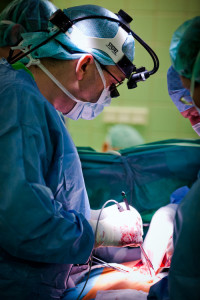 The Department of Transplantation and Surgery has never carried out so many kidney and liver transplants as last year, mostly in the second half. According to the director of the Department, Dr. Zoltán Máthé, this twofold record was achieved thanks to the German style working environment, the excellent teamwork and the extraordinary efforts of the colleagues. Apart from the high level professionalism, the strategic and perspective changes also contributed to the results. This is also reflected by the dramatic increase of organ transplants: in 2013 241 operations were carried out in comparison to 319 procedures in 2014.
Hungary became a full member of the Eurotransplant framework in 2013, thus Hungarian patients may now receive donors from abroad as well. The integration of International standards also became mandatory with the membership. Dr. Zoltán Máthé's main goal within the Eurotransplant is to help as many patients as possible in the country using organs from domestic donors.
Rita Czétényi
Translated by: Bonifac Makkai
Photo: Attila Kovács – Semmelweis University