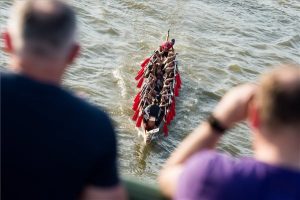 This year the number of nominations for the rowing boat race and dragon boat race at the Danube Regatta was 800. More than 500 university students of altogether 20 higher-education institutions were competing with each other, including the medical students of Semmelweis University. Anikó Gorácz, Head of Office, Corporate Identity and Communications Office, Antall József Knowledge Center (AJKC) said that the largest inter university festival was organized for the fifth time by AJKC in 2017, of which the aim was to strengthen student community.
The popularity of this university festival increases year by year and more and more college and university students participate in it. As Anikó Gorácz expressed, this year two foreign universities also joined the event: one of them is the University of Hannover and the other is the University of Maastricht. At the amateur dragon boat race 18 teams were participating, out of which the University of Physical Education was ranked as first, the University of Pécs as second and Budapest University of Technology and Economics was ranked as third. In the final, Semmelweis University was ranked as seventh among the eight higher-education institutions. Students could enter into the competition of the dragon boat race by preparing creative videos. The dragon boat crew consists of 20 rowers and 1 drummer.
According to the information provided by Anikó Gorácz, the dragon boat race was followed by a rowing race on the Danube. Semmelweis University was ranked as third at the first qualifying round. At the final, Széchenyi István University of Győr was ranked as first, the University of Hannover as second and Corvinus University of Budapest as third.
Anikó Gorácz highlighted that the real regatta feeling was provided by the cheering teams, almost 28 000 people were watching the exciting races. Besides the boat races, the beach volleyball tournament was the most popular. At the intervals the audience was entertained with performances, and they could try out different types of extreme sports. Participants were attracted by street workout, climbing wall, high ropes and teqball as well. As Anikó Gorácz informed us, besides sport activities, a music talent show was also held in the framework of the Danube Regatta. During the Sound of the University those five university bands were competing, who had got into the final. The winner was the band called Under the trees (Fák alatt).
Orsolya Homonnay-Bukovenszki
Photo: MTI
Translated by: Katalin Romhányi