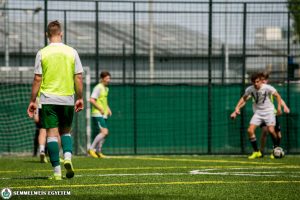 As Marcell Budai, President of the Students' Union explained, Semmelweis Sports Day, organized by the Students' Union, aimed at providing an opportunity for team building besides offering sport facilities. Semmelweis students could test their skills in ten different sports. Participating in this event was free of charge for Semmelweis students.  In the site arrangements Kornélia Várszegi, Director of the Centre for Physical Education and Sports provided a lot of support.
"The location of the event was the Sports Ground in Zágrábi street this year as well, where the participating students could attend several competitions, programmes and shows. During the one-day event basketball, badminton and volleyball championships were organized for the students. First time this year a teacher-student football tournament was also held, in which Dr. László Hunyady, Dean of the Faculty of Medicine, as well as Dr. Béla Noszál, Professor at the Department of Pharmaceutical Chemistry also took part.", Marcell Budai explained.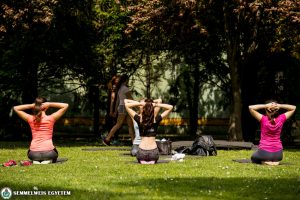 During the breaks the university's cheerleader team entertained the audience. Besides traditional sports, students also had the opportunity to try out darts, floorball, paintball, yoga and fitness. As Marcell Budai highlighted, the most popular team game was paintball this year, 200 students were competing against each other in groups of 10. Hungarian and international students from all the faculties of Semmelweis University participated in this event. As the President of the Students' Union explained, besides the offered sport facilities students also had time to relax and participate in an outdoor cooking programme.
Orsolya Homonnay-Bukovenszki
Photo: Attila Kovács, Semmelweis University
Translated by: Katalin Romhányi