23 health care managers graduated and received their degrees on February 10, 2017 at the Chapel of the National University of Public Service, during the ceremonial meeting of the Senate of Semmelweis University. The degree was conferred upon the graduating students of the Institute of Digital Health Sciences, Faculty of Health and Public Services by Dr. György Bagdy, Vice-Rector for Scientific Affairs, Dr. Péter Gaál, Dean of the Faculty of Health and Public Services, as well as Dr. Miklós Szócska, Vice-Dean of the Faculty of Health and Public Services.
"In the 21st century the electronic, data-driven health care is of the same relevance than the spread of vaccination was in the 20th century. Health care managers are the trustees of this new health care method. The university aims at developing the electronic health care system rapidly, therefore the faculty will have an entirely modernized computer devices system starting from the following academic year.", said Dr. Miklós Szócska, Vice-Dean, Head of the Department of Health Care Management during the ceremonial meeting.
According to Dr. Szócska digital health care is an international profession, that is why one of the main missions of the Faculty of Health and Public Services is to render the health care management training recognized worldwide, by suiting the good reputation of Semmelweis University.
Dr. Szócska commemorated Dr. László Daragó, associate professor, who passed away in 2016. In remembrance of Dr. Daragó, the establishment of a grant is currently under progress at the faculty.
The conferment process was moderated by Dean Gaál, after which the students received their degrees. On behalf of the students Kristóf Göbölös held a farewell speech, in which he recalled the determining experiences of his university years. He expressed his gratitude to his teachers and professors, to the students of the upper years, to the Students' Union, to the Instructor Self-Active Group, and he talked about his appreciation for the support of his family and friends.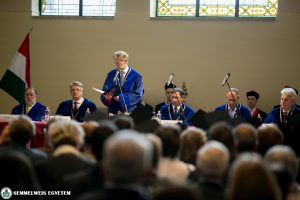 "I truly hope that based on your solemn oath, all of you will serve the defence and restitution of health of your fellow humans, will do your professional duty with the utmost diligence, will always behave worthy of your profession, will be open to broaden your knowledge, and will be thoughtful citizens of the country who are able to make sacrifices. I truly wish for all of you that your solemn oath may become true.", Vice-Rector Bagdy addressed the graduating students as a closing act of the ceremony.
Eszter Keresztes
Photo: Attila Kovács – Semmelweis University
Translated by: Katalin Romhányi